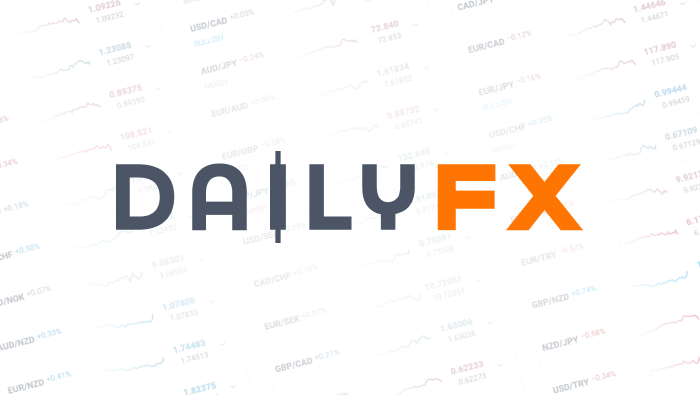 A Simple Strategy For Ranging Markets
Talking Points:
Traders should have a plan of action, when Forex trends end.
Identify trading ranges by pinpointing swing highs and lows.
Oscillators such as RSI can use overbought and oversold levels for market entries.
One rule that should be followed by every trader is to find a trading plan and stick with it. However, any experienced trader knows that they must remain flexible because the market isn't always trending and moving in a singular direction! So what is a trader to do when some of the Forex markets most frequently traded pairs don't have an established trend?
The answer itself is quite simple. When the market gives you a range, trade ranges! When markets are moving sideways, it can be easy to adapt one of your trending market strategies to present conditions. Often trending market traders will look to use indicators such as CCI, RSI, or MACD in conjuncture with support and resistance lines to trade market swings. The same philosophy can be used while range trading if you know what to look for.
Learn Forex – EURCHF Daily Range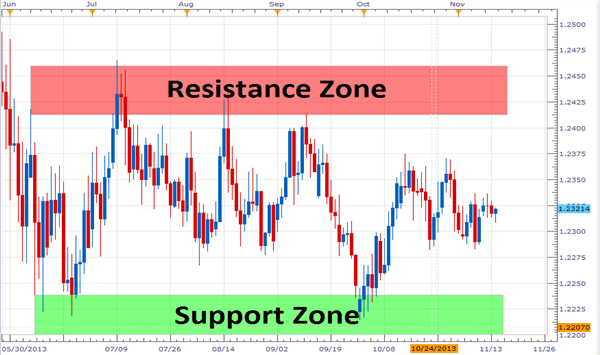 (Created using FXCM's Marketscope 2.0 charts)
Above we can see the EURCHF currency pair which has been locked in a trading range since the month of June. The range itself can be identified by moving from left to right on your chart and marking a series swing highs and swing lows. If price appears to be moving in a horizontal line you have probably identified a trading range. Any easy litmus test for a range is to determine if prices are heading higher or lower on your chart. If you find yourself debating if a chart is trending up or down, odds are your graph is trading in a range!
Now that a range has been identified, let's look at a plan for trading the market.
Learn Forex – EURCHF RSI Signals
(Created using FXCM's Marketscope 2.0 charts)
Above, we can now see an 8Hour EURCHF chart in conjuncture with the RSI (Relative Strength Index) indicator. When trading a range, traders can look to use RSI's overbought and oversold levels to determine where to enter the market. Unlike trend traders, range traders do have the ability to trade both sides of the market. This means range traders will look for both buying and selling opportunities.
To sell range traders can trigger orders when price moves off resistance and RSI crosses back below a reading of 70. As momentum returns price lower, traders can focus their targets near the support zone. Price moving towards support will also allow traders to initiate new buy positions. Traders will look to buy in a range as price bounces off support and RSI moves back over an RSI reading of 30. Pricing targets for buy orders will then focus on levels near resistance.
While the EURCHF is not currently trading at support or resistance, traders will wait patiently for the next decline or advance before entering into the market.
Managing Risk
Every strategy needs to have a plan for managing risk. Just like trends, ranges can abruptly come to an end and traders need to be prepared for that scenario. When trading ranges, stops should be kept out of the identified levels of support and resistance. If the event that price breaks above resistance or declines bellow support, the range should be considered invalidated. At that point, range traders should exit any existing positions and look for other trading options.
---Written by Walker England, Trading Instructor
DailyFX provides forex news and technical analysis on the trends that influence the global currency markets.