Two Ways to Trade Gold
Article Summary: Gold continues to consolidate after its $375 decline. Price now offers two ways to trade using a symmetrical triangle pattern.
Fast moving markets are known to have periods of consolidation after the conclusion of a strong move. Thus is the case with Gold (XAU/USD) seen below after a sharp $375.81 decline.These periods may come in many forms on your chart, but one of the most recognizable patterns of consolidation is the symmetrical triangle. These charting patterns occur when current levels of support and resistance are seen converging on our chart. With this in mind we will further examine the price of gold, and identify two ways to trade symmetrical triangles.
Learn Forex –Gold Daily Triangle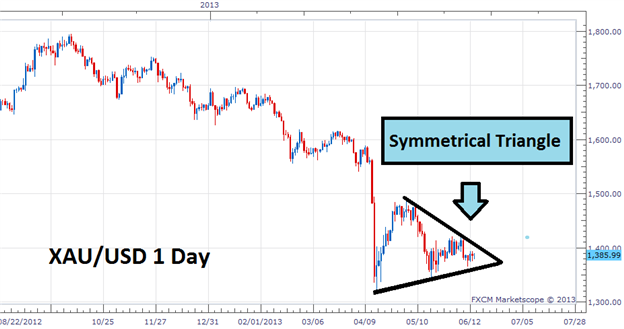 (Created using FXCM's Marketscope 2.0 charts)
The first method of trading a symmetrical triangle is to wait for price to breakout from current levels of support and resistance. This can be useful for gold traders thats don't have to have a clear opinion of future market direction. Traders can trade a breakout in either direciton by setting up an OCO order. Traders can plan to sell a break of support and trade the pair to new lows under .$1.338.06. At the same time traders can look to buy a price break above resistance on a breakout to a new high above $1,423.71. In the event that price moves back inside the triangle Stop orders can be placed on both entries in the center of the triangle pattern, to limit risk exposure in the event of a false breakout.
Learn Forex –Gold Breakout Strategy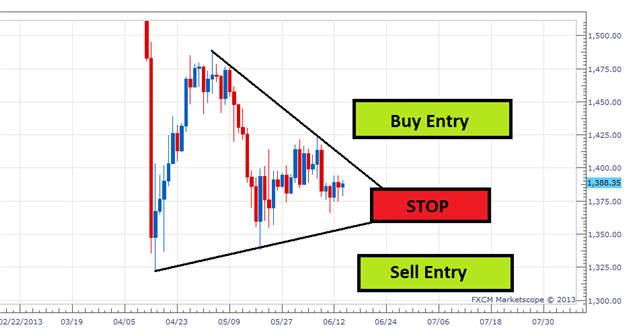 (Created using FXCM's Marketscope 2.0 charts)
The second method of trading a triangle is a simple strategy designed to trade between the outlined levels of support and resistance that make up our charting pattern. Again using our example on gold, this time pictured on a 4 hour chart, we can see price approaching the upper boundary of our triangle that is currently action as a line of overhe3ad resistance. Traders looking to trade the interior of a triangle may consider setting entries to sell gold at this point. Likewise if price dips to support traders can repeat the process and set entries to buy. Once entry orders are set, stops should then be placed outside of either support or resistance. In the event that price breaks from these predefined levels traders should exit any existing positions and begin looking for new opportunities.
Learn Forex –Gold Retracement Strategy
(Created using FXCM's Marketscope 2.0 charts)
Regardless of where price action ends up on gold, identifying a symmetrical triangle can allow traders to choose from a variety of trading strategies. Remember, the key for trading triangles is to first identify levels of support and resistance. Then, traders can set their risk and manage positions until the pattern concludes.
DailyFX provides forex news and technical analysis on the trends that influence the global currency markets.