Interpreting Japanese candlesticks can give a trader important insight into market momentum. By understanding how to read candles, traders can often include them in their analysis to find areas of price continuations and possible reversals. Today we will focus on one candle that can help validate a charts reversal point. Let's learn to identify and trade the bullish hammer candle.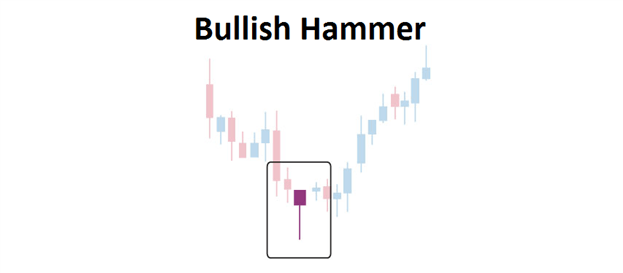 What is a Bullish Hammer
A bullish hammer differs from other candle patterns as it is a single candle hinting at a turn during an established downtrend. Pictured above the hammer is interpreted by understanding a candles particular open, low high and close levels. To create a hammer price must first significantly sell off to create a new low for a currency pair. However, after this decline, prices must significantly rally causing prices to have a small body and close near its opening price. It should be noted that hammers should have long wicks at least twice the length of the candle body. As well, the candle itself can either be red or blue depending on the strength of the reversal.
Often the bullish hammer is confused with a bearish hanging man candle. The misrepresentation is logical because both candles look identical! The difference between these two candles lies in their placement in a trending market. The hanging man has a small body and long wick but is found hanging at the conclusion of an uptrend. Bullish hammers have small bodies and long wicks also, but are only seen at the end of a downtrend.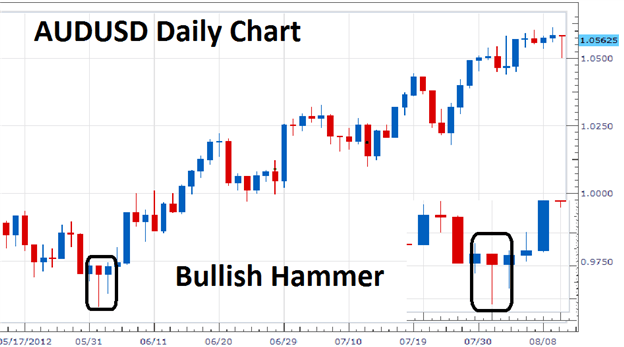 Uses in Trading
Bullish hammer candles can be found on a variety of charts and time frames. Depicted above is an example of the hammer on the AUDUSD daily chart. From February the 29th through June 1st the AUDUSD rallied as much as 1276 pips. This downtrend was concluded with a bullish hammer candle, and price has subsequently rallied a total of 1033 through today's price action.
As the strength of a hammer depends on its placement on the graph, normally traders use this candle in conjuncture with other indications of price support. This includes using tools such as fib lines, pivot points and psychological whole numbers. In an ideal scenario, the wick of the hammer will penetrate a support level but the body will close above support on renewed buying sentiment. With a new buying opportunity presented, traders may then choose to place stops under the created wick below support.
Next: How to Trade Shooting Star Candle Patterns (17 of 47)
Previous: A Simple Price Pattern That Can Precede Big Moves
Candlestick FAQ:
Can I trade solely based on signals priduced by candlesticks?
The bullish hammer candle is one of many bullish price patterns that can assist traders when entering a trade. Other bullish patterns traders should be aware of, include: morning star and the inverse head and shoulders among others. Day traders, however, incorporate the use of indicators and key levels of support and resistance, alongside candlesticks, to substantiate trades before entering. Other aides you can use to improve your trading include our free Trading Guides and for those just getting started, take a look at our New to FX guide