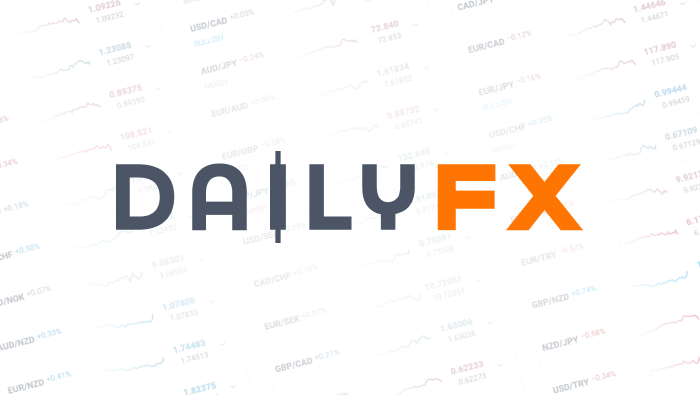 GBPJPY Confluence of Support
As a trader, I am constantly looking for multiples sources of support to open a buy trade and multiple sources of resistance to open a sell short trade. The GBPJPY is very close to a confluence of support offering a trading opportunity to go long.
The upward sloping orange line and the horizontal green line are 2 different sources of support on this trade. We know from the Support and Resistance lessons in The DailyFX Plus Trading Course that when a resistance level is broken, it tends to become new support. In this situation, the green line was resistance last week near 134.20. Once this resistance broke, that same price level tends to support prices in the future.
Additionally, we have an upward sloping support line (orange) which continues to produce successful bounces. This price action has led to higher highs on the 2 hour chart.
The last item worth mentioning here is the SSI value at -8. This means 89% of the retail traders currently in a position on the GBPJPY are short. This is an extreme figure that doesn't happen very often so as a trader it needs to be noted. A large amount of traders who are currently short are a future supply of buyers…how? If the price were successful in moving higher, these traders may want to close out their losing positions. How do you close out a short trade? You have to buy it back and therefore, there is a large pool of potential buyers. How large is this pool of potential buyers?
The GBPJPY has the second largest open interest of the SSI pairs. There is nearly the same amount of traders in a GBPJPY trade as exists in USDCHF, USDCAD, AUDUSD, and NZDUSD combined!
The Trading Opportunity
The green box on the chart represents the location where the areas of support join together. This should provide strong support for the pair. For example, take a look at your surroundings. Where you have 2 walls join together at a corner is where the support to the ceiling tends to be the strongest. Contrast that strength where there is just one wall (trading on one level of support) or the middle of the room where no walls exist.
Now that we have established the basis of the opportunity, look for an entry to go long in the 134.20 to 134.50 range. A stop below the previous swing low near 133.10 will give the trade some breathing room. Look for twice that distance to take profits or near 136.50.
Log into the DailyFX Plus Trading Course to view the on demand videos of 15 topics including support and resistance.
Join our DailyFX EDU Mentor Program to learn from our trading professionals.*
Read about support and resistance in DailyFX.
*DailyFX EDU Mentor is available free of charge to all live account holders of FXCM.
DailyFX provides forex news and technical analysis on the trends that influence the global currency markets.