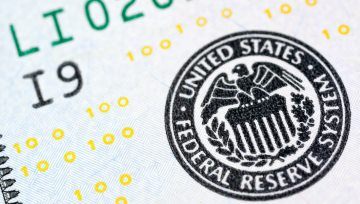 Dollar Index Breaks Through Resistance, Volume Confirms Move
Talking Points:
Strong volume in futures contracts reinforce

U.S. Dollar

strength

Large speculators have been selling

Euro

futures, but are still net long

The strong Dollar trend continues with further room for

EUR/USD

to fall towards 1.1200
On Friday, the U.S. Dollar broke out as the ICE's DXY Dollar Index reached one-year highs. The move seems to be a confluence of factors: general Dollar strength combined with reports that the European Central Bank (ECB) is concerned with Europe's exposure to a plummeting Turkish Lira. This concern might further the idea that the ECB is far from normalizing its interest-rate policy, a narrative that may keep pressure on the Euro.
But in addition to an uncertain fundamental picture, Friday's move is confirmed by strong volume in futures markets, as well as the fact that large speculators are still net long Euro futures contracts. All of this could send the U.S. Dollar Index towards 100, its next major level of resistance.
TopstepFX allows you to trade forex without risking your own capital. Perfect your trading strategy real-time in simulated markets and then, when you prove you can profit, earn TopstepFX's capital to trade.
Strong futures volume reinforces U.S. Dollar strength
Friday's move in the U.S. Dollar saw strong volume, both in the Euro and U.S. Dollar Index futures contracts. When volume confirms a technical breakout, it shows broad participation. Though there are one buyer and one seller to each contract, high volume indicates that more market players participated in price discovery, lending support and validity to the move.
Such broad participation was the case on Friday when volume in the U.S. Dollar Index futures contract reached 43,668 contracts. That equates to 1.5-2x recent averages and was the highest volume in nearly two months.
In Euro futures, volume reached 461,395 contracts, the most since the EUR/USD's last sharp decline on June 14. On that day, the Euro shed more than 220 pips, compared with the nearly 115 pips on Friday. Recently, Euro futures volume has hovered around 250,000 contracts per day for the front-month contract.
(Futures contracts are currency contracts associated for specific months. The "front-month contract" is where most of the trading occurs, which is the closest month of March, June, September and December in currency futures.)
Large speculators have been selling Euro futures, but are still net long
When we look at the CFTC's Commitment of Traders (COT) Report on Euro futures, we see that large speculators have been net long Euros since May 2017. The peak of their net long positioning, unsurprisingly, occurred in April 2018 – two months after a February rally took EUR/USD to its recent highs. During the Euro's 900-pip decline since, large speculators have sold most of those longs, bringing the positioning down from long 151,476 contracts on April 17 to long just 10,565 contracts on August 7.
But two factors may suggest that the EUR/USD has more room to weaken – and potentially in the near-term. First, large speculators are still net long Euros. They can (and probably will) go net short. Second, on a week-to-week basis, speculators' positioning is simply trending lower – not jumping lower.
For example, last week, when we talked about how large speculators covered their net short Canadian Dollar futures positioning by the largest amount this year, I noted that large changes in positioning were often a contrarian indicator for the currency. In that case, I argued that buying back Canadian Dollar futures may suggest that the Canadian Dollar was poised to weaken further.
However, a week-over-week move of 12,000 Euro contracts in the two most-recent COT Reports is a modest change in Euro positioning. In June, there was a 52,000 contract change – a move that was followed by two months of consolidating prices.
The strong Dollar trend continues with further room for EUR/USD to fall towards 1.12
Looking at the technicals, EUR/USD could fall towards 1.1200 as a next target. That is the last point of consolidation during the pair's 2017 rally and could easily be reached if concerns continue over Turkey.
Ultimately, if the Dollar's strength continues, EUR/USD could even fall towards the 1.0800 level, the price where it was trading ahead of the 2017 French election (blue arrow).
EUR/USD Price Chart: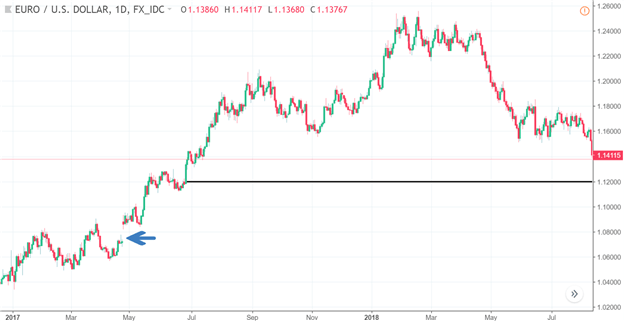 Mark Meadows is an analyst at TopstepFX, a proprietary trading firm that funds retail forex traders with live capital. Learn more how you can earn TopstepFX's capital at www.topstepfx.com/.
DailyFX provides forex news and technical analysis on the trends that influence the global currency markets.