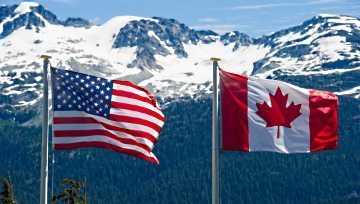 Is the Canadian Dollar Setting Up for Its Next Leg Lower?
Talking Points:
Large speculators lightened up on their net short

CAD

futures positions last week by the largest amount this year – a contrarian signal.

Open interest in Canadian Dollar futures dropped 12% in the past month, even as

CAD

rallied 3.2% off its lows. When open interest does not confirm a price move, it can signal a price reversal is coming.

A trend line connecting January and April

USD/CAD

lows provides technical support for the price to move higher.
Last week, one currency held up against the U.S. Dollar's renewed strength: the Canadian Dollar. The Loonie put together its third consecutive week of gains, dipping below 1.30 for the first time in nearly two months.
Fundamentally, the Canadian Dollar's strength makes sense. Strong Canadian data helped raise expectations that the Bank of Canada would increase rates one more time this year – likely in October.
Yet, while the fundamental outlook is good, there are some warning signs in futures markets that suggest the USD/CAD slide is nearing an end.
TopstepFX allows you to trade forex without risking your own capital. Perfect your trading strategy real-time in simulated markets and then, when you prove you can profit, earn TopstepFX's capital to trade.
Key Point: Large speculators lightened up on their net short CAD futures positions last week by the largest amount this year – a contrarian signal.
The CFTC's most recent Commitment of Traders (COT) Report shows that week-over-week, large speculators lightened up on their net short CAD positions by the largest amount all year. The position changed from net short -44,511 contracts to net short -31,569 contracts – a 12,942 contract decrease.
The change in net positioning is often a contrarian indicator relative to price. The USD/CAD chart below highlights two recent examples of large changes in net positions.
The first is when the net short positions decreased at the end of May. Shortly after, prices stabilized before a push higher.
The second is when net short positions increased by 18,785 on June 26, which was followed shortly by USD/CAD prices topping.
USD/CAD Price Chart: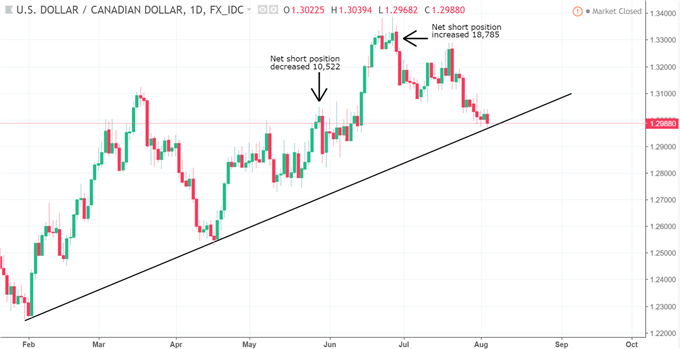 Key Point: Open interest in CAD futures decreased by 13% in the past month. All the while, the CAD gained 3.2% against the U.S. Dollar.
Open interest is the number of contracts outstanding on a futures exchange – in this case, the CME, where the Canadian Dollar contract is traded. Overall it represents the flow of capital into or out of the market. As a market starts to trend (either up or down), it should draw in participants, leading open interest to increase. When appetite to support a prevailing move doesn't show up, it can indicate an exhaustion for the move is close at hand.
Open interest when USD/CAD was making 2018 highs on June 26 was 159,233 according to the CFTC's COT Report. On July 31, open interest declined to 140,253.
The fact that the Canadian Dollar's open interest has shrunk 12% while the currency strengthened indicates that its move is mainly due to short covering – and suggests prices are at risk for a reversal.
Key Point: Technical support may provide the impetus for CAD's next move lower.
As the chart above shows, USD/CAD has made a series of higher highs and higher lows this year, providing a clean upward-sloping trend line. Prices touched that line on Friday before bouncing higher. The coming trading sessions will be key, particularly with Canadian GDP data on tap for Friday.
However, signs from futures markets suggests the CAD may be setting up for a move lower (a USD/CAD advance). In that case, spot traders may eye yearly highs above 1.34.
Mark Meadows is an analyst at TopstepFX, a proprietary trading firm that funds retail forex traders with live capital. Learn more how you can earn TopstepFX's capital at www.topstepfx.com/.
DailyFX provides forex news and technical analysis on the trends that influence the global currency markets.