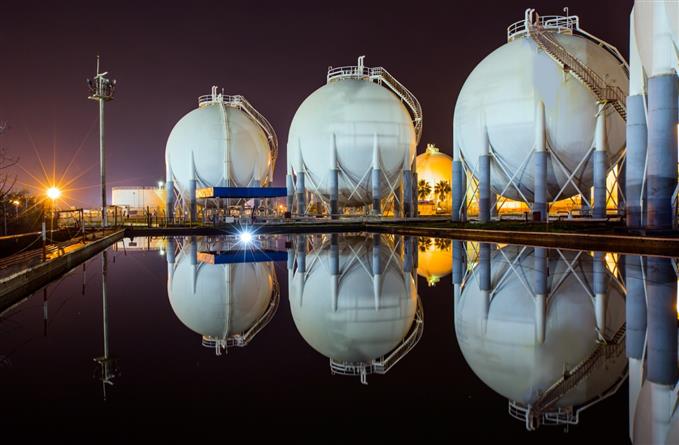 How to Trade Natural Gas: Top Trading Strategies & Tips
Natural Gas trading is popular among traders due to its volatility. This is due to a multitude of causative factors which can be capitalised on with thorough research and appropriate market timing.
It's important for traders to know what affects Natural Gas prices, such as weather, supply and demand.
Technical analysis along with fundamentals will allow traders to make informed decisions on their trading activity.
Being familiar with Natural Gas trading hours can help to enhance a trading strategy.
WHY TRADE NATURAL GAS AND HOW DOES GAS TRADING WORK?
Natural Gas is a highly popular commodity amongst day traders, whereby the physical commodity is not handled or delivered at expiry. The spread is reasonable with high liquidity, making it easy for traders to get in and out of trades with little difficulty. Exposure to natural gas is not only accessible through the commodity itself, but several Natural Gas ETFs as well. Natural Gas trading involves similar strategies used to trade other commodities, such as gold and crude oil. Fundamental and technical analysis are highly useful, as well as a good understanding of what affects Natural Gas prices – such as weather, storage, supply and demand. Many traders also turn their attention to the major Natural Gas producers, such as BP, Royal Dutch Shell and the largest Natural Gas producer in the world Gazprom. Trading these companies allows traders to track the underlying price of Natural Gas.In this article we will cover the basics of Natural Gas trading, as well as more advanced tips for traders who want to improve their strategy.
NATURAL GAS TRADING BASICS
The below tips are the fundamental skills and knowledge to get ahead of the curve when trading Natural Gas:
1. Understand what affects Natural Gas prices
The price of Natural Gas tends to be correlated with the supply and demand inventories of the commodity itself. Historically, basic economics of supply and demand aligned with Natural Gas prices – which would rise when production levels fell and decline when production increased.
Four key things that affect the supply and demand of Natural Gas are:
Weather:Extreme or abnormal weather conditions can push and pull on the supply and demand forces.
Storage:The supply of Natural Gas in storage will affect the price depending on whether there is a surplus/deficit. If there is a surplus in storage, then prices are likely to be held down due to an abundant supply and vice versa.
Alternatives:Substitute products, especially more eco-friendly sources of energy such as solar and wind power affect Natural Gas prices. With an increased focus on "going green", these environmentally friendly sources of energy may become more pertinent in the future.
Economic Growth:Increased growth particularly in industrial sectors, will usually push up the price of Natural Gas as demand will rise for consumables and services rendered.
Stay up to date with live prices using our Natural Gas chart.
2. Keep an eye on major producers of Natural Gas
A well planned Natural Gas trading strategy involves keeping an eye on the major producers of Natural Gas. A strong economy results in a high demand for power, fertilizers and commercial/industrial goods and services. Therefore, an upsurge in an economy correlates to higher prices, as a result of the increased demand.
Looking at the chart below, the United States and Russia hold the bulk of Natural Gas reserves globally. Monitoring the overall situation (political, climate etc.) in these respective countries will be beneficial in the trade analysis. The USD EIA Natural Gas Storage Change and USD EIA Working Natural Gas Implied Flow are important dates to keep in mind. The DailyFX economic calendar includes these announcements which are released every Thursday at 10:30am EST.
Natural Gas production by country: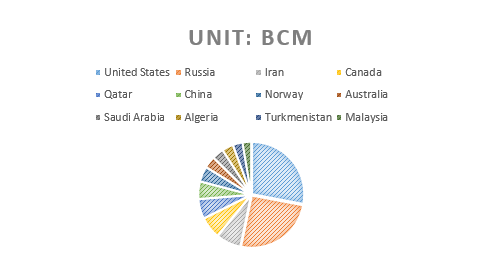 HOW TO TRADE NATURAL GAS USING TECHNICAL ANALYSIS
Technical analysis allows traders to evaluate past trends using various indicators, oscillators and price movements. Trading Natural Gas can be repetitive at times, which will enhance the use of technical analysis to capitalize on these movements.
Natural Gas prices move in a recurring pattern which can be seen as cyclical in its disposition. Much of this is due to weather. Prices tend to be higher in winter (December – February) and the summer period (July – August) while the remaining months generally reflect lower prices due to slighter weather forecasts]. The cyclical movement in Natural Gas makes it somewhat anticipated which allows for speculative trading.
Swing trading is a popular technique used by traders when trading Natural Gas, however fundamental analysis is also taken into consideration. Traders are able to trade based on trends which allow for setting up stops, limits and positive risk-reward ratios. Indicators are used to confirm trends and thus re-enforce the trader's direction.
Basic Technical Analysis for trading Natural Gas (See chart below):
Novice traders tend to prefer trend lines, chart patterns and support/resistance levels. For example, when the current price of Natural Gas is approaching the previous high (resistance) this will be used as an apparent target. The same can be said for previous lows.
Trend lines are used to identify and endorse a direction which can be achieved by joining higher highs (uptrend) or lower lows (downtrend). These trend linescan also serve as support/resistance levels.
RSI indicators are commonly used not only to display overbought/oversold levels, but for divergence as well. Divergence can be used to indicate a potential trend reversal. If the market is in a bearish state, the RSI could indicate higher lows whilst the underlying instrument shows lower lows. This separation (divergence) between price and indicator could potentially forecast a reversal of the underlying instrument.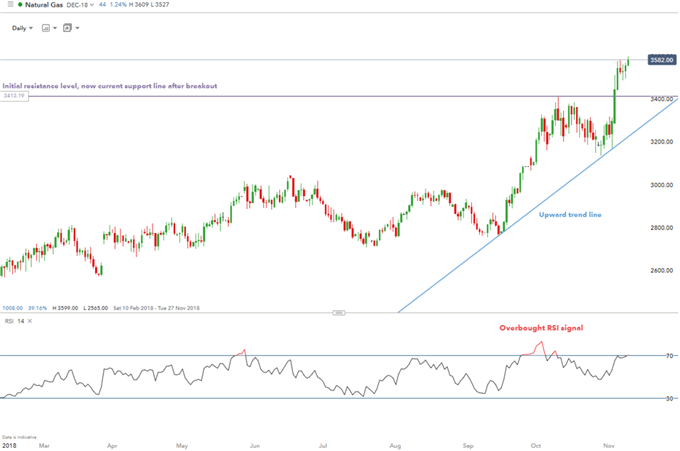 Advanced Technical Analysis:
The more sophisticated trader will time entries into the market using techniques such as the Elliot Wave Theory, Fibonacci retracement and Ichimoku. Once the trader appreciates the fundamental factors that affect Natural Gas prices, technical analysis can be used to time the entry into the market. Timing your entry is key to ensure a successful trade, therefore exploring these techniques is highly recommended. For example, looking at the chart below you can see onAugust 25th, 2018 there were reports of dangerously low inventories of Natural Gas, due to elevated demand throughout the summer period. This high demand was a result of depleted stock during the winter season, and such critical information is the fundamental analysis the trader will integrate into their Natural Gas trading strategy. The expectation of higher prices can now be confirmed by technical analysis. Using the Relative Strength Index (RSI), we notice a situation of positive divergence which is evident on the chart between September and October.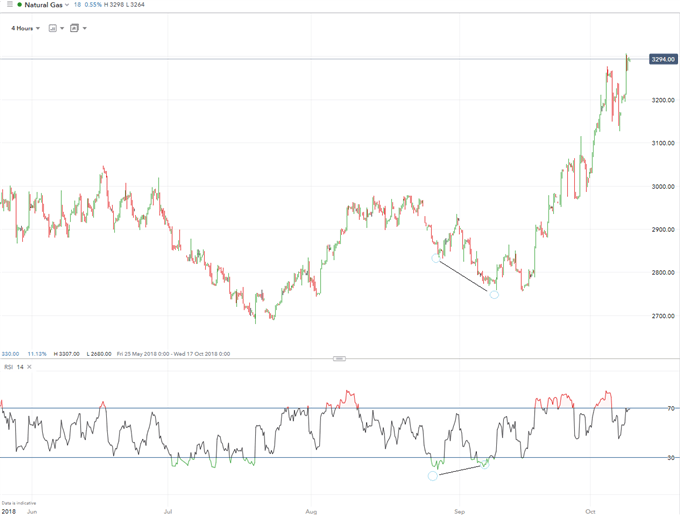 Thorough research with regards to fundamental and technical analysis - combined with prudent risk and leverage - is essential for both beginner and advanced Natural Gas traders. Incorporating the aforementioned dynamics will prove beneficial as an overall assessment of the Natural Gas market.
NATURAL GAS TRADING HOURS
Being familiar with the natural gas trading hours is key to securing a solid foundation when undertaking natural gas trading. Based on the NYMEX Henry Hub Natural Gas futures (NG) which has become the global standard price reference for Natural Gas, the market times below are important to note:
5:00pm – 4:00pm (Sun–Fri) CT with a 60-minute break each day beginning at 4:00pm CT.
RESOURCES TO HELP YOU TRADE NATURAL GAS:
Beginner and advanced traders alike can benefit from the many resources DailyFX provides to inform trading strategies and improve confidence when trading commodities, such as Natural Gas:
DailyFX provides forex news and technical analysis on the trends that influence the global currency markets.