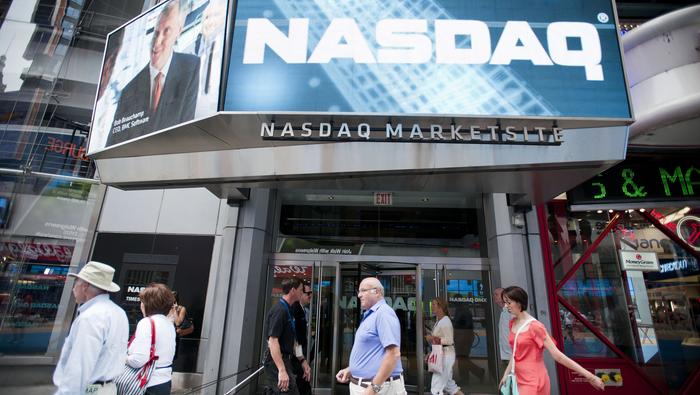 Nasdaq Trading Basics: How to Trade Nasdaq 100
What's on this page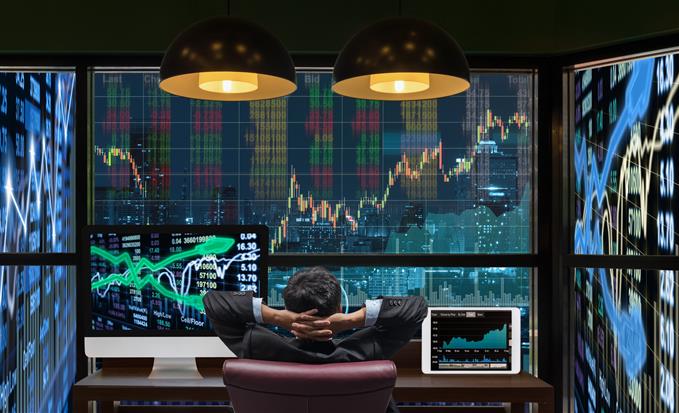 Trading the Nasdaq 100 Index: An introduction
The Nasdaq 100 is a modified market-capitalization weighted index that consists of the largest 100 non-financial companies that are listed on the Nasdaq stock exchange. It should not be confused with the Nasdaq Composite index.
Nasdaq trading involves using fundamental or technical analysis to determine price levels at which to enter a trade. Traders can take a bet on which way the price will go and then place stop losses and take-profits to manage risk.
This article will cover top Nasdaq 100 trading strategies for traders of all levels, as well as an overview of the Nasdaq trading hours.
Why Trade the Nasdaq 100 Index?
Trading the Nasdaq 100 gives traders a diversified exposure to great number of companies in the non-financial sector. Other reasons to trade the Nasdaq 100 index include:
The Nasdaq 100 is one of the world's most popular and widely followed indexes. There is no shortage of

technical and fundamental analysis.

The clear technical chart patterns which provide distinct entry and exit signals.
The Nasdaq provides traders with a great deal of liquidity which leads to

tight spreads

that offer inexpensive costs to enter and exit trades.
Traders can trade the E-mini NASDAQ 100 futures on the CME (Chicago mercantile exchange) almost 24/5.
How to Trade Nasdaq 100: Top Tips & Strategies
Successful Nasdaq trading involves similar analysis techniques used to trade a range of financial markets.Before entering a trade, traders should have a reason to enter the trade based on technical or fundamental analysis. Professional traders stick to strategies which contain principles and guidelines that they follow to be successful.
How to Trade the Nasdaq 100 using Technical Analysis
Traders use technical analysis to analyze charts, looking for buy or sell signals. Technical analysts can use indicators to help them identify current trends in the market, shifts in sentiment or potential retracement patterns.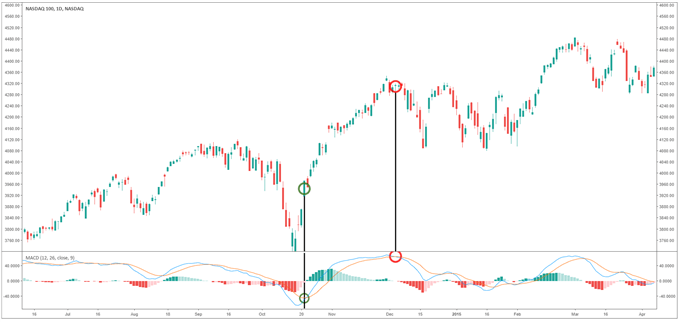 In the chart above we show how the MACD (moving average convergence divergence) can be used to filter buy and sell signals when trading Nasdaq 100. The MACD consists of a MACD-line (blue line) and signal-line (orange line), when the two cross on the bottom, as shown in the chart above by the green circle, it offers a buy-signal. When the two cross at the top (the red circle) it offers a sell-signal.
There are a variety of different indicators that traders use.It is important that traders use an indicator they understand and feel comfortable. Indicators do not work all the time, so traders must implement proper risk management. Risk management includes using appropriate leverage, a positive risk-reward ratio and limiting the exposure of all open trades to less than 5% of total equity.
Technical indicators are not the only way to look for buy and sell signals when trading the Nasdaq 100. Traders also use price patterns like support and resistance, ascending triangles, trend channels, Elliot waves and others to find opportunities in the market.
How to Trade the Nasdaq using Fundamental Analysis
When trading the Nasdaq, a range of underlying fundamental variables affect the price of the index. Traders must be aware of these variables and their possible impact on the index. These variables can range from macroeconomic variables to the fundamental composition of the index. Here are some of the main movers of the Nasdaq 100 index:
View the DailyFX economic calendar for economic events inthe US economy.
Advanced Tips for Trading the Nasdaq 100 index
It is important for Nasdaq traders to be patient and disciplined before entering a trade. Before even looking for a trade, a trader should know how much they are willing to risk and have a reasonable expectation of what they are looking to gain through the trade.
Here are some expert tips for trading the Nasdaq 100:
At DailyFX we recommend limiting your exposure to less than 5% on all open trades.
Before entering a trade, decide on a risk-reward ratio. It is extremely important to have a positive risk-reward ratio. See our guide to

Traits of Successful Traders

for the statistics on taking trades with a positive risk-reward ratio.
Entering a trade before major economic data releases should be avoided. Major economic data can cause massive spikes in volatility, it is better to wait for the markets to settle before trading again.
Record all your trades so that you can preview the trades afterwards. By doing this you can pinpoint and work on your weak spots.
Do not trade if you are emotional, tired or bored. Only trade when you have done your research and analysis and are confident in the trade.
Select the correct

trading time frame

that suites your goal.
Nasdaq Trading Hours
Nasdaq 100 futures can be traded on the Chicago Mercantile Exchange (CME) from:
Sunday – Friday 6:00pm – 5:00pm ET with a trading halt from 4:15pm – 4:30pm ET and a Daily Maintenance period from Monday – Thursday 5:00pm – 6:00pm ET.
There are also ETFs that track the Nasdaq 100 like Invesco QQQ Trust (QQQ) which trades on the NASDAQ exchange. This has:
Pre-Market Trading Hours from 4:00 a.m. to 9:30 a.m. ET
Market Hours from 9:30 a.m. to 4:00 p.m. ET
After-Market Hours from 4:00 p.m. to 8:00 p.m. ET
Take your Nasdaq Trading to the next level
To stay ahead of the curve when trading Nasdaq 100, traders should follow the Nasdaq 100 live chart for price movements. We also recommend downloading our quarterly trading forecast on equities and reading ourreputable Traits of Successful traders guide - where we analyzed over a million live trades and came to a striking conclusion.
Below is a snippet from our expert guide on the differences between Dow, Nasdaq, and S&P 500 such as how market capitalization and volatility affect them and how they are weighted.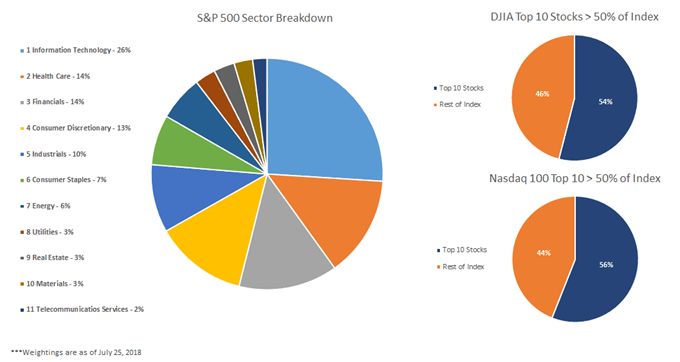 DailyFX provides forex news and technical analysis on the trends that influence the global currency markets.