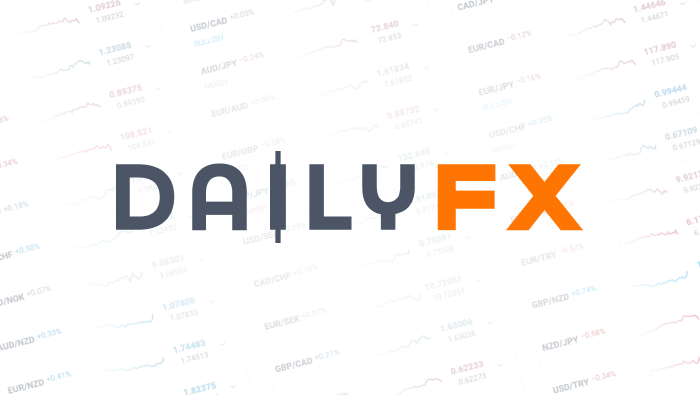 A Skew on the Pound's Potential Via Brexit Near-Term
What's on this page
Brexit Talking Points:
The

Pound

rallied Tuesday on reports the Government was warming to a delay to reduce the risk of a 'no-deal' outcome on March 29

Is the Sterling poised to significant further gains if a delay is more likely? Is the currency even that deeply discounted

?
See how retail traders are positioning in US Crude Oil, EURUSD, FX majors, indices, commodities and cryptocurrency on an intraday basis using the DailyFX speculative positioning data on the sentiment page.
A Pound Rally on a Brexit Delay
The British Pound put in for a remarkable rally this past session. While not a record-breaking bullish charge of any historical context, it was nevertheless among one of the most amplified and broadly-based moves we have seen from the currency over the past months. The spark for the move looks to be the standard for the Sterling: Brexit headlines. Following Prime Minister Theresa May's decision over the weekend to postpone a meaningful vote out to March 12 from the scheduled Parliamentary session on Wednesday, there was a mild optimism that seemed to be displaced enthusiasm from a call that offered little reason to be enthusiastic. This past session, there was something more tangible to account for with headlines indicating that May would put up to vote the options of her deal, 'no deal' or a delay to the March 29th Brexit date. Reducing the probability of a convoluted breakup with no guidelines as to how the UK will operate with its largest trade partner and financial counterpart is unmistakably a positive turn of events. Yet, how much good will can this rebalance of probabilities facilitate? Is a delay a long-term relief for the Sterling and UK-based assets? If you intend to take a view and/or position on the Pound, you must be able to answer these questions for yourself.
Chart of GBPUSD (Daily)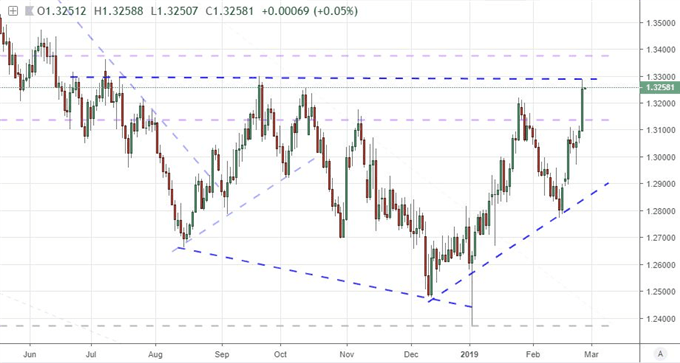 The Different Scenarios and Market Speculation
Moving forward, the British Pound faces a number of possible scenarios in the Brexit saga. The different outcomes carry significantly different impact for the currency and markets. Before considering the individual nodes and their market response, it is first important to consider what the market is currently pricing in. The Pound's charge through this past session denotes short-term enthusiasm but looking at the general position since the initial Brexit vote, there is reason to argue that the market is far from discounting the full impact of a messy divorce. This market course leading into critical dates such as today's Parliamentary session weighing the MPs control over the process, the March 12th 'meaningful vote' and the actual March 29th Brexit date establishes how readily and significantly the market responds. The best-case scenario is an imminent deal. That could certainly lift the Pound but the situation is so convoluted that such an outcome would be very difficult to muster. A more practical outcome for the near future is a vote to defer the Brexit decision by three months (out to June) which has been floated more seriously this past week. While rumor of just such a course has offered some degree of lift, this is not a boundless well of bullish interest. Business industry groups have warned more time will result in further logistical chaos. In general, the mere wait until the next opportunity to make a decisive call on direction would likely see enthusiasm ebb. I would look for opportune scenarios to fade any rally of this outcome. If there is a 'no deal' Brexit, there is little doubt that the Sterling would come under severe pressure as growth and financial fears are realized.
Poll Assessing Traders Expectations for Brexit
Choosing Options for Different Scenarios
While there is are bullish and bearish scenarios to consider, the recent skew in bias and the burden of time spell greater capacity for disappointment. First though, I would consider the unexpected. If there is indeed a bullish outcome for the Pound, I would be very selective for candidates to pursue. A genuine deal found in a very timely manner (before the Article 50 period runs out) could lead to a meaningful break from the likes of GBPUSD above its 1.3300 resistance and fuel further follow through. In that case, we could pick most crosses and find a productive follow through. More practical would be a controlled Pound stabilizing as worst case scenario fears are beaten back. In that case, I like EURGBPin its break below 0.8625 to trade to levels not seen since May 2017. This registers as a much larger reversal on a technical basis, but the real appeal is in the Euro's own, under-appreciated exposure in this situation. On the opposite end of the spectrum, a 'no deal' outcome would find the Pound uniformly hammered lower. There would be little difficulty in selecting an exposure for this perspective, but the disconnect comes in that there is still considerable time until that cliff is reached - March 29th at the earliest and possibly even another three months beyond that. More practical is the more controlled bearish Pound implications should time cut down on the recent speculative premium won for bulls. For this, I like proximate technical levels like the GBPUSD's 1.3300 resistance or GBPJPY trendline and Fib resistance at 147. More practical given broader market conditions though may be the likes of GBPCAD, GBPAUD or GBPNZD. We consider the market's assumptions, the various scenarios and possible candidates for different Brexit courses moving forward.
Chart of EURGBP (Weekly)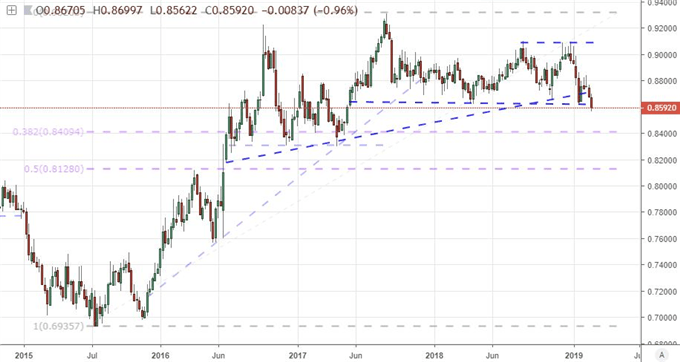 Chart of GBPJPY (Daily)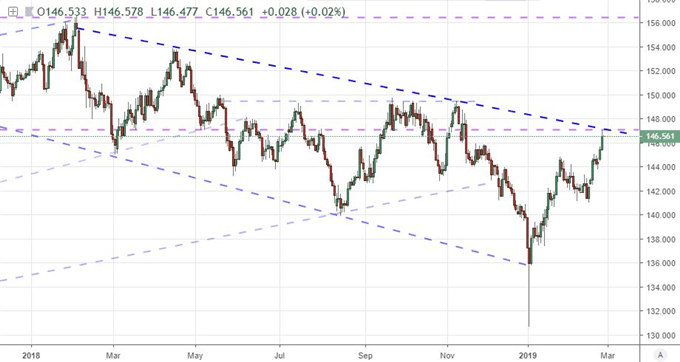 If you want to download my Manic-Crisis calendar, you can find the updated file here.
DailyFX provides forex news and technical analysis on the trends that influence the global currency markets.