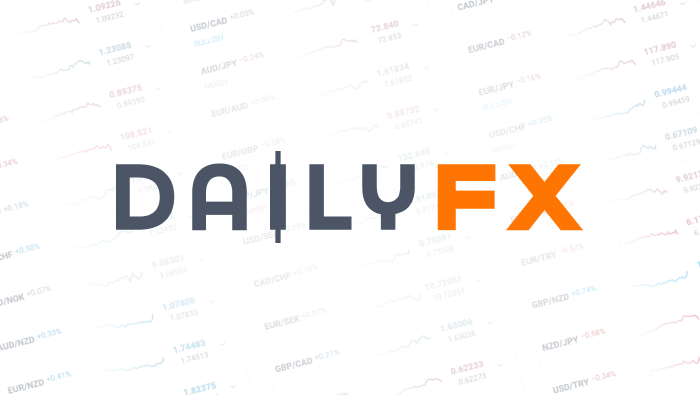 USDCHF - One of My Favorite Alternative Dollar Scenario Options
USDCHF Talking Points:
My medium-term bias for the Dollar is bearish with issues such as slowing growth, a tempered Fed and trade war blowback coalescing

There are certainly scenarios in which the Greenback could recharge its rally such as full-tilt risk aversion or Brexit fallout

Having an 'alternative view' analysis and trade option in hand - for this or any market/theme - is good practice and preparation
See how retail traders are positioning in USDCHF, EURUSD, GBPUSD and other major currency pairs along with indices, commodities and cryptocurrency on an intraday basis using the DailyFX speculative positioning data on the sentiment page.
My Leading Expectation for the Dollar
It is important to establish a sense of conviction in a market, but also to realize that there are frequent phases that see all assets and regions abstain from bullish or bearish momentum as speculators search for a clear thread. With that said, I have a general, medium-term bearish bias for the US Dollar. 'Medium-term' from my perspective is a view ranging from one to six months into the future. Where does this perspective come from, particularly considering it contradicts the prevailing momentum over the past 9 months? Despite the drift for the benchmark currency, the motivations for bulls over the past few years have notably deflated while new, questionable contributions are starting to draw greater scrutiny over the question of 'winners' and 'losers' to the policy being pursued. As risk trends ebb, we have drawn greater attention to the Dollar's young role as a carry currency. That is both a detriment as a carry unwind can hurt the preemptive chase for yield at the same time that rate forecasts themselves slide. Growth forecasts have similarly come under pressure in the US - as they have globally. Yet, coupled with the pursuit of policy that looks to earn greater domestic expansion at the expense of trade, the concerns of blowback from aggressive policies are starting to gain traction. Beyond these more immediate issues, the tectonic shifts in the Greenback's reserve currency status and its traditional valuation limits via debt analysis pose a deep risk that are only starting to creep into mainstream conversation.
Chart of DXY Dollar Index (Monthly)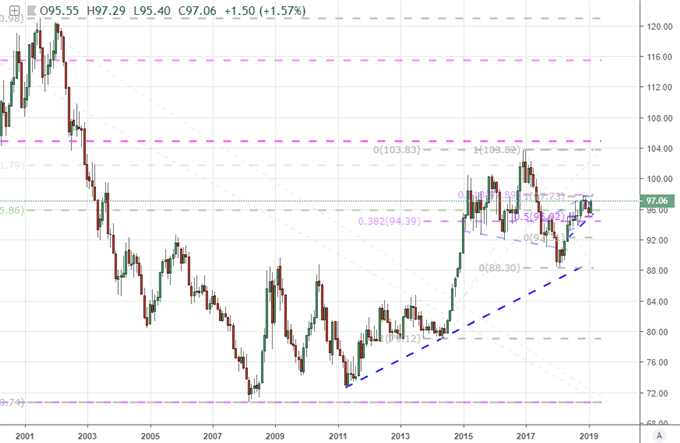 The Value of Alternative Views and the Problem with Most Dollar-Based Majors
Having a prevailing view is evaluating probabilities - and, in the long-run, success in investing translates directly into our ability to pursue reliable outcomes. However, surprises are inevitable as the markets are sometimes dictated by change that defies reasonable expectations. We can face this inevitability in one of two ways. We could make it part of our trade management to recognize when conditions have changed in our analysis or active trade, cut and move on to the next scenario that fits our given criteria. Alternatively, we could proactively consider what a productive alternative scenario outcome (one in which generates significant market movement rather than stagnation) and establish possible setups that could take advantage of the market's development. With that objective in mind, what Dollar pairs are strong candidates for a further bullish run? As we have seen from the likes of EURUSD and GBPUSD, there is natural appeal for the Greenback via its position as a principal alternative to top liquidity currencies. Yet, how productive of a role will that prove for a sustained trend? Such a motivation requires an extreme backdrop which can invite numerous, unexpected complications. Furthermore, when we look to the big-picture technical standings of the majors, there are few instances where there is plenty of historical range for which the currency can run from a long-discounted position. EURUSD closing on 1.1200 would only reasonably open up to 1.0500 as a multi-decade low. GBPUSD is even more restricted as 1.1900 is a three-decade low. The commodity pairings (AUDUSD, NZDUSD, USDCAD) have seen their high-yield components collapse while USDJPY is a confusion on a key fundamental theme: risk trends.
Chart of EURUSD and GBPUSD in Green (Monthly)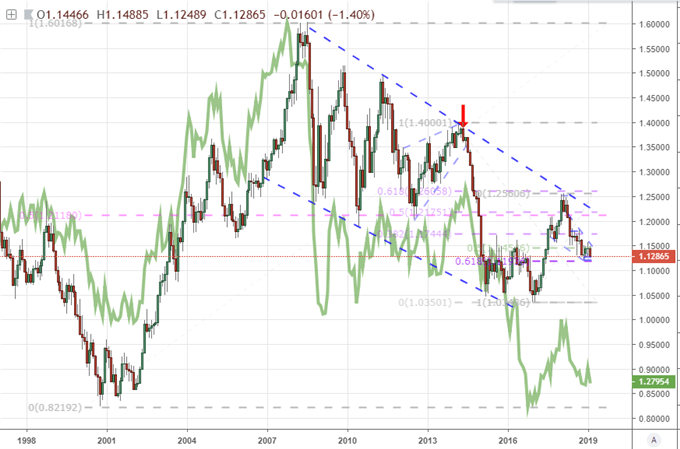 A Long 'Pros' List for USDCHF Than Most Others
In a list of poor candidates, the USDCHF is perhaps one of the most appealing of the Dollar-based majors when we are contemplating USD-bullish scenarios. On the fundamental side, there is some safe haven conflict between the two currencies, but that is far less complicated than say USDJPY. Carry has played little role in this particular pair owing to the extreme (arguably desperate) monetary policy of the Swiss National Bank. The systemic questions of reserve status are going to be serious questions for both push-come-to-shove, and simple growth forecasts find both under pressure (the US for its own issues and the Swiss for their connection to mainland Europe). On the technical side, there is a long-term discount still priced into USDCHF. This is in part a product of the Franc, but it also has a strategic connection to the Euro's influence. Taking a look at a weekly chart, there is the potential for significant resistance clearance in the 1.0100 to 1.0300 area. Should the long-term wedge top fall, there is plenty of open air for follow through dating back to previous decades. We consider the best candidate for the alternative to my prevailing Dollar outlook in today's Quick Take video.
Chart of USDCHF (Monthly)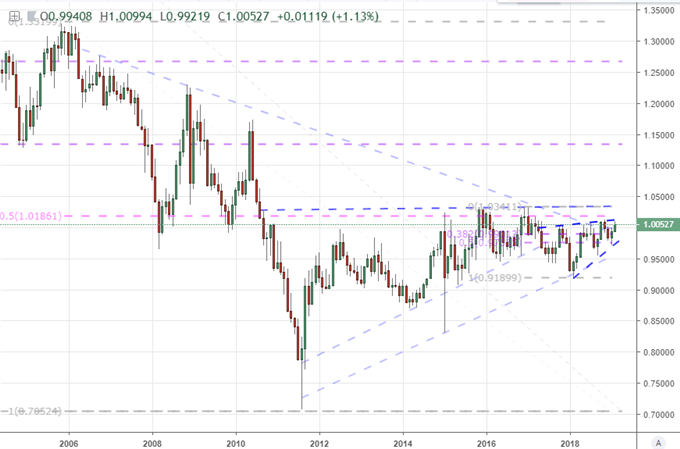 If you want to download my Manic-Crisis calendar, you can find the updated file here.
DailyFX provides forex news and technical analysis on the trends that influence the global currency markets.