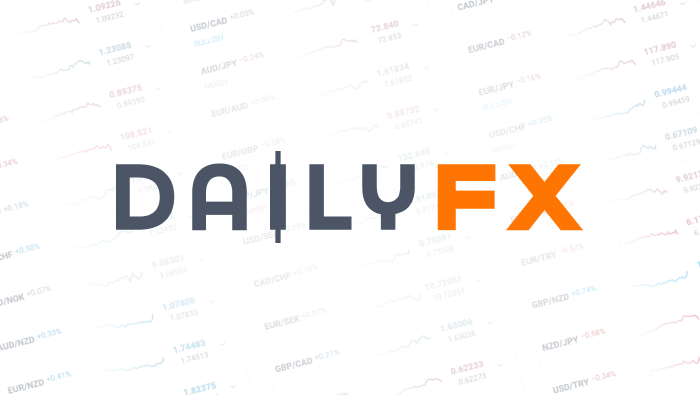 Among Emerging Market Currencies, USDMXN Is a Pair to Watch
What's on this page
Emerging MarketTalking Points::
Risk trends remain one of the most potent fundamental themes to direct trade opportunities, but for most conduits, it is erratic

Emerging markets are one of the hardest hit risk-leaning assets, with a greater sensitivity to 'risk off' and resilience to 'risk on'

USDMXN

(Dollar-Mexican Peso) represents one of the most liquid, less complicated and technically-persistent EM currency crosses
What do the DailyFX Analysts expect from the Dollar, Euro, Equities, Oil and more through the 1Q 2019? Download forecasts for these assets and more with technical and fundamental insight from the DailyFX Trading Guides page.
Trading Risk Trends Is Appealing but No Easy Feat
If we were to isolate the closest thing to a universal driver among key fundamental themes as we could reasonably come, it would undoubtedly settle on general risk trends. There is no individual, overriding theme that is constantly delivering an active charge to the financial system. Trade relations, monetary policy, general growth and other high-profile themes wax and wane with importance. That said, the concept of individual and collective risk appetite (from risk aversion to risk appetite) is an elemental influence to market's price discovery. That is not to say it is always driving a neck-break bullish or bearish trend, but it is virtually omnipresent in market valuation whether pushing the extremes or hovering in neutral. At present, the financial system is dealing with a fundamentally tumultuous background for sentiment. From abstract but far-reaching issues like trade wars and a slowdown in global growth to more discrete concerns like Brexit and the US government shutdown, the list of speculative pros and cons is heavily skewed towards fear. That said, traction on risk aversion has been inconsistent across time and asset classes. US indices - one of the symbolic leaders of 'risk' - faced a dramatic tumble between October and December, but the recovery since has squashed expectations of jumping on a clear trend. Complicating factors such as complacency, hold out hope of accommodative monetary policy and outright rumor-mongering have thrown markets off bearish momentum but never really inspire lasting confidence of their own.
Chart of S&P 500 (Daily)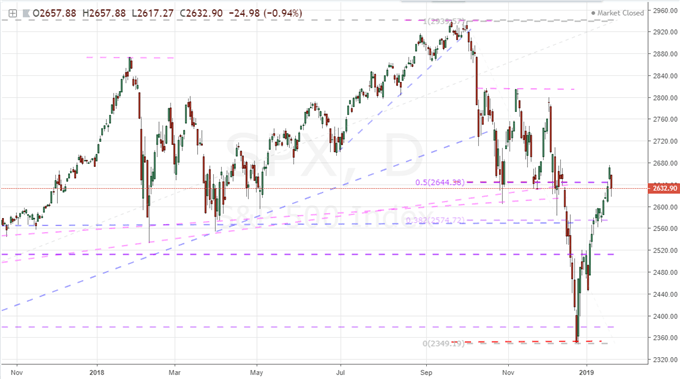 Emerging Market Currencies Represents a More Direct Outlet to an Elemental Theme
Not all assets are created equally when it comes to utilizing sentiment to its maximum potential. For example, US indices have a measurably bullish bias amongst risk assets. In a performance comparison across a range of popular assets (US equities, global equities, high yield, emerging markets, carry, commodities, etc), the likes of the S&P 500 and Dow have been by far the best performers. Further, they have proven the most resilient to the troubles that were brewing through 2018. If you are looking for a prominent trend from this corner of the financial system, you will likely struggle. The drama of February to March and October to December have been the short-lived exception to the rule for these benchmarks. Where many of the aforementioned alternative assets have relinquished far more productive bear waves over the same period, US stocks refuse the trend. Then again, the bullish progress many would conversely assume from such holdouts has never really come to fruition. Being the relative outperformer in a market that is generally struggling doesn't necessarily confer ready opportunity. If a reliable bullish trend is difficult to find - much less exploit - then pursuit of more practical bearish runs is a more reasonable objective. On that front, the list is far more populous, and emerging market assets have proven one of the more productive players in the range.
Chart of Rolling 12-Month Performance of Risk Assets (Daily)
A Significantly Less Complicated USDMXN
Emerging markets represent the fundamental cross section of slower growth forecasts, monetary policy struggles, trade wars and the general discontent in investor sentiment. With so many directly pressing issues to acclimate to, a pause in pressure from one node of trouble is readily replaced with another to keep EM assets pointed broadly lower. That said, this is a wide category of possible options and each outlet has its own complications. It is the stronger checks and balances of USDMXN that appeals to me. EM currencies make for a more targeted exposure of the risk perspective, especially when set against a well-known haven like the US Dollar. There are higher yielding EM currencies than the Mexican Peso, but the balance between return and liquidity is particularly strong. Furthermore, the economic connection between the two countries in this pair helps to reduce the impact of ancillary concerns (like political travails or oil for the Dollar-Ruble). The direct concerns over the NAFTA renegotiations was certainly a concern last year, but it has largely been settled to the market's satisfaction by now. This helps to refine the interest to the risk connection with the Peso still carrying the label of carry currency over a Dollar that has otherwise wrested the title away from all its major counterparts. Further, the technical picture has been undeniably clean for USDMXN. We discuss the appeal of the Dollar-Peso exchange rate in today's Quick Take Video.
Chart of USDMXN (Daily)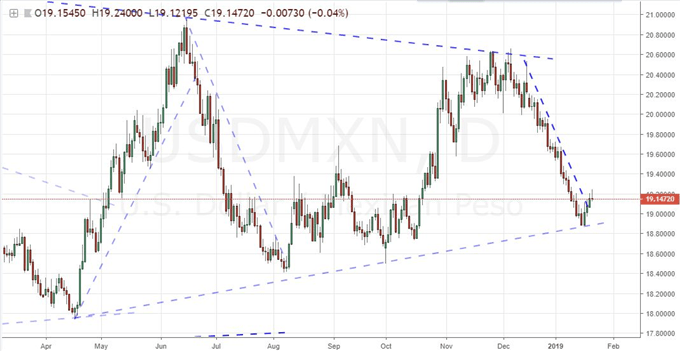 If you want to download my Manic-Crisis calendar, you can find the updated file here.
DailyFX provides forex news and technical analysis on the trends that influence the global currency markets.