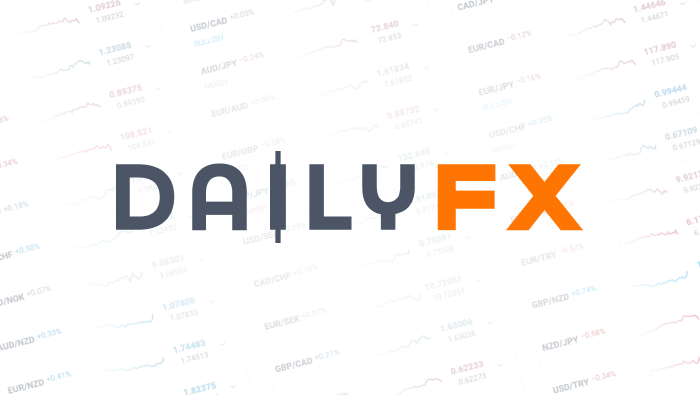 EURUSD, S&P 500, Oil - A Principle Reversal Ingredient
What's on this page
Dollar Talking Points:
Systemic turns are very low probability events, so we should take pains to identify strong and clear criteria for such turns
There area variety of chart patterns that turn markets from 'V' tops, lengthy consolidation and head-and-shoulders (H&S) patterns
I am a fan of H&S patterns and certain elements are more important to identifying such a setup's success than others
What are the DailyFX analysts' top trading ideas for 2019 and key lessons to take away from 2018? Sign up for both on the DailyFX Trading Guides page.
Raising the Bar for Conviction on Reversal Patterns
We covered a number of specific assets that met at least a few of the qualifications for possible reversal. However, picking a significant course correction is fighting the shallow end of probabilities for market developments. We spend the vast majority of our time in either congestion (whether range or chop) and trends. Breakouts are a transition market type which are significantly more infrequently, but true reversals are hands down the least frequent condition. Given the rarity of these developments, we should eye situations like the S&P 500's 2018 effort to undo a record-breaking climb following the Great Financial Crisis with a higher requirement for conviction. There are a range of patterns that technical-observant traders that will look for in order to confirm their suspicions. The preferred pattern is the 'V-top' or 'V-bottom'. That is a sudden change in direction with a persistent, high-level of momentum. For the skilled (or more likely, lucky) trader that hits upon such a development, it would turn a quick and large profit. Yet, such patterns are exceedingly rare in an already infrequent category. More familiar are periods of congestion following a prevailing trend that eventually shifts the balance of power. We can have drawn out periods of indeterminant trade and/or a lack of definable technicals, but one of the patterns that is most appealing in my book are those that fit the 'head-and-shoulders' (H&S) pattern. That is a high followed by a higher high and then a lower high. Alongside the failed progression, we find a technical floor arise that can be used as the cue for a more reliable turn.
Chart of EURUSD and 50-day Moving Average (Daily)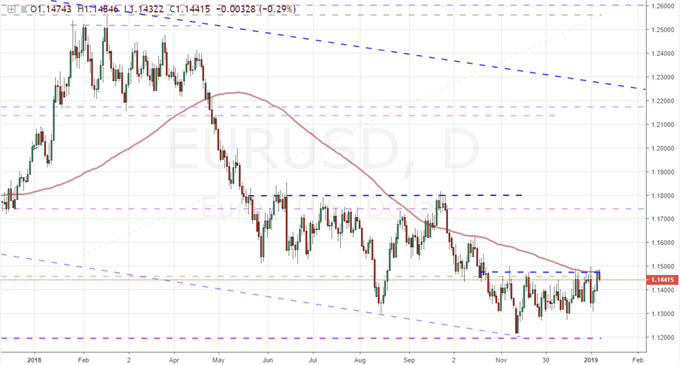 The Most Important Element of a Head-and-Shoulders Pattern in My Book
I see head-and-shoulders patterns frequently across the markets - no matter the asset class or the time frame. Yet, that doesn't make them all meaningful patterns. A lack of progress is not an uncommon picture in naturally-occurring markets. We need to be able to separate what is a frequent and otherwise mundane development from the particularly lucrative extremes that sometimes arise. While fundamentals and an assessment of market conditions often inform my analysis, technicals alone can follow filters that help to establish better setups. Hands down, one of the most important aspects to a meaningful H&S pattern (and the most overlooked) is the strong prevailing trend that would precede the reversal. At its course, this is the staging for a turn. How much potential is there for a productive charge in an opposite direction if there was no undercurrent from which to draw momentum and redirect? I too often find traders picking H&S patterns not at peaks (or troughs for 'inverse' patterns) but in the context of what would be a continuation. There is little pent up speculative ambition behind such a market. The length, duration and/or consistency of a prevailing trend can play a crucial role in swinging speculative interest to a productive move in the opposite direction. With that in mind, what do some of the more overt turns register?
Chart of the S&P 500 (Daily)
How Do Possible EURUSD, S&P 500 and Crude Oil Reversals Stack Up
In the FX market, there is debate to be had over whether the DXY Dollar Index's chart qualifies as a reversal pattern. It has arguably a range high rather than a progression of receding tops. Yet, it is not difficult to see the transition that can take root. Well, if you look to the index's primary components, you would quickly seize upon its principle pair: EURUSD. This absolutely fits the bill of an inverse head-and-shoulders pattern with 1.1500 as the neckline resistance. The problem for this pair is the fact that past seven months has offered more indecision than clear trend. So while a break could fulfill a larger pattern, the market may struggle to make progress. Significantly more impressive is the S&P 500's textbook observance of the technical shift. The congestion phase of the progression took much of 2018 to form and confirm which is appropriate given the years of bull trend that it was looking to cap. Given the time frames at play here, having the drift back that we've seen this past week towards former support zone should not at all be surprising - nor construed as technical proof positive that the breakdown has been cancelled. The more time behind trends, the more time it is likely to take to confirm their turn. Finally, we have US-based WTI crude oil. While nowhere near the decade-long scale of the S&P 500, the turn for this commodity is even more expressive. The more-than 40 percent plunge over just a few months' time sets an extreme - and extremely obvious - initial trend. The inverse H&S pattern took only a few weeks to stage and now we are slowly market a climb with serious restraint amongst market participants. Is it on its set course? We focus on the key elements of head-and-shoulders pattern spotting in today's quick take video.
Chart of US-based WTI Crude Oil with 20-Day and 50-Day Averages (Daily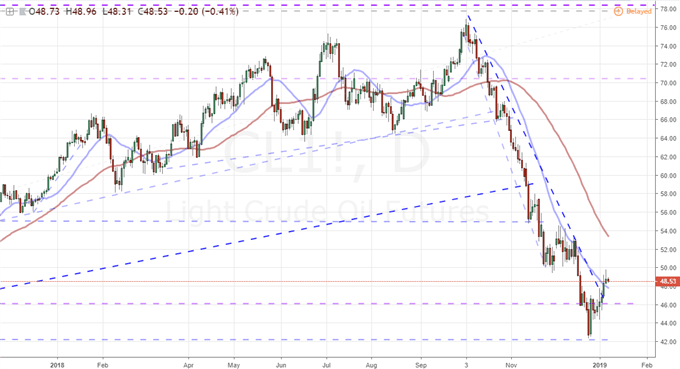 DailyFX provides forex news and technical analysis on the trends that influence the global currency markets.