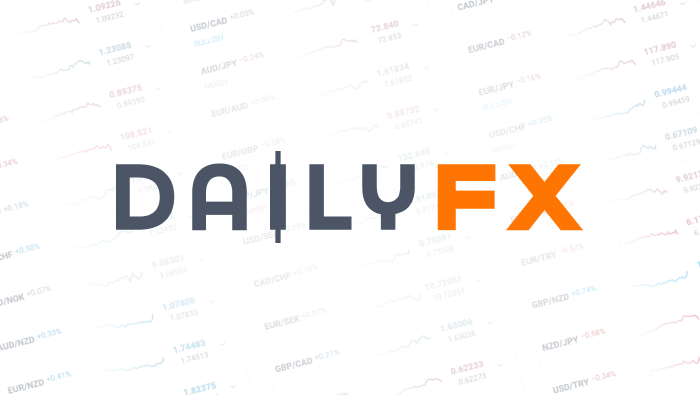 Measuring Sentiment as Risk Appetite Grows Overtly Shaky
Talking Points:
Risk trends are the backbone of the financial market and every trade/investment we intend to take

Measuring risk, on the other hand, is often a discretionary endeavor or otherwise based on flimsy, single benchmarks

We discuss again a more comprehensive means of evaluating sentiment to gain a fix on this elemental aspect of our trading
Speculative futures traders are starting to ease back on their extreme Kiwi and Swiss positons, but how is the retail set positioned through NZDUSD, USDCHF and EURCHF? See retail traders positioning on these key pairs, all the FX majors, indices, commodities and more on the DailyFX sentiment page.
Don't Just 'Wing' Your Evaluation of 'Risk Trends'
How do you determine whether the asset, market or environment you are trading is being driven by a distinct view of risk trends? For most people, the measure is pure gut feeling. In an endeavor where one of the most common passages of wisdom is to strip emotion out of the equation that would ensure our first step into hunting for well-balanced trade opportunities was already set at a disadvantage. Risk trends are a universal medium for the financial system. Whether you are evaluating individual trades, assets, sectors, regions or the entire market-at-large, sentiment is a crucial first order assessment that must be made to ensure the general course setting is properly set. Imagine deciding among trades that all orient towards risk aversion when the backdrop is supportive of a rise in speculative appetite. It would be extremely difficult to spot the exception to the rule and chasing low probability scenarios doesn't work when the objective is to find a reliable and repeatable strategy over time. In fundamental analysis, determining what type of market we are dealing with can make all the difference in the world with trade selection in a 'top down' assessment of the environment. The general risk appetite in the market is just such a first order fundamental filter.
Chart of Volatility Readings for Various Markets (Daily)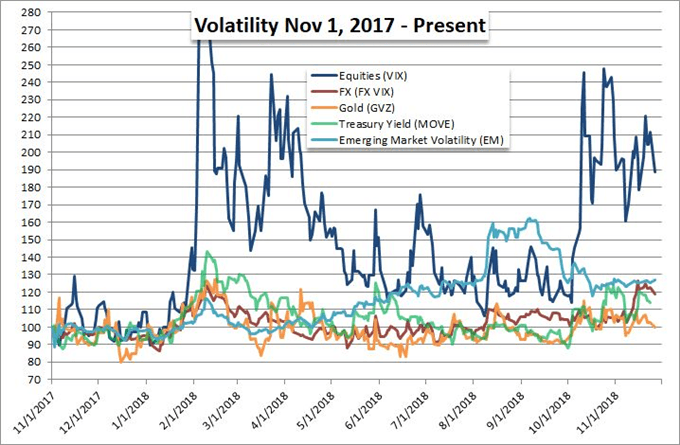 The Better Measure of Sentiment Versus the Standard Fare
Clearly, basing our assessment of something as important as risk trends on mere discretion ('gut feeling') is a bad decision - unless you are a market participant with decades of active experience in the markets. For many, the answer is to resort to a single and easy-to-interpret barometer. The benchmarks I often see referred to for this important role include the Dow, VIX volatility index, yield curve and other familiar one-offs. It would certainly be convenient if there truly was a single measure of the financial system that can give so comprehensive an assessment of our health. Yet, it should be clear that something that reflects the collective of so many different views and risk tolerances would naturally defy such easy evaluation. To avoid a one-dimensional reading on the environment, I like to refer to a range of risk-sensitive assets that otherwise have few points of commonality. In other words, if these markets are moving in tandem through direction and pace, then it must owe to something as far-reaching as sentiment. What's more, if they are aligning to a specific direction - and especially with a meaningful pace - the theme must be under power. My list of measures to watch has grown to include: US equities, global equities, emerging markets, junk bonds, carry trade, commodities and more. There is also something to be said about those components of this collective that most outperform and underperform. For example, the US tech sector in equities has been one of the most defiant risk-leaning benchmarks these past few years while emerging markets (EEM) have suffered the most readily. Therefore, comparing the Nasdaq 100 and EEM to a broader and more moderate measure like the ACWI All-World Index can signal a deepening or easing conviction.
Chart of Performance for Risk Assets Since November 2017 (Daily)
What Do Risk Trends Currently Signal as the G20 Approaches?
If you intend to establish a good bead on the course of the market from the outset of your research, it is vital that you do an assessment to evaluate the mood of the market. There are certainly ways to avoid the crushing influence of sentiment - by trading very short-term or finding the few assets that can reasonably avoid such a wide-reaching motivation. Yet, such a market approach would be the exception to the rule. Most of us trade in some 'medium-term' zone in assets that cannot reasonably divorce themselves from so universal an influence. That said, now is perhaps the best time to get familiar with the concept of risk trends and develop a means for tracking its progression. After nine years of nearly unbroken buoyancy, 2018 has shown a distinct sense of concern with chasing the markets with no obvious foothold in fundamental value to move the market forward. To ensure the horizon is a laundry list of speculative landmines, we have seen numerous points of concern break open like fractures in a complacent glacier. Fed monetary policy has impacted the emerging markets more than any other asset type, Brexit has raised concern over London's financial health, Italy has revived an existential risk in Euro-area capital flow and trade wars have been stoked by the United States in particular. I would argue the most broad-based threat is a burgeoning trade war, and that makes the G20 summit this Friday and Saturday a must-watch event risk. We focus in on risk trends and their measurement in today's Quick Take Video.
Chart of All-World Index, Nasdaq 100 and Emerging Market ETF Performance (Daily)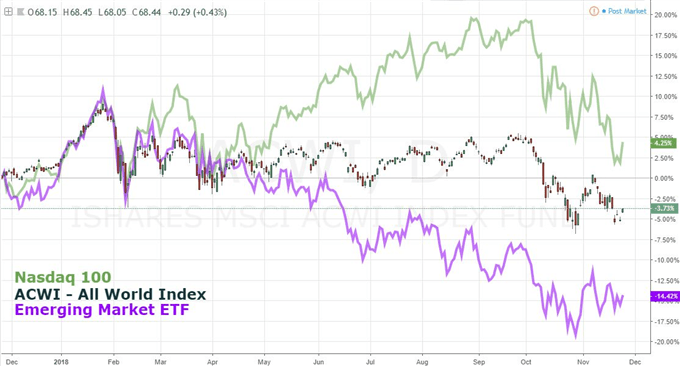 DailyFX provides forex news and technical analysis on the trends that influence the global currency markets.