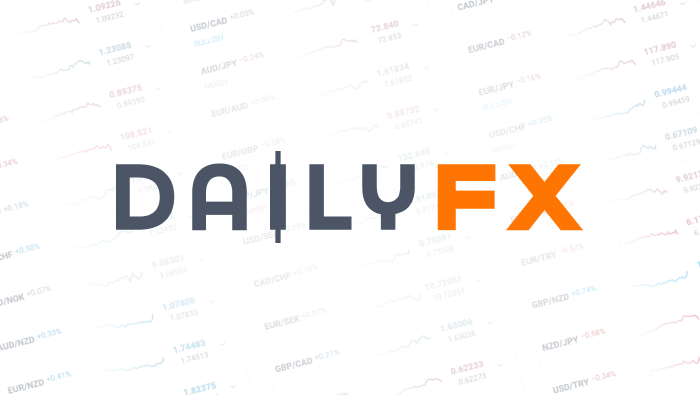 The Signs of A Looming Bear Market are Stacking Up - Quick Take Video
What's on this page
Talking Points:
There have been many signs of risk aversion building for months but US indices held out a symbolic status for confidence

Where risk aversion has stirred many assets to action on some abrupt moves, we seeing a breadth and frequency that should concern

Wide tumbles and even flash crashes do occur without systemic consequence, vicious cycles start due to positioning and liquidity
What makes for a 'great' trader? Strategy is important but there are many ways we can analyze to good trades. The most important limitations and advances are found in our own psychology. Download the DailyFX Building Confidence in Trading and Traits of Successful Traders guides to learn how to set your course from the beginning.
Why the S&P 500 Grabs More Attention and Fear Than a Whole Section the Financial System
There are plenty of measures for sentiment that analysts and traders refer to when evaluating the market and its opportunities. For many, the need to have the earliest possible signal outweighs all other considerations. If we were to value the same, the EEM emerging market ETF or the CBOE's short-term volatility measure have proven to be among the more sensitive readings. However, with that responsiveness, there are far more instances of 'false starts' for systemic changes. To avoid a false reading from a measure from a speculatively leveraged asset or from a market that simply has a specific fundamental issue to account for, my preference is to look to correlation across a variety of assets that are otherwise lacking a common motivation outside of the systemic reach of 'risk on, risk off'. With remarkable consistency and substantive momentum, there are few sources other than sentiment that could produce such an outcome. As reliable as an measure as correlation is, there is something to be said for a single measure on the opposite end of the spectrum - one that seems to only rise with encouraging news but resistance the temptation of retreat at seemingly all costs. That is what US equity indices represent. They have outpaced all major counterparts in decade-long climb following the bottom of the Great Financial Crisis. I prefer to follow the S&P 500 which is one of the most heavily traded benchmarks through derivatives (futures, ETFs, etc) in the world. If this seemingly indestructible measure retreats, it can signal a truly remarkable shift in conviction.
Chart of the Performance of Various 'Risk Assets' Starting from the GFC Bottom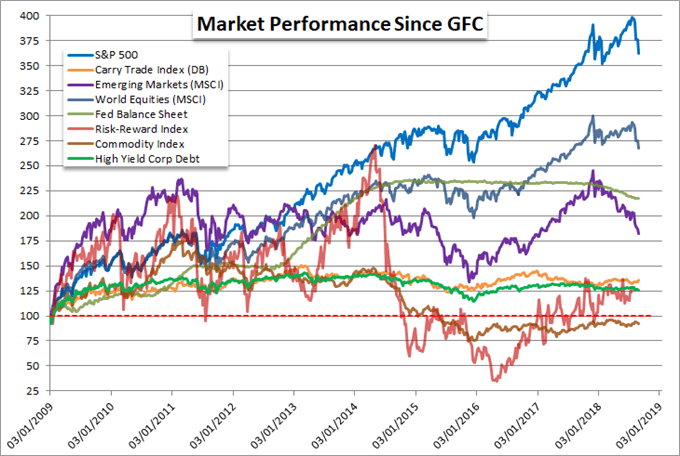 Risk Aversion Can be Severe Without Being Self-Sustaining
With may weapon of speculative choice established, we have the remarkable swing lower from the S&P 500 over the past week and month to evaluate. This past Friday, the index opened with an incredible 1.39 percent gap lower than the previous days close. That is the second largest lurch down on record - the most extreme move was almost exactly a decade before, on October 24, 2008 during the height of the market crash. Putting the single session's gap further into perspective, the drop on Friday acted out the familiar technical progression of treating former support as new resistance in a possible bid for continuation. What's more, through the intraday low this past week, we have seen an October peak to trough tumble of over 10 percent which qualifies as a technical 'correction'. From such a measure, this is a remarkable progress. Yet, should that be the final cue to cast all doubt aside and commit to systemic risk aversion? Intense declines - even ones that span asset classes - can occur without a trend following in pursuit. Consider 'flash crashes' which see extraordinarily intense swoons in asset prices only to stall and recover shortly after speculative interests are flushed. If a trend is to develop, certain systemic aspects of the financial system have to contribute to turn mere selling pressure into a self sustaining cycle.
Chart of the Current Intensity of Risk Aversion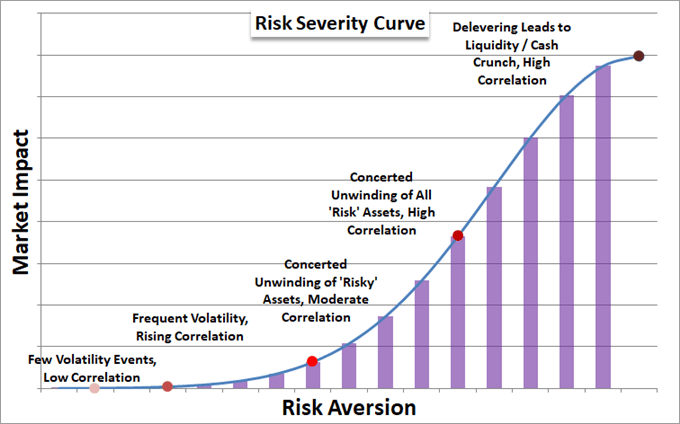 What Turns a Market Fire Into Financial System Napalm
Napalm is an insidious petrochemical that not only burns at a high temperature, but sticks tenaciously to whatever it is applied. That is remarkably similar to the concept of true risk aversion. Not only does it set capital markets alight, but it continues to scour the market for extended periods of time to raze investors to the ground. Intense financial fires are not difficult to start, and in fact we have seen a number of just such events over the past few years. The China revaluation-led sump in global capital markets in August 2015 was followed but another plunge through the opening weeks of 2016. Just this year, the February, March and October tumbles count as exceptional moves. However, we have yet to see the general bull trend of the past decade definitively break. That depends on the intensity and breadth of risk aversion tapping into something more crucial to the financial system. Speculative exposure and intent are something that doesn't always abide fundamental catalysts (trade wars, monetary policy, etc), but it is the life blood of true market development. When gauging intensity, the cue that risk aversion has moved into a vortex is the fracture of liquidity. When gaps in otherwise liquid markets form amid risk aversion, it can spur panic and self-sustaining momentum. That draws us further to the perspective of collective exposure. Have markets built up exposure over time on the unrealistic belief that markets will remain preternaturally bullish and unflappable owing to monetary policy - which is out of ammo and showing a decrease in effectiveness? Is record leverage across investor, consumer, businesses and government ensuring there is a deep unwind in the wings? We discuss what to look for as the markets make grander overtures at a truly systemic rebalance in this weekend Quick Take Video.
Chart of S&P 500 Over NYSE Broker-Level Leverage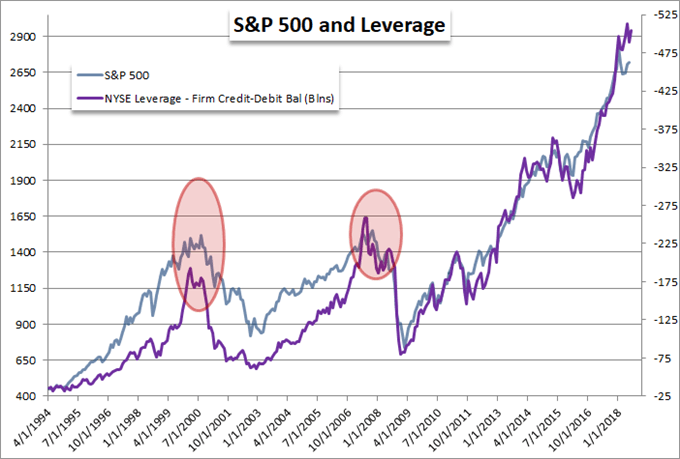 DailyFX provides forex news and technical analysis on the trends that influence the global currency markets.