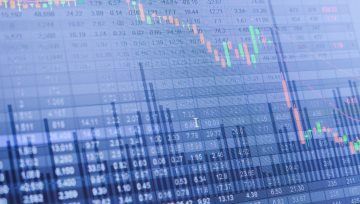 S&P 500 Rally Pushing Bearish Limits; Gold Price Rally Incomplete?
What's on this page
The SP 500 rally has pressed limits to an immediate extended third wave correction. Gold price rally appears incomplete in Elliott wave terms.
The video above is a recording of a US Opening Bell webinar from January 14, 2019. We focused on the Elliott Wave patterns for key markets such as SP 500, NASDAQ, Gold, DXY, EURUSD, NZDUSD, USDCAD, USDJPY, and Oil.
S&P 500 Revisits a Broken Trend Line
We have been highlighting the potential for a stiff fall in S&P 500 since October. S&P 500 has been pressing the upper bounds of a bearish extended third wave. Though S&P 500 broke below its (2)-(4) trend line, it has subsequently rebounded back above. If this market is going to sell off in an extended third wave lower, then we should witness the correction resuming within the next few days.
The inability of S&P 500 to resume its correction this week will have us seeking more bullish patterns in the near term marking the December 24 low as an important low.
Additional reading…
How to Trade S&P 500 Index: Strategies, Tips & Trading Hours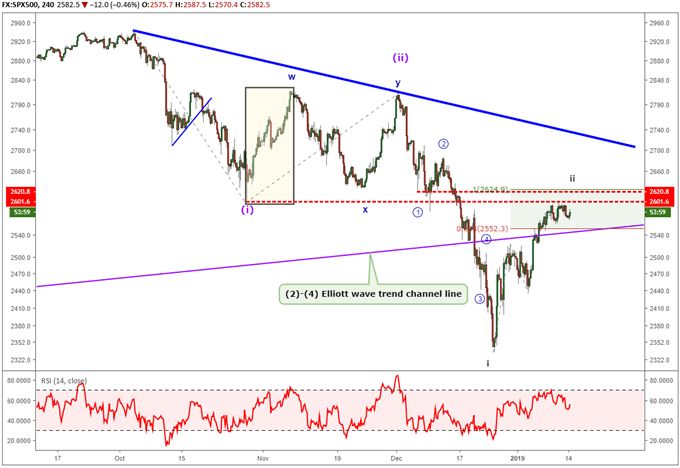 Nasdaq held support from Elliott Wave Channel and 10-year trend
Nasdaq 100 has yet to break and hold below the (2)-(4) Elliott wave channel from 2009. This channel defines the near-term trend. Any extended wave should only briefly pierce the line. Therefore, a break and hold below the line indicates the trend from 2009 is over. That implies a highly probable visit to the previous fourth wave at the February 2016 low near 3800.
Additional reading…
Top 7 differences between Nasdaq and NYSE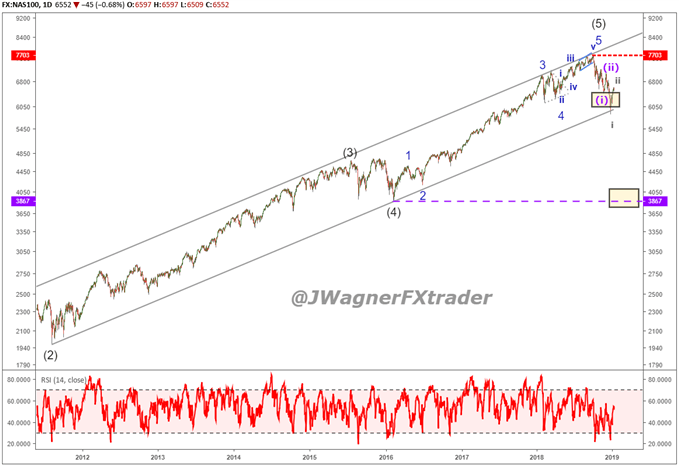 Gold consolidates as the recent rally appears incomplete
Little has changed from last week as gold prices have been consolidating for the past two weeks. Based on the structure of the advance from November 13, this rally appears incomplete.
The preferred Elliott wave count we are following is that the advance is a (w)-(x)-(y) double zigzag. Under this structure, it appears the current Elliott wave for gold is wave 'b' of (y). This implies a dip possibly to the $1250-$1260 area to finish wave 'b'. From there, we would anticipate a motive wave higher of five waves that likely moves beyond the $1298 price extreme. The estimated termination zone of wave (y) is falling near $1320-$1335. We can focus more on the potential reversal zones in wave 'c' after wave 'b' is in its final stages.
There are other Elliott wave counts we are following that are a bit more bullish. Until we see evidence of those being the preferred count, we will focus on the double zigzag higher.
Additional reading…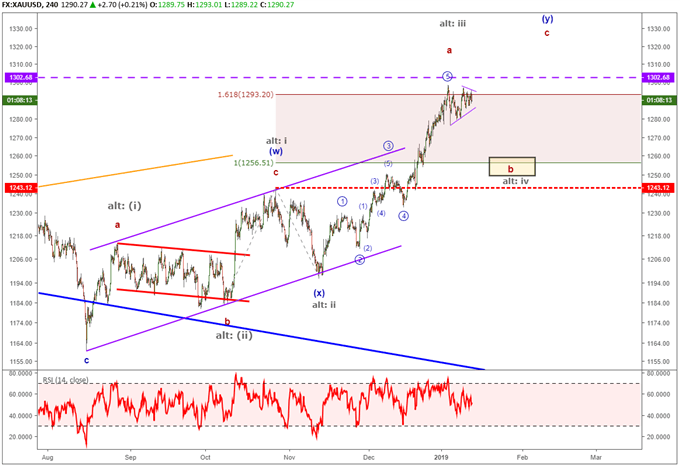 NZDUSD Rallies in an Impulsive wave
We have been tracking NZDUSD closely for the past two months. After an impulsive wave from October 2018 to December, this advance appears incomplete. Therefore, we are anticipating another motive wave higher and it's likely it has begun from the .6585 low. If so, wave relationships appear near .7142 and .7486 for a subsequent advance. So long as NZDUSD remains above .6703, objectives mentioned earlier remain in focus.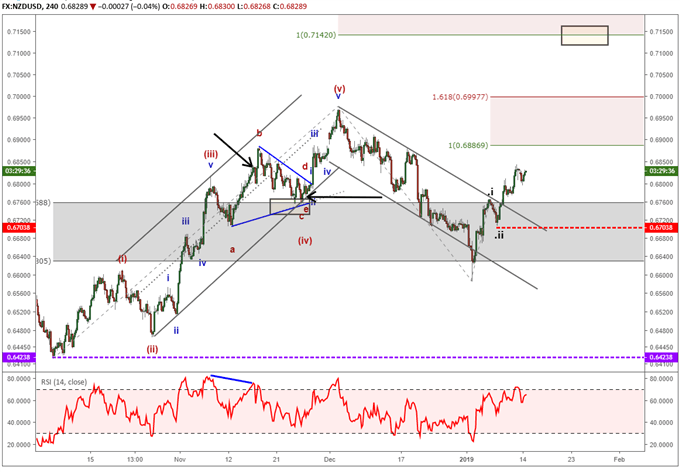 Elliott Wave Theory FAQ
How does Elliott Wave theory work?
Elliott Wave theory is a trading study that identifies the highs and lows of price movements on charts via wave patterns. Traders analyze the waves for 5-wave moves and 3-wave corrections to determine where the market is at within the larger pattern. Additionally, the theory maintains three rules and several guidelines on the depth of the waves related to one another. Therefore, it is common to use Fibonacci with Elliott Wave analysis. We cover these topics in our beginners and advanced Elliott Wave trading guides.
After reviewing the guides above, be sure to follow future Elliott Wave articles to see Elliott Wave Theory in action.
---Written by Jeremy Wagner, CEWA-M
Jeremy Wagner is a Certified Elliott Wave Analyst with a Master's designation. Jeremy provides Elliott Wave analysis on key markets as well as Elliott Wave educational resources. Read more of Jeremy's Elliott Wave reports via his bio page.
Learn more about how Jeremy got started into Elliott wave from his podcast interview on Trading Global Markets Decoded podcast with Tyler Yell. You can access through:
Stitcher - https://www.stitcher.com/podcast/trading-global-markets-decoded-with-dailyfx/e/57431393
itunes - https://itunes.apple.com/us/podcast/trading-global-markets-decoded/id1440995971
Follow Jeremy on Twitter at @JWagnerFXTrader .
Recent Elliott Wave articles you might be interested in…
8 scenarios after an Elliott wave impulse pattern completes
Top Trade Idea 2019: S&P 500 Takes a Back Seat with the US Dollar
DailyFX provides forex news and technical analysis on the trends that influence the global currency markets.