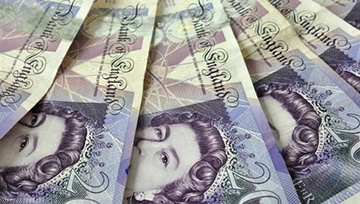 How New Brexit Developments Alter Possible Pound Scenarios
What's on this page
Brexit Talking Points:
The

Pound

dropped across the board Monday - suffering one of its sharpest single-day selloffs since the Brexit vote

Prime Minister Theresa May announced that the Parliamentary vote on her Brexit proposal would be delayed

With the Brexit clock counting down, the scenarios for a Brexit consequently narrow and impact of their outcome grows more intense
See how retail traders are positioning in GBPUSD, EURGBP, GBPJPY, other FX majors, indices, gold and oil intraday using the DailyFX speculative positioning data on the sentiment page.
Prime Minister May Manages to Further Convolute the Brexit Path
It seemed impossible, but the Prime Minister managed to make an already-complicated Brexit into an even more torturous event. We were entering the week with a fairly important milestone on the books. While there were a range of possible outcome - many of them troubling for the Sterling - there was at least a clear day and time for Parliament's vote on Theresa May's proposal to withdrawal from the European Union (EU). Yet, before speculation could set too deeply, the PM announced early Monday that the vote would be delayed. This was likely a decision to head off a high probability rejection of May's proposal. Over the past weeks, we have seen resistance to her progress grow from both the opposing party and among her own Conservatives. The threat of a rejection would not just create a further troubled path for this already-strained divorce, but it would likely diminish May's influence significantly. Last week, the MPs voted given Parliament greater say over the course of Brexit should the Prime Minister's plan be rejected. This way, she will retain control over the yoke - for better or worse. The market's view on this turn of events was easy to read. The Pound dropped across the board with the GBPUSD (the 'Cable') suffering at one point its worst daily loss since the October 2016 flash crash on its way to the lowest close since April 2017. Sometimes fundamentals draw competing interpretations of complex fundamental themes which can render the target asset inert. What enthusiasm may have been mixed into this situation has clearly evaporated as time has cycled down to the inevitable March 29 cutoff.
GBP/USD Chart (Daily)
While the Outlook is Unclear, the Probability of Pain for the Pound is Increasing
There are still a number of paths the Brexit may still take. However, following the most recent jog to extend and head off Parliament's efforts, the chances of a 'positive' outcome have diminished materially while the risk of a forced crisis continues to rise. It is still possible that with the additional time May has bought for working another compromise that all parties can approve, it is very unlikely that such a happy resolution can be found. And, this is perhaps the only viable scenario for which the Sterling can put up a meaningful recovery - more owing to a relief rally from a depressed level than a genuine rush of enthusiasm. European Council President Donald Tusk announced that no renegotiation would be taking place from Europe's position and drove his point home saying the EUCO meeting on Thursday would include plans for a 'no deal' Brexit outcome. And, at the end of the additional weeks the Prime Minister has bought, there will be even less time to work an alternative course. With so little time and no breakthrough on local conflicts, the risk of a 'no deal' rises significantly. Such a wild west outcome would definitely inspire investors to withdrawal from the Pound and UK markets. Another option that rises in the absence of a near-term compromise is the chance of a second referendum. May floated this as a possible course more as a threat to get conservatives in line, but the seal has been broken and it will be considered viable. Another possible bearing to arise from this uncertainty is a call for a confidence vote which is likely to seriously complicate the government's stability and of course make the Brexit situation even less apparent.
Spread Between British 10-yr and 2-yr Bond Yields Chart (Weekly)
How to Approach the Pound with All This Mess
There are fewer viable options when it comes to Brexit following last week's votes against the Prime Minister and her decision to head off the opportunity for Parliament to deliver her another decisive rejection this week. Yet, those scenarios that remain are more readily bearish for the British Pound. Nevertheless, there is still time for fruitless political maneuvering to provide hope where none should reasonably be present. And, with each week that passes, the recognition of a troubling end game will grow more pervasive amongst market participants. This situation leaves us with considerable uncertainty for bearing but a high probability of volatility. Against a backdrop of what is 'supposed to be' tame December, concern will only build. Bearish scenarios for the Sterling seem increasingly likely, but how far has the currency's depreciation already worked off excess risk premium? There will be serious debate on this open-ended question which will only further burden Sterling traders. It is not impossible to trade this currency going forward, but it should be viewed as particularly difficult. Any positions scheduled for over a day will face the crushing uncertainty of another surprise update on the Brexit proceedings. Pursuing trades over a few months another viable option - that few are comfortable trading - but it requires an explicit view on how this divorce will end and how the market will respond. I prefer to just ignore the mess. We focus on the Brexit scenarios and Pound bearing in this Quick Take Video.
GBP/USD vs. Commitment of Traders Chart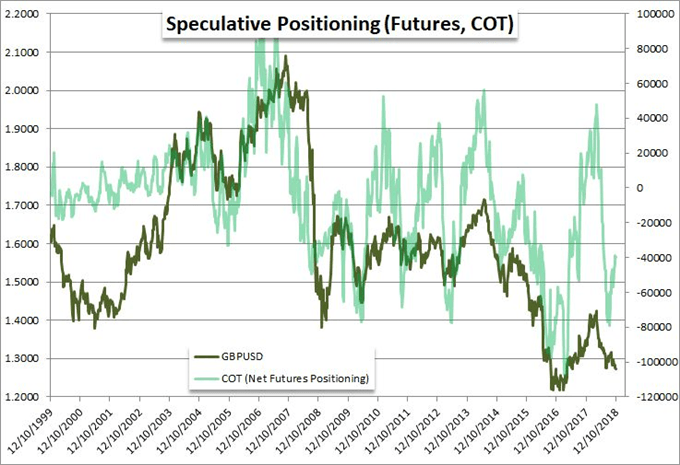 DailyFX provides forex news and technical analysis on the trends that influence the global currency markets.