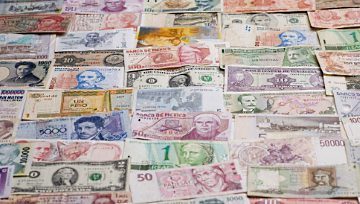 The Best and Worst Currencies to Trade This Week
What's on this page
Talking Points:
There are many ways to qualify ideal trading conditions, but I qualify in this analysis according to complexity of themes

A lack of clarity on motivation for the Dollar or unclear timing for crucial

Euro

and

Pound

events make for difficult trade

Though lower in the liquidity scales, the New Zealand, Australian and

Canadian Dollar

can find clearer path in simplicity
Do you have market, trading or strategy questions? Ask them at my weekly Trading Q&A webinar on Tuesday. Or, see what other live events and regular trading discussions are scheduled on the DailyFX Webinar Calendar
Qualifying 'Best' and 'Worst' Trade Potential
Determining the 'best' or 'worst' of anything is typically a qualitative affair rather than one based on explicit metrics. That is certainly the case when I start the week or month looking for the ideal currencies or assets to focus on for trading versus those best avoided for their inherent difficulties. It is particularly important to run this assessment for the fundamental charge of the week ahead. Often times, traders will seek out volatility at all costs. The more scheduled event risk and the greater the overlap of critical fundamental themes, the higher the probability of a significant charge in short-term price action. As true as that may be, outright volatility is not well suited for trading conditions. Such activity at its root is associated with uncertainty. And, uncertainty is what we look to avoid at all costs as we intend to trade over time with many different opportunities against the backdrop of many disparate environments. Only when the promise of increase activity comes with a meaningful chance of direction and momentum is there something to rely on. However, that is a particularly rare state of affairs. Alternatively, putting the emphasis on higher probability outcomes that may not promise the most productive (extreme) of market movement can support performance over time. To help gauge the other side of the coin, an evaluation of what currencies are least conflicted with overlapping fields o fundamental risk can put us on the path of opportunity.
DXY vs. VIX vs. Fed Funds Implied Yield Chart (Daily)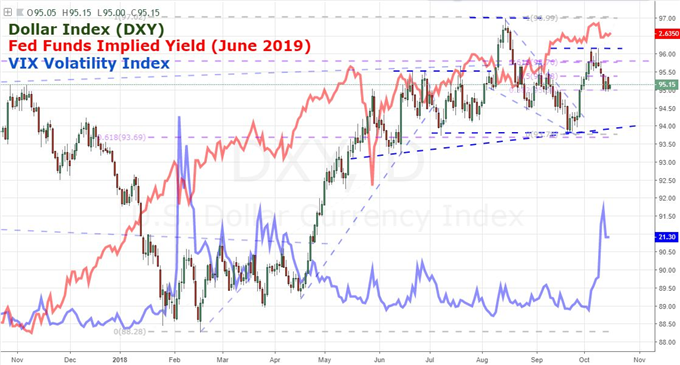 The Problematic: Dollar, Euro and Pound
If fundamental confusion is a virtue to avoid when selecting viable opportunities, many of the top liquidity majors are arguably currencies to avoid. The US Dollar for example represents one of the most burdened currencies for key themes - if not scheduled event risk. Is the Greenback a core representative for risk aversion or is on the opposite end of the spectrum given its steady rate hikes in contrast to major counterparts? Will risk trends accelerate or deflate the Federal Reserve's pace of tightening? Are trade wars an opportunity to impart greater value or an inevitable collective threat for the instigator of so many conflicts? It is difficult to find a bead on the themes much less which is most important for establishing direction. To the Euro's credit, the competing fundamental themes are far fewer. While the European Central Bank's (ECB) intent will remain important, the tension exerted by Italy on the European Union (EU) by subverting its rules can represent a severe consequence. With the Deputy Prime Minister offering a passive threat this past session, the Prime Minister set to offer his mind Tuesday and the EU Summit scheduled for Wednesday and Thursday; there is one threat but seriously problematic timing. The same EU leaders gathering will represent a point of contention for British Pound traders. This meeting will offer crucial discussion on the common ground that is met or missed between the UK and EU on their divorce. Following a break down of talks between negotiators over the weekend, Prime Minister May offered unconvincing remarks this past session and she will attempt to corral her cabinet Tuesday. The EU gathering will stoke bulls or bears, but when and who is still up in the air.
Manic/Crisis Calendar: Euro, Pound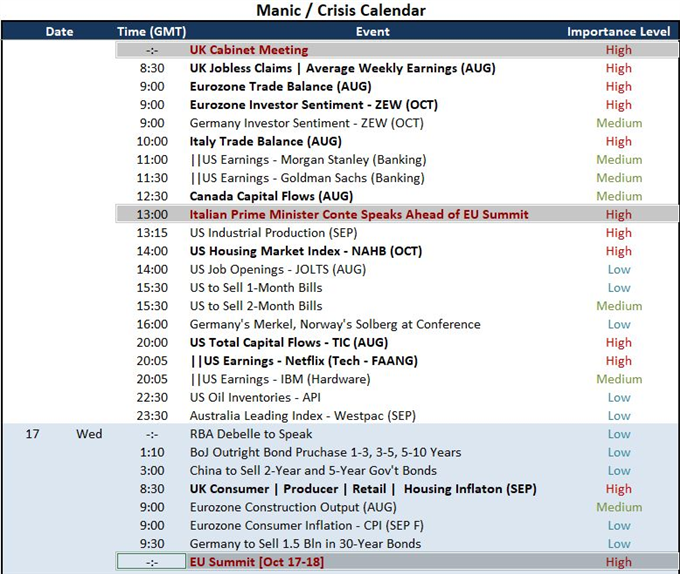 Brimming With Opportunity: Canadian, Australian and New Zealand Dollars
Taken together, the liquidity represented by the Dollar, Euro and Pound represent well over three quarters of total trade in global currency volume. Naturally, there is safety to be found in market depth, but it doesn't ensure better opportunities. In this case, liquidity runs in direct conflict to the clarity we look for when filtering specific trade scenarios. However, when there is a more decisive and/or favorable environment behind a currency, it can compensate for a certain amount of liquidity. The New Zealand Dollar is an example of an improved fundamental sub-floor. Already significant devalued through months of weakened risk sentiment and a more absolutely dovish RBNZ, the currency is proving to be unresponsive to anything but severe panic to the negative and the most recent CPI update has helped spur distinct enthusiasm. The Australian Dollar is of a similar stature. Over months, the currency has lost any precept of a hawkish backdrop for via the Reserve Bank of Australia's (RBA) intents, but there is notable data in the form of recent employment and business sentiment data which is due at the same time Thursday morning. Then there is the Canadian Dollar. With the NAFTA fallout between the US and Canada behind us, there is a shift back to more pedestrian - but infinitely more predictable - theme in the Friday consumer inflation report from Canada - a far better blend of potential and focus. We discuss the potential and pit falls of these majors for trading over the week in today's Quick Take Video.
CAD Index Chart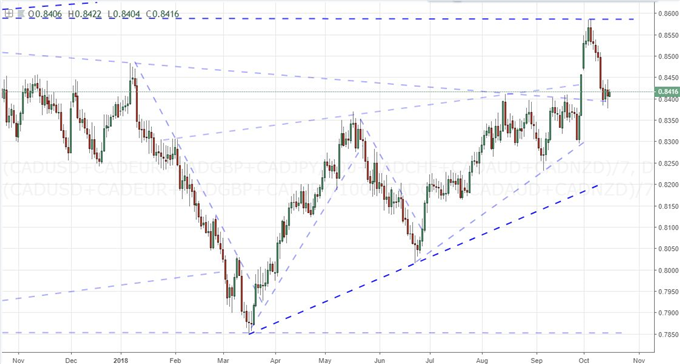 Written by John Kicklighter, Chief Currency Strategist for DailyFX.com
DailyFX provides forex news and technical analysis on the trends that influence the global currency markets.