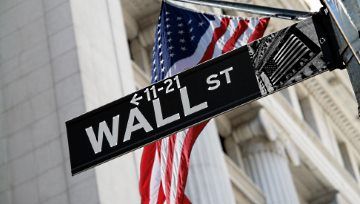 US Equities Dive - Is This the Big One?
What's on this page
Talking Points:
The

Dow

and the

S&P 500

suffered their worst performance since February, the

Nasdaq

100 since 2011, FAANG since I have data

A tip into

bear market

or

financial crisis

is a function of both breadth and intensity in speculative unwind

Ahead, look for speculative momentum in subsequent sessions and moni

tor closely benchmarks like the

Dollar, Treasuries and

Gold
See how retail traders are positioning in the FX majors, indices, gold and oil intraday using the DailyFX speculative positioning data on the sentiment page.
Fear Raises Its Ugly Head in US Equities
There is little dispute that fear found its way into the US equity market this past session. Following 74 consecutive trading days avoiding a one-percent-or-greater single session loss, the S&P 500 delivered a steep 3.3 percent tumble Wednesday. This painful performance was similar to the 3.2 percent drop from the blue-chip Dow drop both in term of scale and historical relevance. The day's loss was the largest since February 8 during the height of the most intense financial flush in years. Just as these US benchmarks were presented a significantly more intense risk aversion than global counterparts, the Nasdaq 100 suffered an even more pained 4.4 percent plunge on the day. That is the worst single-day loss for the tech-concentrated index since early 2009 - when we were still in the undertow of the Great Financial Crisis (GFC). In this contrast, we find the commensurate retreat to the preceding speculative build up. If we take it a step further, the FAANG aggregate (Facebook, Amazon, Apple, Netflix, Google) experienced a collective loss on the day that was greater than 6 percent. That is the most severe retreat I have on data going back to early 2014. Not only was this the epitome of intensity, it was explicitly concentrated on risk trends. However, the breadth of the reversal has yet to signal the escalation that could readily be labeled a self-sustaining vicious cycle. Though that may come next.
Market Activity and Sentiment vs. S&P 500 Chart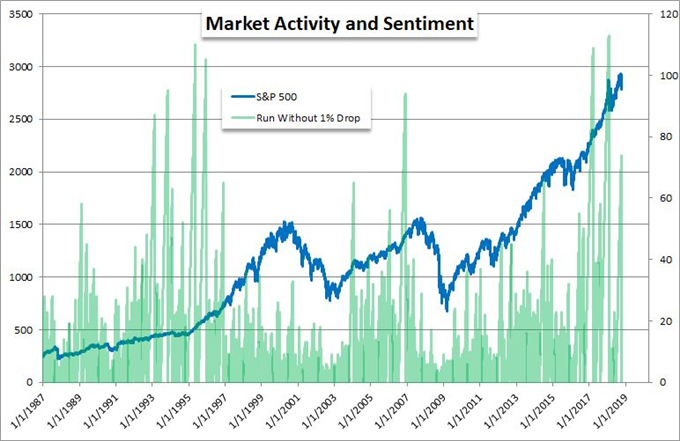 FAANG Chart (Daily)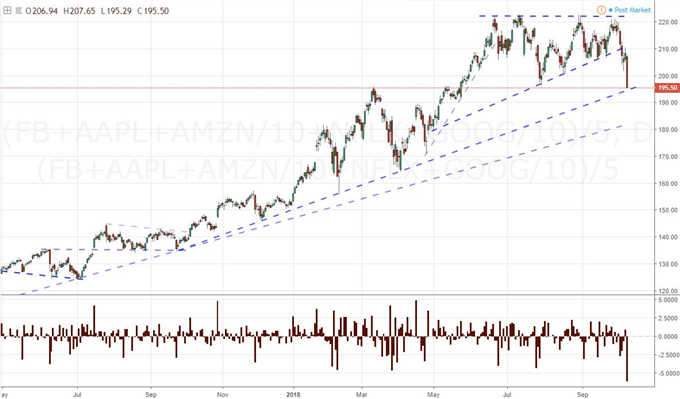 Scope is Just as Important to Establishing True Risk Aversion
An intensity in risk aversion is one of the key ingredients for securing a lasting deleverage in speculative markets. The other critical contribution to this equation is 'breadth'. Intense moves in specific assets can certainly signal the establishment of a lasting but isolated trend. Yet, how often do we come across a full-fledged drive in a specific asset that breaks from a committed congestion or contradictory trend from the rest of the financial system? Such occurrences are rare. More often, we find trends for target assets form within the current of a systemic move for the financial system. The participation in the move is deeper and frequently more elemental. A highly-specific shortcoming for an asset - like disappointing earnings, with the US third quarter season beginning Friday - can prompt a sharp and intense response from market participants, but the change in value is quickly discounted more often than not. That is not the case when the motivation is a market-wide change in sentiment. Every trader, fund, bank and policy setter has a tipping point between risk and reward. When the scales tilt across the board, a virtual migration can begin and not play through for an exceptionally long time and after a particularly deep scouring of capital market pricing. Evaluating the scope of risk aversion outside of US equities this past session, we have did see the usual suspects snap to attention. European equities were under pressure, but peak intensity of the selling pressure arose in the New York afternoon hours when that region was offline. Emerging markets and high yield took a serious hit, but the intensity of their retreat was significantly more restrained. The FX carry trade and typical carry currency benchmarks (Australian and New Zealand Dollars) were barely moved. What's most interest is the fact that many of the top-billed safe havens during bouts of true fear (Dollar, Treasuries and Gold) were little changed.
DJIA vs. S&P 500 vs. NAS 100 Chart (Daily)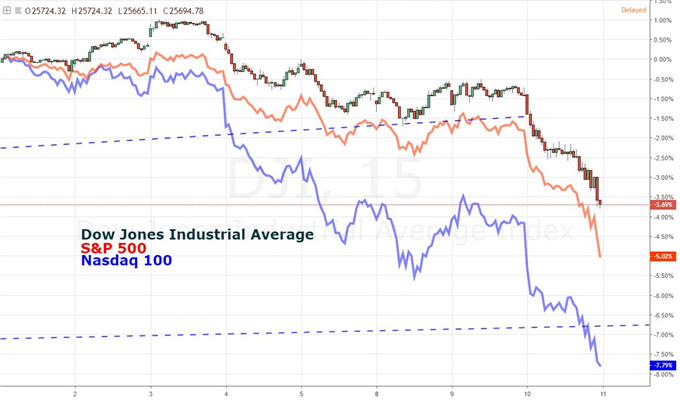 Market Performance Chart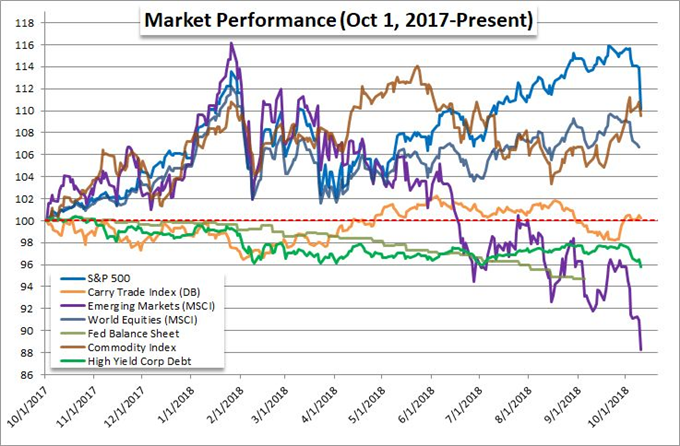 What to Watch for Ahead
As we keep tabs on the health of market-wide sentiment - both to control our risk and hopefully evaluate potential - it is crucial to track the combination of the intensity and breadth of the theme. Big picture change in trends more often develop over time rather than flipping from enthusiasm to panic in the span of a single day. That said, there has been evidence of a pendulum swing in the opposite direction for some months with a host of assets (in juxtaposition US equity indices) steadily retreating from their respective highs. Further, the wide volatility charge as recent as February signals that the engine has already attempted to turn over. We could certainly see another break in the momentum following Wednesday's swoon, but consistent would be more convincing. Follow through from the Asia and European markets to reprice to US indices would be bare minimum evidence. Carrying through the selling into subsequent sessions beyond the first way (ie through Thursday and perhaps Friday New York trade) would solidify consistency and speak to speculative momentum. As for breadth, we should see most of those assets with a traditional 'risk' designation conform to the selling pressure. That includes wayward or tempered players like the Australian and New Zealand Dollars, the Yen crosses and commodities. Perhaps more meaningful would be the alignment of safe havens to their traditional roles. Treasuries have been caught up in Fed rate hikes and the QE wind down lately. The US Dollar is acting more like a carry currency that is under pressure of late. And gold has seen little of its traditional flight-to-quality bid - a role that will be particular important when fear does kick in as it will further expose the dependency the financial system has placed upon central banks' shoulders even though they have essentially run out of resources to fight any future fires. We assess whether the markets are at the cusp of a speculative turn and what to watch for in such an event in today's Quick Take video
Risk Severity Curve Chart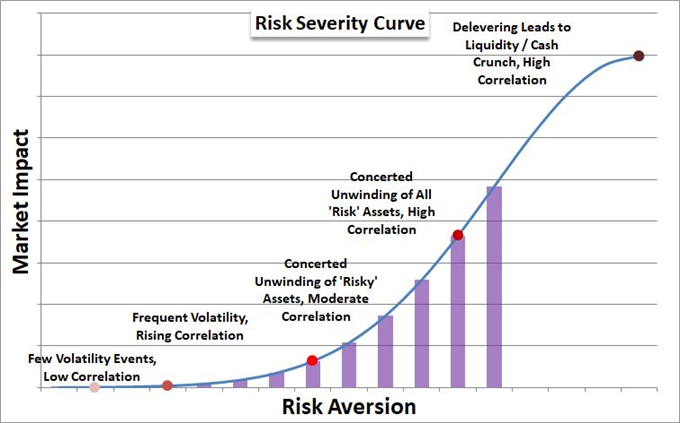 Written by John Kicklighter, Chief Currency Strategist for DailyFX.com
DailyFX provides forex news and technical analysis on the trends that influence the global currency markets.