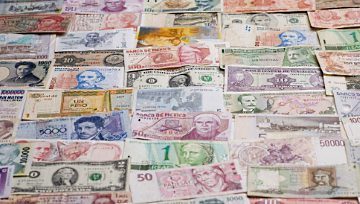 A Top Down Technical Look at Dollar, Euro, Yen and the Majors
What's on this page
Talking Points:
Evaluating the general strength or weakness of individual currencies can open up more opportunities than specific pairs

A technical approximation of currency focus is to look at equally-weighted indices for major currencies for technical health
See how retail traders are positioning in the FX majors, indices, gold and oil intraday using the DailyFX speculative positioning data on the sentiment page
Feed a Trader a Single Trade Versus Establishing Multiple Opportunities
Doing a 'top down analysis' on an asset or market usually pertains to a global-macro overview on the fundamental side or is a technical trader's equivalent by reviewing very high time frame (weekly, monthly) charts. However, there is more that can be drawn from the charts than just the reference to periods which are far broader than the vast majority of most traders' tolerance. In the FX market, another approach to garnering an overview of what we are dealing with is to look at individual measures of specific currencies. Most of us comb the currency market by evaluating charts of individual exchange rates (such as the EURUSD, GBPUSD or USDJPY). That can happen across opportunities if we are diligent in our rotations, but it can be difficult to keep track in the absence of daily updates. A broader evaluation that can identify trades that we perhaps didn't even consider is to keep track of the standings for individual currencies. If we knew for example that one of the core currencies was generally on the rise, we could then more efficiently run through its crosses to identify ideal pairings. If we consequently paired the strong currency to a particular weak one, it can establish appeal for a pair before the particulars are in place - preventing us from overlooking and forgetting an opportunity simply because the time isn't right and technicals not perfectly aligned. So, how can we get this general appreciation of the individual currencies? We can evaluate all of its liquid crosses. Unless you can recall the chart structures from memory and aggregate them into a cohesive picture extemporaneously, it is better to utilize an rely on charts themselves. An equally-weighted index is one of my preferred means of such analysis.
A Technical Overview of Dollar, Euro, Pound and Yen
On the fundamental side, there is remarkable fundamental baggage for the 'core' majors. That can create a clear path of influence but it can also trip the market up if there isn't a clear bead on whatever it is that happens to be in control. Technicals can help clarify a muddled interpretation, but it can also reflect the same lack of conviction. From the Dollar, I see a lack of clarity. From the trade-weighted ICE Dollar Index (DXY) we are dithering around the right shoulder of a head-and-shoulders pattern. Yet, when we de-emphasize the EURUSD's influence, the Greenback's performance looks meaningfully different. The currency is still crawling to new year-plus highs and the August peak was already overtaken. That doesn't offer up a different read on momentum, but it does speak to trend maintenance. From the world's second most liquid currency, the intent of the EURUSD is a meaningful reflection. The currency has been moving in steady bull and bear series without ever leaving the broad range that has formed through months. Anything Euro should be questioned for intent for trend but may be appropriate for range.
DXY Chart (Daily)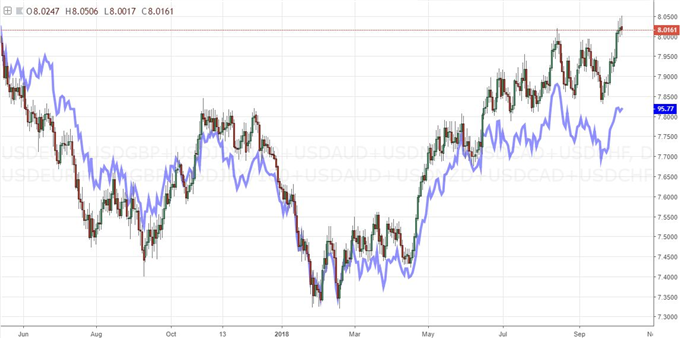 EUR Index Chart (Daily)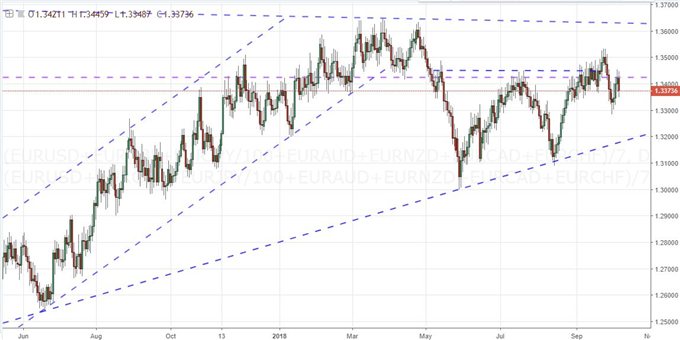 From GBPUSD, there is a deeper retreat in the four months from April to August that may lead traders to believe coiled spring for the Sterling. However, an equally-weighted measure shows the Pound last week broke the mid-point of a bearish slide over the same period that stretched a much smaller spanse. That suggests large ticket moves should looked upon with deeper skepticism. In contrast, few Yen crosses seem staged for unbridled trend. Instead, they are more consistently range oriented - though some like the USDJPY are attempting to sell the perspective that a technical break is impending. Yet, if we were to evaluate the benchmark pair from the perspective of its components, question over the intent of a clearance through 113 would have kept us from committing to a move that had little potential for follow through.
GBP Index Chart (Daily)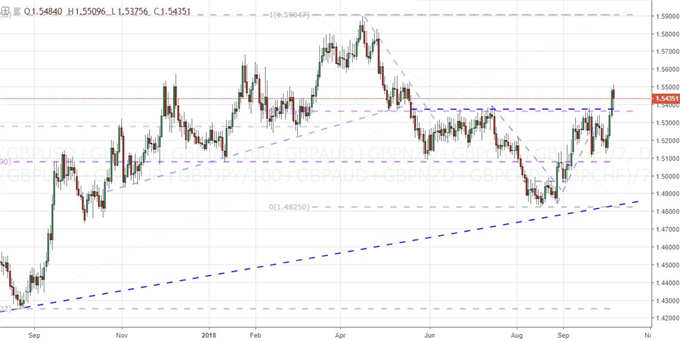 JPY Index Chart (Daily)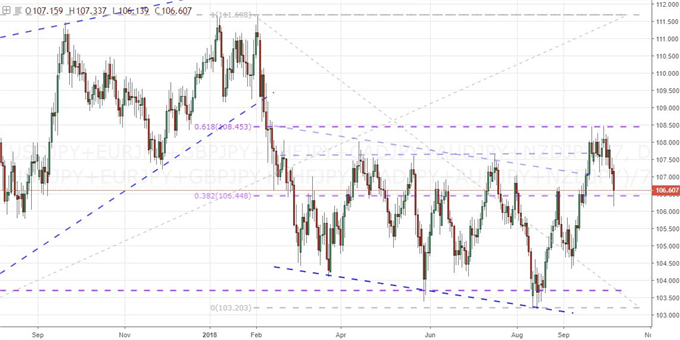 Unexpected Opportunities for the Aussie, Kiwi, Loonie and Franc
Moving further down on the liquidity scales, we come upon currencies that are not as fundamentally restricted and couched in unrealistic technical assumption. The Australian and New Zealand Dollars offer considerable trend in familiar fashion to the AUDUSD and NZDUSD. An equally-weighted Aussie currency index hasn't carried forward with clear bearish progress but it is trading near lows not seen in over a year. The Kiwi Dollar on the other hand looks to be the carbon copy of its most liquid pairing. A progressive bear trend channel suggests the bearing is inherent to all NZD crosses which can be exploited when favorable technical staging pops up from an ideal peer.
AUD Index Chart (Daily)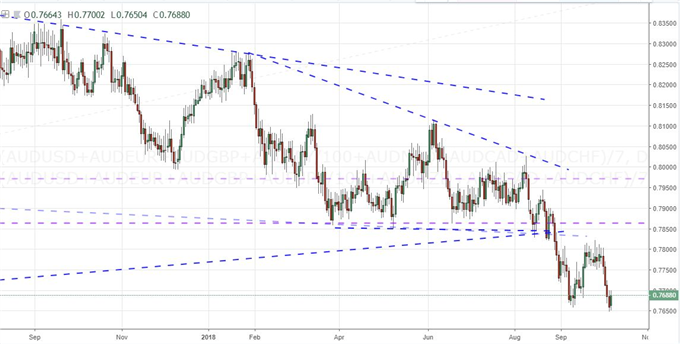 NZD Index Chart (Daily)
Perhaps some of the most appealing technical staging of late comes via the Canadian Dollar and Swiss Franc. Both currencies were driven to remarkable moves these past few weeks - CAD rallying sharply following a NAFTA resolution and the CHF dropping as troubles with the EU hit the skids. Each move covered significant enough ground and set off noteworthy triggers for both aggregates and key crosses. As each consolidates and starts leaning against the nascent trends bearings, we are left with an opportunity to throw in with trend should conviction find a second wind or pick off ideal reversal calls with the leverage of ideal counterparts. We look at the majors in technical relief in today's Quick Take video.
CAD Index Chart (Daily)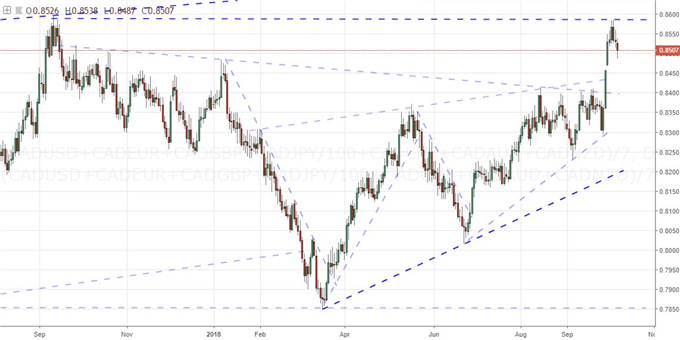 CHF Index Chart (Daily)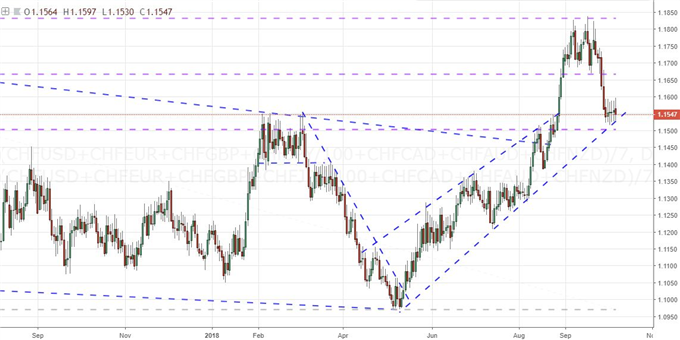 Written by John Kicklighter, Chief Currency Strategist for DailyFX.com
DailyFX provides forex news and technical analysis on the trends that influence the global currency markets.