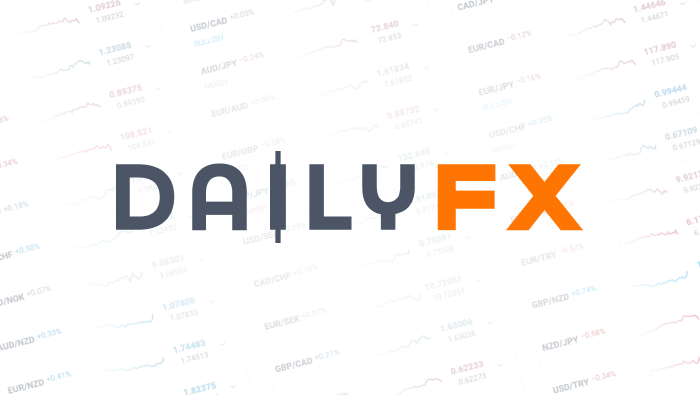 US Dollar Stuck in Range and Looking for Cues
What's on this page
US Dollar continues its sideways range while the gold to silver ratio is at the highest level since the early 90's.
The video above is a recording of a US Opening Bell webinar from September 17, 2018. We focused on the Elliott Wave and patterns for Dollar Index, EURUSD, Gold, Silver, Norwegian Krone, and Swiss Franc. The patterns may subdivide into complex corrections though we are anticipating another round of round of dollar weakness over the medium term.
Dollar Index Tests 3 Week Low
US Dollar Index has been trading sideways for the past couple of weeks. My analysis on the current Elliott Wave count for dollar index is that we are in a corrective (b) wave higher. We may see a test of 96 then anticipate another strong leg lower to 91-93. It is possible DXY may drift lower and if this occurs with diverging momentum, then it could be a false break before the bump up towards 95.75 takes place.
The bearish view is valid so long as dollar index holds below 96.98.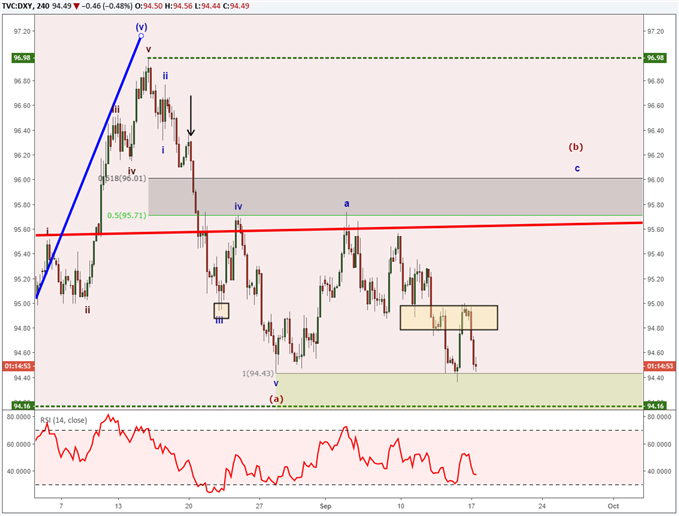 EURUSD Elliott Wave Chart Points to Multi-Month rally
Since August 20, we have been anticipating a multi-month rally in EURUSD as the Elliott Wave from February 2018 concludes. At this stage of the chart, it appears this EURUSD rally is not over. EURUSD could be rallying towards 1.20 as we write, though the price action from September 11-12 has me concerned this current rally is a sucker's rally.
In the short term, I would not be surprised to see EURUSD drop to below 1.1530, possibly into the 1.1450-1.1500 zone. At that point, we will look for bullish signals for a proposed rally above 1.1750 towards 1.20.
Sentiment has certainly fed a movement higher in EURUSD as traders dropped from being 41% long to 37% long over the past week. This is not a meaningful move either way to offer clarity to the patterns.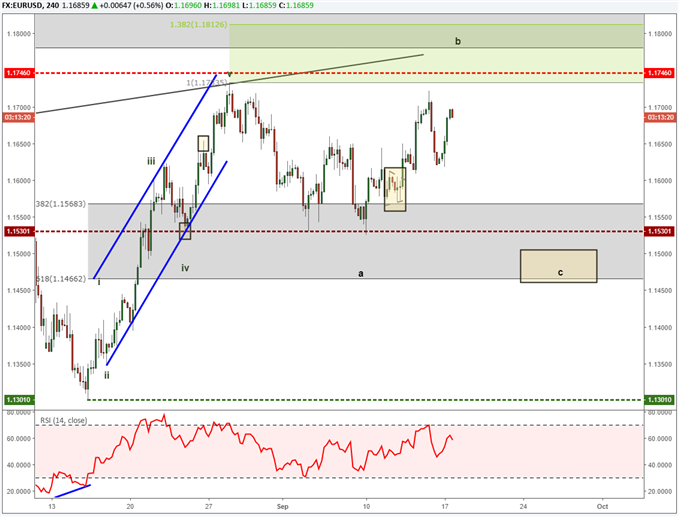 Norwegian Krone Finds Strength prior to Central Bank Meeting
USDNOK and EURNOK charts sport bearish patterns as Norwegian Krone has been strengthening for the past couple of days. The technical breakdown on both of the charts offers tradeable opportunities. USDNOK just broke below six-month trend line. We are targeting 7.96 and possibly 7.63. Norges Bank does release their latest target interest rate on Thursday September 20.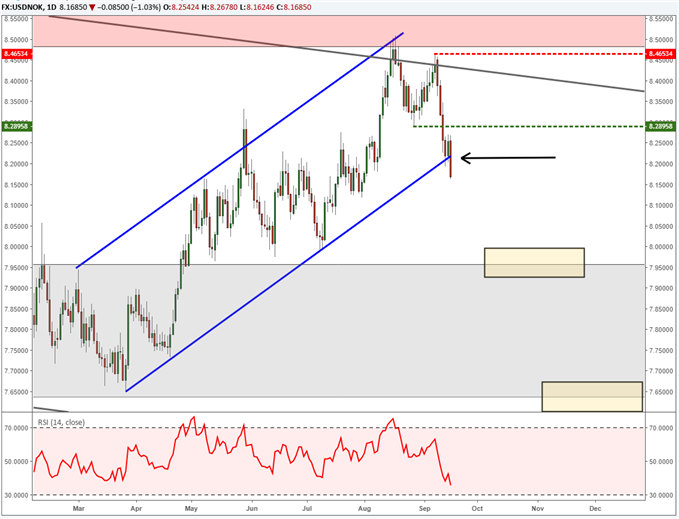 Gold price chart holds above August low
On August 30, we forecasted a shiny future for gold. Gold's price chart has advanced in an impulsive wave and is now correcting sideways. This sideways correction likely holds above the August 15 low of 1160. We are unsure of the corrective wave that is unfolding, but so long as gold prices remain above 1160, the pattern is bullish.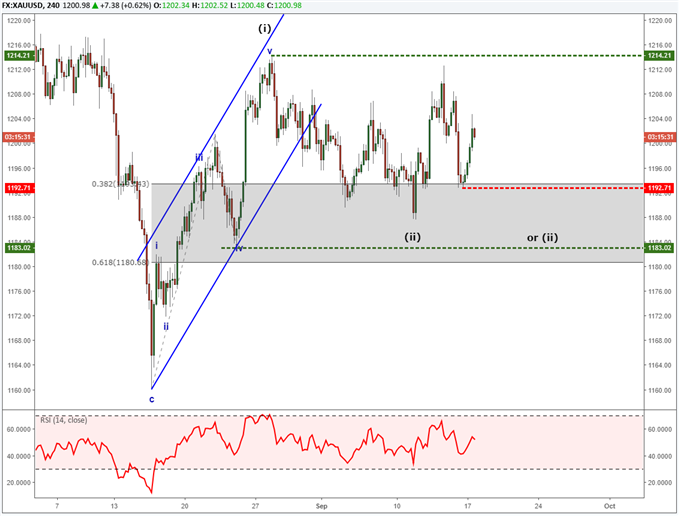 Silver prices punch new lows
Meanwhile, silver prices continue to be weak and trade near two-year lows. We are counting the sell-off as a 'Y' wave of a complex W-X-Y downward correction.
The divergent behavior between gold and silver where silver pounds new lows and gold holds above often occurs near important turns. Therefore, this behavior is symptomatic of a price reversal looming nearby.
The gold-silver ratio at 23 year extreme
This divergent price action between gold and silver has driven the gold-silver ratio to its highest level since 1995. These are lofty levels and it can continue to move higher. However, the divergent price action warns the metals may trend higher. Couple that with an extremely high gold-silver ratio and I anticipate silver may catch up and outperform on a bullish move.
Elliott Wave Theory FAQ
How does Elliott Wave theory work?
Elliott Wave theory is a trading study that identifies the highs and lows of price movements on charts via wave patterns. Traders analyze the waves for 5-wave moves and 3-wave corrections to determine where the market is at within the larger pattern. Additionally, the theory maintains three rules and several guidelines on the depth of the waves related to one another. Therefore, it is common to use Fibonacci with Elliott Wave analysis. We cover these topics in our beginners and advanced Elliott Wave trading guides.
After reviewing the guides above, be sure to follow future Elliott Wave articles to see Elliott Wave Theory in action.
---Written by Jeremy Wagner, CEWA-M
Jeremy Wagner is a Certified Elliott Wave Analyst with a Master's designation. Jeremy provides Elliott Wave analysis on key markets as well as Elliott Wave educational resources. Read more of Jeremy's Elliott Wave reports via his bio page.
Communicate with Jeremy and have your shout below by posting in the comments area. Feel free to include your Elliott Wave count as well.
Discuss these markets with Jeremy in Monday's US Opening Bell webinar.
Follow me on Twitter at @JWagnerFXTrader .
DailyFX provides forex news and technical analysis on the trends that influence the global currency markets.