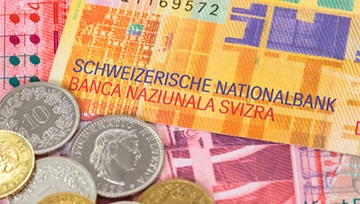 Why is the Swiss Franc So Strong, And Is It a Reversal Risk/Opportunity?
What's on this page
Talking Points:
T

hough the move is obfuscated on certain pairs (like

USDCHF

) the

Swiss Franc

has charged a remarkable rally especially in August

Speculative positioning may be at the root of the currency's charge, but little other fundamental support has formed

There are few well-positioned pairs for further CHF climb, but strong options for reversal include

CADCHF

,

---
See how retail traders are positioning in the FX majors, global indices, gold and oil intraday to establish preference or consistency in risk trends using the DailyFX speculative positioning data on the sentiment page.
Swiss Franc: One of the Strongest Moves Amongst the Majors?
With so much reference to the US Dollar's climb these past four months, the Euro's advance on the back of so many battered counterparts and the Yen's bounce amid risk aversion; it would seem that top performance has reverted to the most liquid majors. Yet, that assessment wouldn't be exactly accurate. In fact, one of - if not the absolute - best performances amongst the most liquid currencies through the short-term (past few weeks) and medium-term (past months) comes from the Swiss Franc. If we were trying to assess the currency's general performance by referring to USDCHF, the picture would be obscured owing to the Dollar's own strength of late. The Swiss currency would still win out against its more liquid counterpart, but its strength was clearly dampened by putting one strong performance against another. If we set CHF against more reserved counterparts like the Euro, Pound or commodity currencies; the picture is clearer. An equally-weighted index would also given a remarkable picture of single currency that illustrates a technical move that is nothing short of extraordinary for both pace and historical standing. It is not wise to rely on technical levels from an index that few others would follow however. Save that evaluation for the actual crosses that present all the trappings of a genuine trade opportunity.
CHF Index Chart (Daily)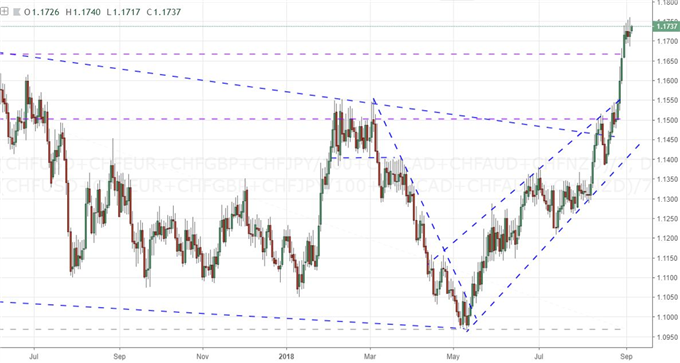 A Question of Fundamental Motivation Adds to Technical Opportunity
Considering there is little dispute in the Franc's performance when consulting the charts, it is crucial to evaluate the fundamental backdrop to establish whether this is a trend not yet tapped or a growing reversal risk. Running through the typical lines of valuation, it is difficult to hit on a point of genuine strength for the Swiss currency. Basic economic features such as GDP certainly reflect little opportunity compared to the likes of the Eurozone. No one would chase the CHF looking for return considering the SNB maintains one of the most oppressive negative interest rates in the global markets. There is at least some argument to be made for the benchmark as a safe haven. While there clearly is not enough risk aversion to sink the S&P 500 and raise more traditional ports of last resort, there has been appetite for untraditional havens. Perhaps more practical given the sloshing of capital over previous years is the benefit afforded through the general weakness of so many counterparts - an 'option of last resort' strength that has benefit the Dollar and Euro at different times over the recent past. Then there is pure speculative charge. Large traders have seen a sharp build up in Swiss futures positioning over the past months, so a rebalance could present a strong (though likely temporary) motivation.
EURCHF Speculative Positioning Chart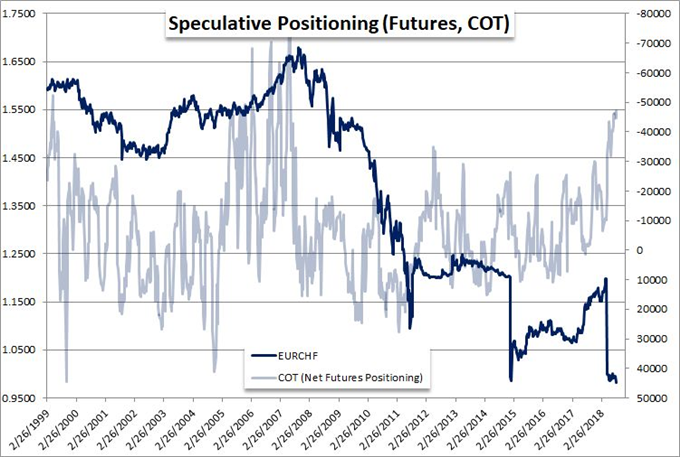 Little Appeal for Sustained Bull Trend, Appealing Options Should a Turn Set In
It is possible to find a fundamental scenario that truly support the Swiss Franc, but that wouldn't make a good trading opportunity all on its own. To establish a reliable course of further strength for the currency would likely resort to extreme circumstances - such as severe risk aversion that would trigger deeper financial issues - but that would carry substantial secondary consequences that would drive capital to other alternatives (Treasuries and Gold) in heavier waves. What's more, there are few charts among the crosses that look primed for further significant gains. In contrast, a reversal can quickly find appeal on fundamental and technical terms. A rebalance in speculative exposure would probably be the shortest lived but most effective (and abrupt) motivations. Furthermore, the technicals in a turn would present a range of options. There are certain pairs that would looking dubious even with the proper fundamental turn. AUDCHF and NZDCHF are of questionable appeal as the long side of the pair would throw in with battered carry currencies fallen from grace. Instead, I like pairs like EURCHF, GBPCHF and CADCHF. The first in that series is the most liquid Franc cross with the Euro offering limited near-term conflict. GBPCHF I have interest in already and depends on how Brexit winds are blowing. If there is another report of progress, it could leverage a substantial reversal. CADCHF similarly offers strong technicals and is best served if another fundamental development were to contribute: if there were a breakthrough on NAFTA. We focus on the Swiss Frank in today's Quick Take Video.
CAD/CHF Chart (Daily)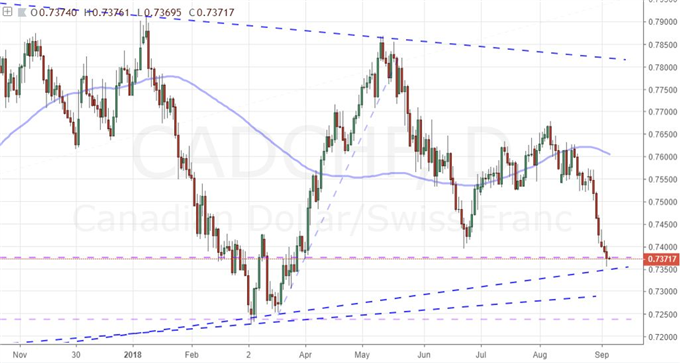 EUR/CHF Chart (Daily)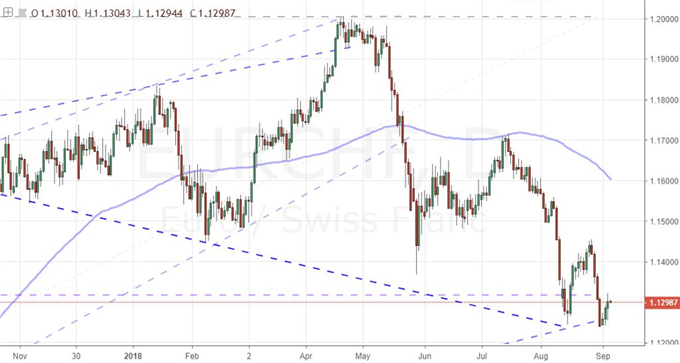 GBP/CHF Chart (Daily)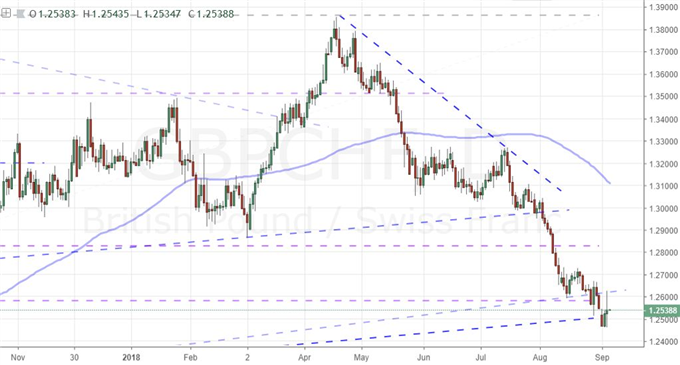 Written by John Kicklighter, Chief Currency Strategist for DailyFX.com
DailyFX provides forex news and technical analysis on the trends that influence the global currency markets.