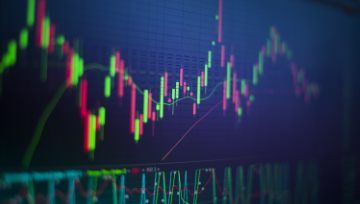 What Apple's $1 Trillion Market Cap Means to the Market
What's on this page
Talking Points:
Apple shares extended their incredible advance to record highs following Tuesday's earnings

Headlines were dominated by news that Apple became the first public company with a $1 trillion market capitalization

This

milestone surely leverages speculative enthusiasm amid FOMO and moral hazard, but it doesn't compensate for growing risks
What makes for a 'great' trader? Strategy is important but there are many ways we can analyze to good trades. The most important limitations and advances are found in our own psychology. Download the DailyFX Building Confidence in Trading and Traits of Successful Traders guides to learn how to set your course from the beginning.
Apple Becomes an Earnings Season Hero
By the start of the week, the balance of this quarter's US earnings season was tilting heavily towards disappointment. It wasn't that the tally for 'misses' was outpacing the 'beats', but certain key companies had fallen short and recognition of the steady downgrades in forecasts was starting to blend into a fading confidence in risk trends. And then there was the Apple report. The company's update after the bell Tuesday beat expectations on most of the key statistics. There was certainly more than enough to rekindle speculative appetite waylaid by the poor performance of the FANG before it. While the Amazon and Google figures offered a net 'bullish' outcome for their respective reports, the Netflix and Facebook shortfalls were severe enough (or perhaps the market just so susceptible) that their pain defined the overview of the market's favorite market-cap dominate, tech-sector benchmarks. With that situation set as the backdrop, the gap higher and slow follow through Wednesday set the stage for confidence. This past session's extension though notched the true milestone. With another 3 percent rally - approximately half the percentage move of the day previous - Apple shares forged a new record high and - above $207 per share - established a market capitalization (market cap) that surpassed $1 trillion. This is first time a publically-traded company has hit that extraordinary milestone. In a market so practiced in seeking out low-hanging speculative fruit, it comes as little surprise that this achievement translated readily into risk taking.
AAPL Market Capitalization ($Blns) Chart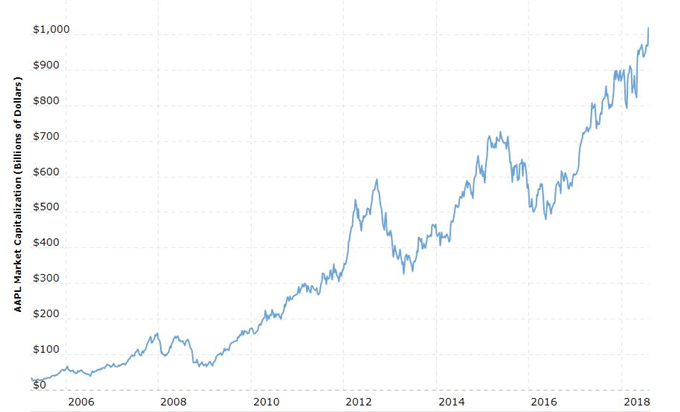 The Speculative Appetite Spillover
With the financial headlines choked with the news that Apple had surpassed the $1 trillion-mark, it came as little surprise that some of the most speculative and directly-related markets responded abruptly to the news. As we have regularly discussed over the past months, there is a focal point in speculative appetite that traces its way into US equities with a tech bent. Given this company is a natural anchor for exactly that segment of the speculative spectrum, the impact would be severe. Backing out the influence, we found the FAANG (including Apple) posted a tentative rebound following the past week's tumble - particularly after the Facebook plunge. Further up the scale, the broader Nasdaq tech index mounted a strong bounce on trendline support - shifting a technical salvage job into a sense of opportunism for more. Even the more broadly based S&P 500 felt the winds of enthusiasm turning a slide into a positive close through Thursday's close. Yet, that confidence seemed to fall short all the way out with blue-chip Dow. Further, the European indices that preceded Apple's record-breaking run registered a painful drop. And outside of equities, other risk-sensitive asset classes like emerging markets, high yield and carry trade reflected little of the same confidence. It was clear that while Apple's milestone was encouraging, it was not a panacea for broader sentiment.
AAPL vs. FANG Daily Chart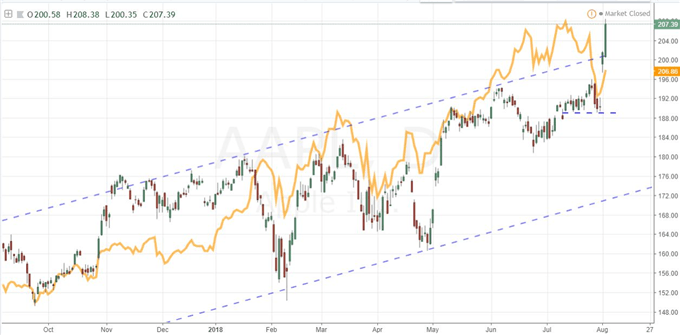 Like Any Other Point of Enthusiasm, Does it Stack Up?
When we consider the limitations of Apple's reach, we are set back to a sense of objectivism where the FOMO (fear of missing out), moral hazard and complacency-derived gains of the past more quickly come under scrutiny. I would argue that a public company reaching a $1 trillion market capitalization is a remarkable milestone and speaks to the strength of speculative appetite. However, it doesn't change my concern that sentiment is being propped up by dubious factors (extreme monetary policy and complacency). There is a corollary to this headline in the previous benchmark figures hit by key equity indices. The Dow's more recent break of 20,000 and 25,000 (though 10,000 was essentially a ticker tape parade for speculators around when it happened) drew a remarkable amount of attention. There is an innate enthusiasm that follows such milestones: a sense that nothing can go wrong now that we hit this 'plateau'. And yet, hitting these figures is little more than a speculative flush. Reality always, eventually comes crashing in - particularly following fundamental/financial troubles. Speaking of speculative appetite, we have seen strong GDP readings, an easing of trade war tensions between the US and EU, and monetary policy normalization amid confidence; yet none of these more systemic developments have secured a bull trend. So, why would a little further push from Apple shares for a statistical milestone offset growing concern over financial stability, a forecast for slower growth and deterioration of global relations amid trade wars? It wouldn't. We discuss what Apple's record-breaking market value can and cannot achieve in speculative appetite in today's Quick Take Video.
AAPL Daily Chart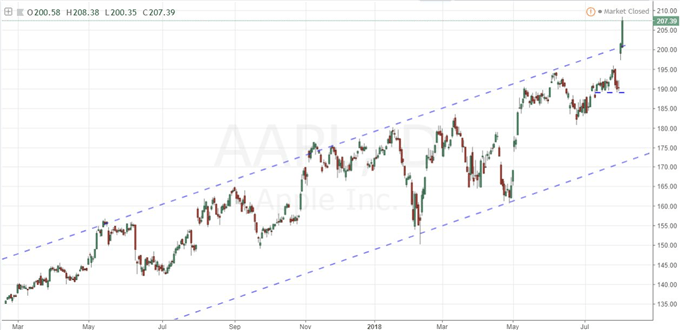 --- Written by John Kicklighter, Chief Currency Strategist for DailyFX.com
DailyFX provides forex news and technical analysis on the trends that influence the global currency markets.