China's Position and Stakes in the Growing Trade War with the US
What's on this page
Talking Points:
Much of the focus on trade wars is on day-to-day developments and the intent and calculations from the Trump administration

China's strategy can carry just as much influence on the outcome and its financial and economic balance carry even more weight

The world's second largest economy is trying to ween off of exports and financing to more stable bias just as pressure rises
Just as important as fundamentals and technicals are to evaluating a market, the behaviors and strategy for traders is crucial for success. Join Analyst Paul Robinson as he discusses the means for becoming a better trader in his regular webinar. Sign up on the DailyFX Webinar page.
A US-China Trade War Growing into a Systemic Threat
If handled recklessly, the growing trade spat between the United States and China could turn into a financial crisis for the global financial system. There is no escaping the fact that these two countries are the world's largest with extraordinary influence over economic activity across the global landscape as well as its financial health. Historically, there has been relatively little concern surrounding the possibility of a policy standoff between these two powerhouses that devolves into a full blown crisis as the running assumption was that would be seen as a path of mutual pain. That said, it seems the inevitable recourse associated with driving forward a competitive trade policy is either considered a mirage or simply not important enough relative to the push to rebalance global trade as these players nevertheless drive the conflict ahead.
Major Central Bank Balance Sheets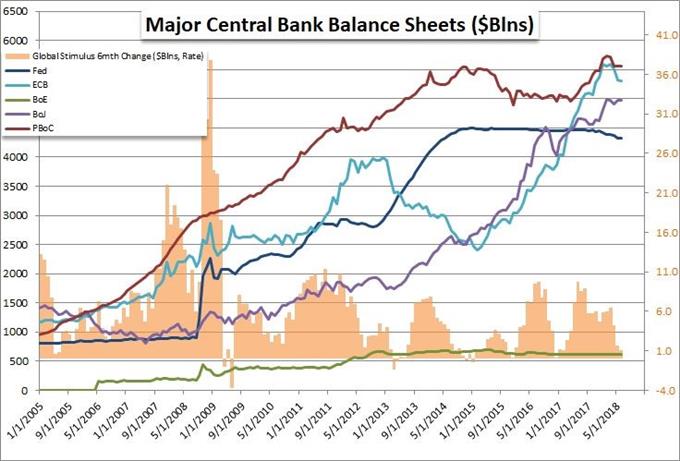 Recent Moves and Greater Speculative Risk
The United States' introduction of $50 billion in tariffs aimed at answering intellectual property theft drew out a direct response from China, which in turn prompted US President Trump to escalate the terms to a threat of a $200 billion tab. With those extreme numbers still floating in the air, the weekend brought further reports that the administration was set to announce curbs on China's investing into the US technology sector along with exports of certain goods to the Asian giant. That materially widens the conflict without escalating already-dramatic nominal figures. What gives weight to the fears of a trade war destabilizing the markets and economy is the response from the market. The impact intensified significantly to start this trading week with a global drop in risk oriented assets. With particularly sharp moves registered for emerging markets and the tech sector in US equities recently, it seems clear as to what is driving concern and how readily it can spill over to the entire market.
USD/CNH Daily Chart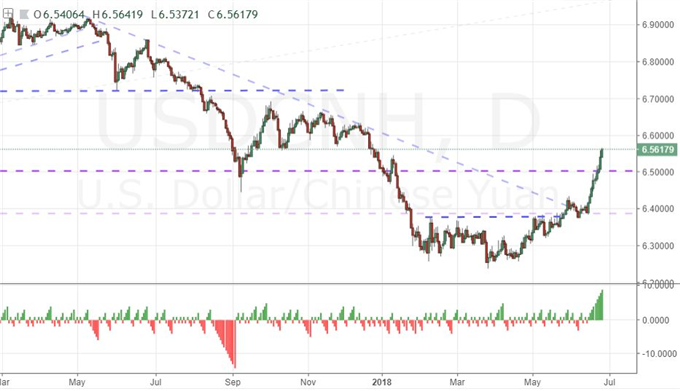 China's Position
A considerable amount of time and analytical process has reasonably been sent evaluating the United States' strategy and tolerances with engaging in the trade war. That is a fruitful effort considering much of this currency situation originates from the Trump administration's commitment to forging ahead with the effort to rebalance global trade. However, that approach also tacitly presumes that the situation will be wholly dictated by the choices made by the US alone. In the conflict between the US and China, both countries have something to lose, means to engage either other and a certain tolerance for personal pain in order to win a symbolic victory against the other. China's position however is far more familiar and practical than may likely appreciate. The country is trying to transition from a setting of extreme expansion utilizing questionable trade practices, distorting levels of control over the markets and economy, as well a precarious effort to work down excessive leverage built up in the years around and after the Great Financial Crisis. China managed to avoid the recession that plagued so many others due to a liberal spread of money throughout the system, yet that came with an over-indulgence that threatens to destabilize the market if not deflated and handled properly.
SHCOMP Weekly Chart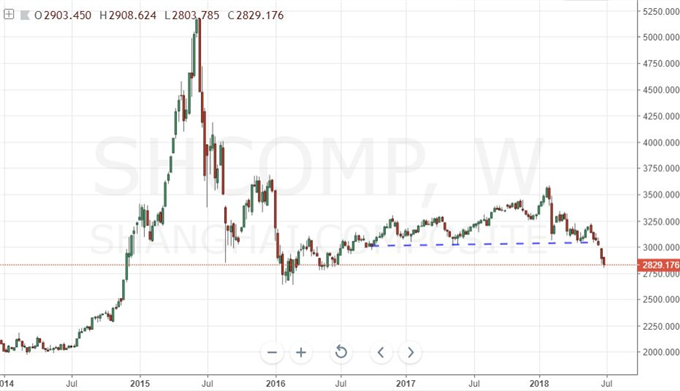 Caught in Risk During a Sensitive Transition
China has managed a remarkable phase of expansion that has seen it turn from communism to a more market-oriented political philosophy that puts it on footing more level to the United States and other global leaders. Yet, the cost of this expansion could readily lead to a rift in stability that cannot be corrected if the drive does not shift from leveraged lending to more stable domestic consumption. This evolution must happen slowly to avoid triggering a self-defeating crisis. That said, the conditions behind the market can determine the circumstances of its effectiveness. A trade war demanding immediate change from China is unlikely to find a government that is ready to yield to demands, but the consequences of missing a compromise as demands escalate and mutual benefit fades sets a crash course. A full collapse will not happen, but these two country's pushing the situation to the brink is enough to tip the scales on sentiment and permanently undermine speculative ambition. China likely appreciates its need for a careful move forward, but the surrounding circumstances are unlikely to allow officials to follow this more steadfast course. What are the conditions for China in this trade war and how will their perspective influence global growth and risk trends? We focus on that in today's Strategy Video.
USD/CNH vs. S&P 500 Weekly Chart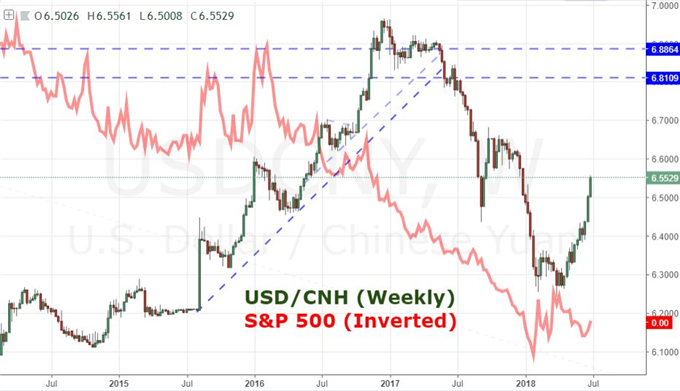 If you would like to download the 'Manic-Crisis Calendar' I refer to regularly in my videos and webinars, you can find it here.
--- Written by John Kicklighter, Chief Currency Strategist for DailyFX.com
To contact John, use the comments section below or @johnkicklighter on Twitter
DailyFX provides forex news and technical analysis on the trends that influence the global currency markets.