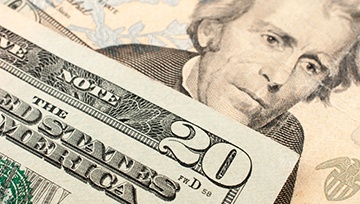 USD May Suffer as EURUSD Chart & AUDUSD Chart Patterns Point Higher
Using Elliott Wave Theory our analysis for EURUSD USDJPY and AUDUSD is that we may see shorter-term USD weak moves to retrace a portion of the 2018 USD rally.
The video above is a recording of a US Opening Bell webinar from June 25, 2018. We focused on the US Dollar and namely EURUSD USDJPY and AUDUSD as they are hinting at some USD weakness.
EURUSD Elliott Wave Chart Hints at a small relief rally
Two weeks ago, we discussed how counter trends patterns are working in EURUSD and that a relief rally to 1.18-1.20 was the higher probability move. On June 14, EURUSD did spike up to 1.1852, which is deep enough to consider the wave (iv) complete.
However, the ensuing sell-off does not fit the structure of a motive wave. Therefore, we believe that wave (iv) is taking on a more complex shape prolonging it further to the right. The two main Elliott Wave patterns we are following for wave (iv) is either a flat or a triangle pattern. Both of these patterns suggest a continued rise in EURUSD, though the rise is expected to be shallow and likely hold below 1.20.
From an Elliott Wave perspective, we are considering this wave higher to be the fourth wave of a five-wave bearish impulse. Therefore, the bump higher is considered a temporary move to alleviate the oversold pressures created at the end of May.
Though not anticipated, if EURUSD does move above 1.2154, then we will consider the Elliott Wave pattern to be less bearish and we will begin to emphasis a couple of alternative counts. Should this occur, it would elevate the potential for an 'X' wave triangle and increases the probability of a near term retest of 1.25.
We have been short EURUSD with our first short entry at 1.2350 and our 2nd short entry at 1.2153 as prices hit our first target of 1.1554 on May 29. The Elliott Wave patterns still point towards lower levels over the medium term though several short-term patterns point to 1.18-1.20.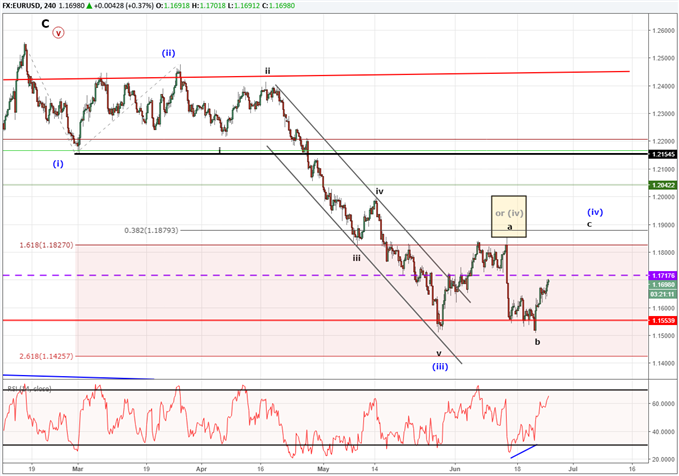 USDJPY Elliott Wave Pattern may be incomplete to the downside
For the past couple of weeks, we have been discussing how the USDJPY patterns look weak and that counter trend patterns are at work.
Though USD/JPY reached our initial target zone for a correction by falling to 108.11 on May 29, we believe the correction to the downside is incomplete.
The rise in USDJPY witnessed last week may be the 'b' wave of a bearish Elliott Wave zigzag pattern. If that is the case, then USDJPY may correct further to retest the 108 low and possibly push 107.
If USDJPY does proceed through this zigzag pattern, then we can anticipate another five-wave move (possibly a bearish impulse wave) beginning from the June 14 highs. This bearish outcome will be more probable on a dip below 109.08 as that would create overlap with the May 30 high.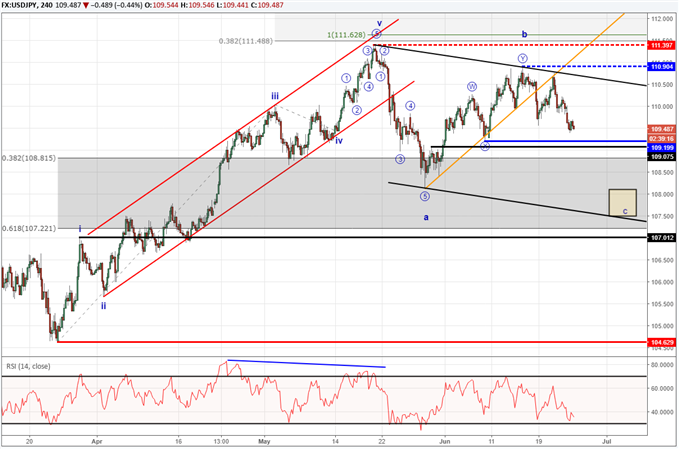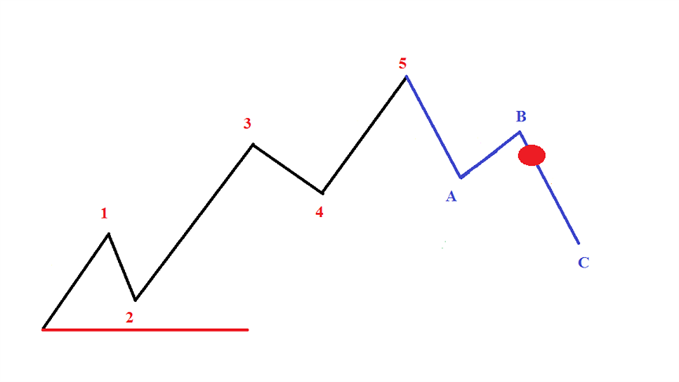 There is an alternative Elliott Wave count we are following as well which is bullish. The bullish alternative suggests the low is in place and USDJPY is rallying in a wave of similar size or Fibonacci proportions to the March to May 2018 up trend. This would imply multi-hundred pip move to the upside. For the time being, this is lower probability but if USDJPY bleeds into the 111 handle, we will reconsider its structure.
The Elliott Wave pattern for AUDUSD hints towards higher prices
The Elliott Wave chart for AUDUSD has carved the minimum waves for a bearish impulse. Therefore, the odds are shifting towards a relief rally to correct a portion of this five month down trend. If this Elliott Wave labeling is correct, we can anticipate a rally that may reach .7650 and possibly as high as .7800.
This market's trend has shifted to the downside in the medium term. Therefore, do not fight the trend and look for higher levels to initiate the short positions.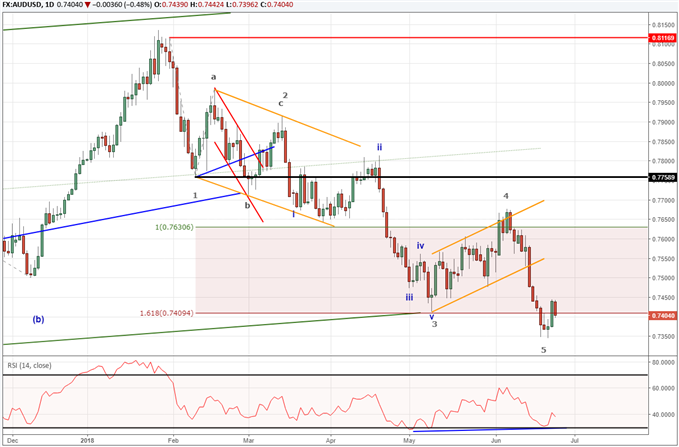 Elliott Wave Theory FAQs
What are Elliott Wave impulse waves?
According to Elliott Wave Theory, the market moves five waves in the direction of the near term trend followed by a three wave counter trend wave. An impulse wave is one of two types of motive waves that denotes trend direction. Therefore, if we see a bearish impulse waveform, then after a three-wave counter trend wave, we can anticipate at least one more bearish motive wave.
If you are seeking further study into Elliott Wave Theory, read about our expert tips in our beginners and advanced trading guides.
After reviewing the guides above, be sure to follow future Elliott Wave articles to see Elliott Wave Theory in action.
What is the biggest mistake traders make?
Regardless of the style of analysis, many traders do lose money because they do not take the time to study the market and the effect of leverage. At DailyFX, we have studied millions of live trades and boiled our study down into a Traits of Successful Traders guide. You will find how leverage and human nature affects our trading so you can be better prepared for the next correction.
Elliott Wave Theory can be applied to a variety of highly liquid markets. FX is one of my favorite markets to apply the Elliott Wave principle. Learn more about trading FX with this guide specifically designed for you.
You might also be interested in…
* 3 Elliott Wave Flat Patterns to Know and Understand
* Forex Education: Trading Elliott Wave Complex Corrections
---Written by Jeremy Wagner, CEWA-M
Jeremy Wagner is a Certified Elliott Wave Analyst with a Master's designation. Jeremy provides Elliott Wave analysis on key markets as well as Elliott Wave educational resources. Read more of Jeremy's Elliott Wave reports via his bio page.
Communicate with Jeremy and have your shout below by posting in the comments area. Feel free to include your Elliott Wave count as well.
Discuss these markets with Jeremy in Monday's US Opening Bell webinar.
Follow me on Twitter at @JWagnerFXTrader .
DailyFX provides forex news and technical analysis on the trends that influence the global currency markets.