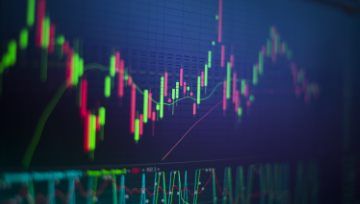 What Do Speculative Extremes Suggest for EUR/USD, Oil and VIX?
Talking Points:
Net speculative futures positioning behind EUR/USD is retreating from a record net long while retail traders seek a bounce
Oil has slowly progressed its advance above $70/barrel, but futures traders are already pulling back on their record longs
VIX futures traders have balanced their exposure as the 'fear gauge' slowly deflates back towards 2017's lows
See how retail traders are positioning in EUR/USD, GBP/USD, Oil and other major assets intraday using the DailyFX speculative positioning data on the sentiment page.
A Speculative Tide is Ebbing Across the Market
There are a number of benchmark assets that have experienced a pullback in extreme, one-sided positioning over the past weeks and months. While this certainly presents discrete opportunities for those particular assets that are facing a rebalance, we should also appreciate the implications this carries for the broader financial system. Up through the end of 2017, the most accurate descriptor for the global markets could be said to be 'complacency'. There was little enthusiasm in a long-term trend to build up exposure whether we track capital flows through popular derivatives, reflect on sentiment measures or reference important dynamics like the correlation across various asset classes. Yet, so long as there wasn't a panic forcing the collective to delever, market participants kept to the script so as not to miss out on the moderate capital gains that could compensate for the extremely small 'income' to be made or from the active swing trading that was pursued by the more active market participants. Then, February's volatility struck and the cracks in complacency started to fan out. We have not seen the facade fall, but the early retreat through so many markets and its myriad of investors should keep us on guard.
The FX Leaders Find an Anti-Dollar Position in Retreat
Of the major crosses, the EUR/USD carries the most remarkable speculative imbalance. Generally speaking, the futures market bearing on the Dollar had hit its most aggressive net short extreme in five years recently. With these past weeks Commitment of Traders (COT) reports from the CFTC, we have seen that bearish view start to slowly ease up. Pairing the general distaste for the Greenback to the incredible move the Euro made the past year, net long EUR/USD speculative positioning had hit a record high in April. Now into a five week retreat, we have started to see some of this position unwound; but there is plenty more speculative leverage built into the pair. Less extreme in a historical sense but far more intense, the GBP/USD net long position for futures had also notched a multi-year high. That too has been a few weeks in retreat; but far more remarkable is the exposure for retail FX traders. Looking to the IG sentiment data we have, traders have quickly built up an extreme net long view on the Cable after its multi-week slide punctuated by the past few weeks of consolidation. This is not always a contrarian reading, but at extremes, traders appetites show through.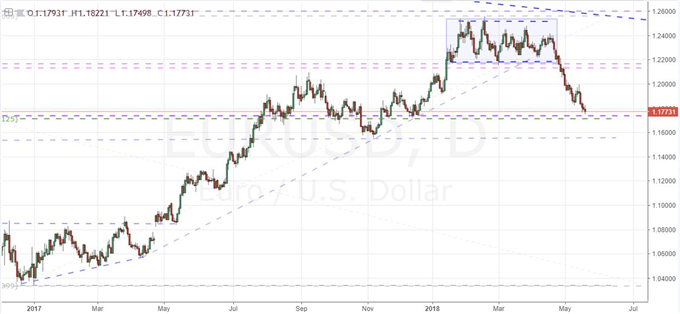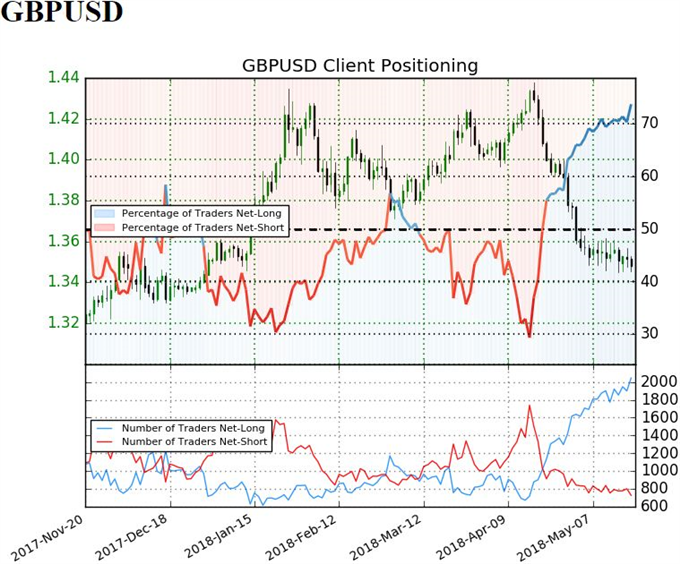 A Retreat from Record Exposure to Oil and Treasuries
Looking to the more systemic assets to register both trade opportunities and signal on the health of the financial system, there have been moves in speculative positioning for both crude oil and Treasury futures recently. It is remarkable that net speculative futures interest on the commodity shot as high as it did over the past months given that the move through the $60's and into the $70's finds the market far from the record highs of years past. This was perhaps encouraged by the rise of trade wars and more recently the belligerence with international provocateurs like Iran and North Korea. Yet, crude slowly edging its way higher, we now find the speculative holdings start to retreat. If this is to continue there is a lot of dry powder to ignite. Meanwhile, Treasury futures have become a speculative vehicle reflecting the influence of extreme monetary policy. As the Fed withdraws from its QE program slowly, 10-year yields have broken a multi-decade descending trend and have recently topped 3 percent. Though still a fraction from historical highs, we find net speculative futures positioning hit a record net short (long for yields). This is another remarkable imbalance that is now starting to retreat even though we are far from balancing out the underlying market.
A Word on the VIX Volatility Index and its Speculative Appeal
Though it is more often referred to as a measure of activity and 'fear', the VIX volatility index has turned into a speculative vehicle in its own right. Interestingly enough, during the extreme lows in market activity during the latter half of 2017, volatility-based speculative assets absorbed a record amount of speculative interest. Not only did the inverse ETFs see a massive influx of interest, but the 'traditional' VIX futures contrast pulled in unprecedented interest from traders. That translated into a record net short position. After February's explosive volatility reversal, the net positioning flipped to a record net long exposure. As of this past week, we have essentially dropped back to a neutral bearing with the underlying index sliding back towards 13 - still well above the sub-10 we drug through in the previous year, but well off the active levels of the past months. Exposure to this asset class is a good measure of the market's appetite for extremes - ignoring risks to make limited returns. We discuss the interesting speculative positioning behind all of these important markets in this weekend Quick Take Video.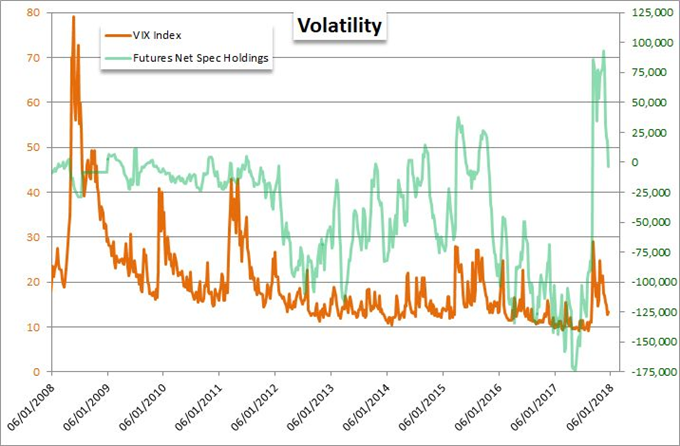 DailyFX provides forex news and technical analysis on the trends that influence the global currency markets.