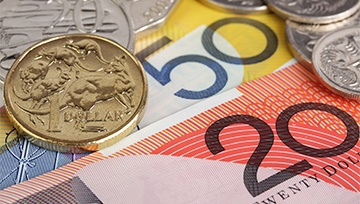 Why an AUD/USD Reversal Shouldn't Pass Your Trade Checklist
What's on this page
Talking Points:
GBP/NZD

is a pair that was driven by key event risk (BoE and RBNZ) and underlying technicals and fundamentals are chartable

For

AUD/USD

a strong reversal Thursday comes on an extended move, but neither currency had clear source for motivation

Individually, the Aussie and US Dollars' trends are persistent and underlying fundamental currents are vague
What do the DailyFX Analysts expect from the Dollar, Euro, Equities, Oil and more through the 2Q 2018? Download forecasts for these assets and more with technical and fundamental insight from the DailyFX Trading Guides page.
Volatility With Clear Versus Dubious Intentions
There was a remarkable range of volatility across the FX majors this past session. For some of the activity, it was easy to trace back the originations of the volatility and subsequently weigh the potential for establishing a more profound trend. Yet, for others that exhibited a remarkable degree of volatility, an absence of clear impetus raises questions of where the winds formed and whether they could reasonably be expected to continue. GBP/NZD was the consumate example of a pair reacting to fundamental prompt. Both the Bank of England (BoE) and Reserve Bank of New Zealand (RBNZ) announced their monetary policy decision over the past 24 hours, and both policy groups were notably dovish. That in turn led to extraordinary volatility for the pair and abrupt about face on the daily candle. Ultimately this pits two dovish - and thereby bearish - currencies against each other which is an analysis of nuance. Not exactly a clear fundamental trade. That said, at least the motivations were clear.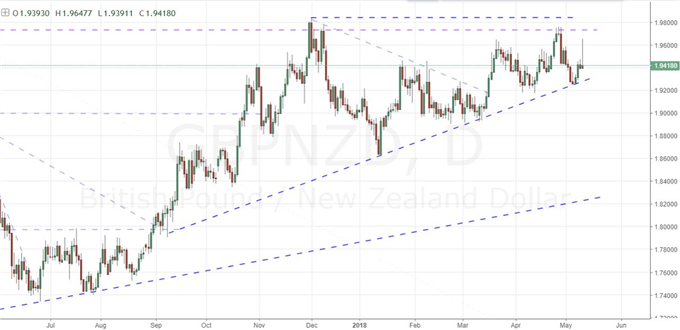 AUD/USD Has the Volatility but Not the Foundation for Volatility or Trend
In contrast to GBP/NZD, we have AUD/USD. This pair would have a remarkable level of volatility as well with the biggest single-day rally in seven weeks and a chart pattern that seems to indicate a possible reversal of trend. Yet, if you are calling something as profound as a trend reversal for a pair that has been in a general bear trend for the past three months - and is trading at a steep discount over the span of the past five years - then there is a need for greater conviction. And, that confidence is difficult to muster on the circumstances we took in this past 24 hours. Taking a look at the technical picture alone for AUD/USD, the pair certainly can be argued to be trading at a discount over the long and short-term. Thursday's sharp rally can thereby be a tempting cue to project a lasting turn. However, picking reversals should naturally come with a higher bar in terms of conviction. Does this pair make the cut?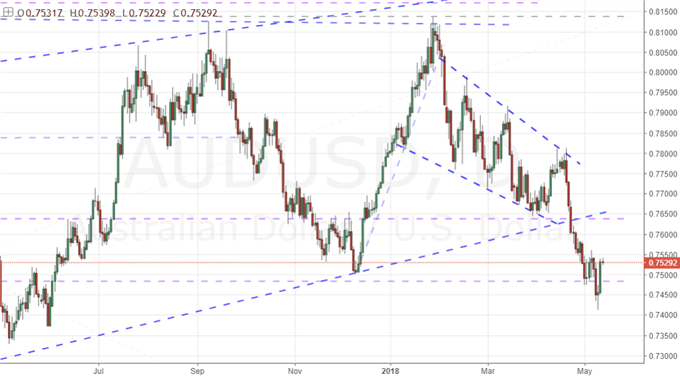 The Backdrop for the Aussie Dollar and US Dollar
One of the most practical means for evaluating the potential of a currency pair is to assess the fundamental and technical merits of its components. For the Australian Dollar, the past 24 hours offered no meaningful catalyst to mount such a widespread jump - much less fuel a longer-term run. It is true that trends can arise from speculation alone, but those are rare events. So, as much as I personally view the Australian currency as oversold, there is simply too little tangible evidence to comfortably through my conviction behind in its tentative rebound. The US Dollar earns the same skepticism. The DXY Dollar Index suffered its biggest single-day decline in 7 weeks Thursday, putting pressure on a four week bull trend. Yet, the data on tap - CPI which offered an uptick for its headline pace to a 2.5 percent clip - supports the bullish case rather than the bearish. Fundamental speculation has proven fickle and interpretative when it comes to this benchmark currency. Yet, basing a veiw for a lasting move on flimsy backdrop is rarely a good strategy.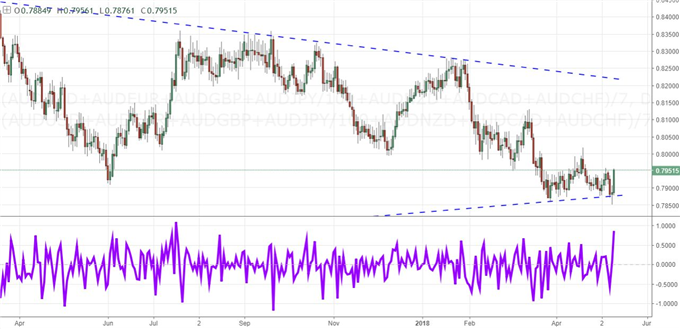 Never AUD/USD or Just Not Yet?
I think there is considerable potential in AUD/USD recovering ground lost over the past five years, but there needs to be some significant floundation for conviction in recovery. False starts are too common and too costly nowadays to indulge. My issues therefore are just short-term and conviction rooted. If there is something that develops that definitively rallies the Aussie Dollar over the medium-term or sink the Greenback, then I would happyily consider the opportunity. If the circumstances arose that the Aussie Dollar was motivated to rally and US currency to retreat at the same time, I wouldn't hesitate. However, standards and analysis should not bend to an appetite for trades. If the Aussie Dollar is due to recover more gradually, I consider GBP/AUD a better candidate given the status of the Pound. For a genuine Dollar retreat, AUD/USD would actually be high on my list. Turns for USD/CHF and perhaps even NZD/USD could also be argued with the proper motivation. We break down AUD/USD's volatility and put it against a scale of conviction in today's Quick Take Video.
DailyFX provides forex news and technical analysis on the trends that influence the global currency markets.