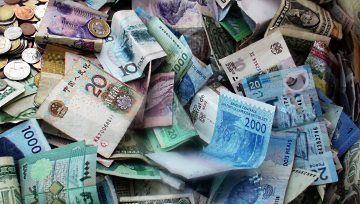 Why EUR/USD and GBP/AUD Qualify as Appealing Trade Opportunities
Talking Points:
The concept of pairing a strong currency to a weak one seems intuitive, but in practice is often overlooked or done wrong

It is better to change our reference to seeking out not 'weak' or 'strong' but 'under-' and overvalued' currencies
What makes for a 'great' trader? Strategy is important but there are many ways we can analyze to good trades. The most important limitations and advances are found in our own psychology. Download the DailyFX Building Confidence in Trading and Traits of Successful Traders guides to learn how to set your course from the beginning.
A Basic Concept Often Underserved
It would seem a rudimentary consideration of trading FX that traders pursue naturally - without concerted thought or strategy. We naturally want to pair weak currencies with those that are strong. Yet in practice, the extreme disparity between the components of pairs is often relegated to an afterthought - if it is considered at all. When we act on a technical pattern for a single currency pair or chase the volatility that results from a scheduled fundamental event, that is something to act on; but it isn't necessarily enough to sustain a move. Value that speaks to deeper opportunities is better served from evaluating the merits of individual currencies. If all the majors possessed favorable backdrops, the relative strength between them would be modest at best which does not set the foundations for meaningful trends. Alternative, an environment where half the currencies are richly priced and the other half at deep discount, there is likely a range of opportunities that carry significant moves as value rebalances.
'Strong and Weak' versus 'Expensive and Cheap'
When we say a currency is 'strong' or 'weak' we are making an evaluation of its potential to rise and fall. However, there is good reason call out specifics with the labeling. In labeling a currency 'strong' it is generally an evaluation of a situation where there has already been something of a rally registered. There may very well be more room to run, but that is a secondary consideration to the binary strong/weak designation. Alternatively, establishing a currency as over- or under-valued (the more polished terminology for cheap and expensive), focuses more on a current state of distortion. A cheap currency is one where the fundamentals suggest prices should be materially higher than where they presently reside, and technicals highlight the path and potential should the gap between price and value close. Though it would imply more risk than we are actually pursuing, we can make a comparison of the mentality behind the two sets of terms to looking for an overdue reversal versus jumping into a trend already well underway. I know where most speculators' interests would fall in that comparison.
Current Expensive and Cheap Candidates
In the past few months, I have placed heavy emphasis on two currencies that were remarkably cheap in my estimation; both of which I pursued when the correct motivation was in place. First, the Canadian Dollar was driven sharply lower through the first half of March by the very weight combination of a downgrade in BoC rate forecasts, the threat of US metals tariffs and poor progress on NAFTA negotiations. When each of those issues lightened and the Canadian Dollar started to show technical progress towards recovery, it seemed the turn was set. More recently, the Dollar's wide disparity to interest rate expectations and growth found a three month consolidation period starting to give way to an active bid. The result has included EUR/USD's slide through 1.2150. Looking for other undervalued currencies that haven't made significant progress with recovery - thereby offering greater untapped potential - the Australian and New Zealand Dollars have been driven far lower than their otherwise mundane fundamentals should register. On the other end of that spectrum, the Euro and Pound have long been currencies I have assessed to be expensive. Rallies for each despite uneven growth, relationship issues and rampant but unproven monetary policy views have conferred exaggerated expectations.
EUR/USD and GBP/AUD Pairing the Extremes
If we take from the members at the opposite ends of the scale listed above, we can start to identify pairs with greater potential. That said, finding the juxtaposition of a cheap and expensive currency is only one facet of a 'good trade'. There is always the case that an undervalued currency can be pushed to a deeper discount while an overvalued one can grow increasingly rich. So timing is a critical element to the overall effort. This is where event risk and technicals play their crucial role. Scheduled and unscheduled fundamental developments can either foster unrealistic valuations or they can finally bring attention to the need to rebalance. Technical patterns can offer a chart-based sign that a turn is underway, but pay as much attention to the general performance of the particular across its many pairs and not just the target in question. My interest in EUR/USD arises from the vast deviation in monetary value between the Fed and ECB bearings yet a deep discount for the DXY Dollar Index relative to an equally-weighted Euro standing just off a multi-year high. In turn, GBP/AUD has started to register some critical technical progress in a turn largely due to the Sterling's provocation with Brexit finally eating away at its overly-optimistic view of the future. If the still-deflated Aussie Dollar started to rebalance to the sea of deflated interest rate currencies, it could find a meaningful rebound. We discuss pairing cheap and expensive currencies in this weekend Quick Take Video.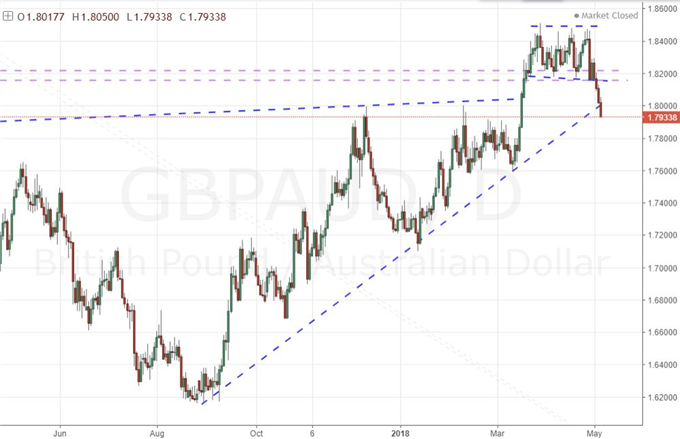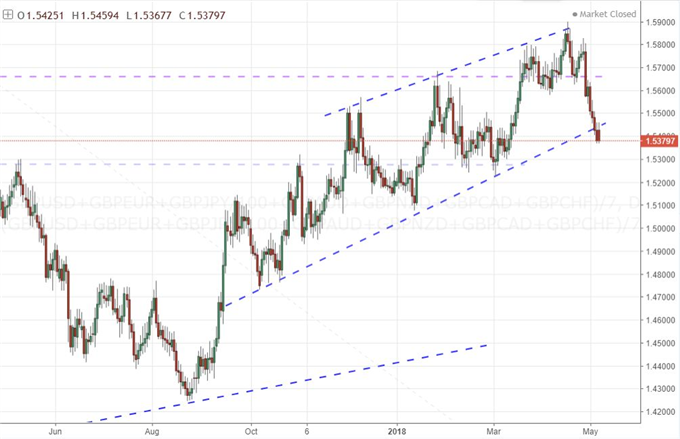 To receive John's analysis directly via email, please SIGN UP HERE
DailyFX provides forex news and technical analysis on the trends that influence the global currency markets.