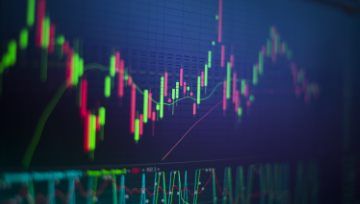 A Consistent Risk-Reward Reading to Support Your Trading
What's on this page
Talking Points:
Risk trends - referred to as risk appetite, sentiment, optimism, risk-reward - is an elemental force in the financial markets

There are many different ways to measure sentiment, but there are some better measures than others

Use risk benchmarks to gauge trading approach rather than as an immediate trigger for setups
What do the DailyFX Analysts expect from the major currencies, equity indices and commodities through the 2Q 2018? Download forecasts for these assets and more with technical and fundamental insight from the DailyFX Trading Guides page.
What is Risk-Reward?
There is nothing more fundamental to shaping a market - nor that I refer to more often - than risk trends. Understanding this seemingly vast and abstract theme is critical to having a sound bearing on the activity level and bearing of the broader markets. However, incorporating it into our day-to-day interpretation takes some critical understanding and a certain degree of unbiased evaluation. First, the jargon. There are many names for what is essentially the same thing: risk appetite, risk trends, risk on and risk off, sentiment, optimism and pessimism, speculation and much more. These inevitable all speak to the same general concept - the collective lean by the market at large towards safe havens or higher return (and higher risk) assets. This is a universal balance regardless of the region, market type, analysis technique or any other qualifier we often divide the financial system with. Risk trends are not always 'under power' and lifting or sinking all boats. Often times it can maroon markets in frustrating ranges. However, when we can gain a good handle on how sentiment is influencing our markets, views on trades and appreciation of the market at large is typically far more robust.
Different Measures of Sentiment from the Simple and Flawed to the Complex but Reliable
There are many different measures of sentiment that traders either purposefully monitor or scan without appreciating the fact that they are evaluating something as broad as risk trends. There are many different barometers for the market's weather, but they can vary for timeliness and/or conviction level. For me, one of the most definitive readings for speculative ambition is the correlation across liquid by fundamentally different markets. If US equities, global equities, junk bonds, emerging markets, carry trade and other assets are moving in the same direction with a meaningful level of intensity; there are ultimately few catalysts that can reasonably be expected to maintain this oddity of correlation. Risk trends is ultimately one of very few forces that can achieve such wide consistency, and it is arguably the only driver that can keep it inline consistently. That said, this is an open-ended measure, not easy to quantify and requires a significant amount of discretionary analysis. At the other end of the spectrum is individual measures considered adept at tracking investor views. The S&P 500 is a frequent 'quick take' for me. It is heavily skewed towards a sensitivity towards risk appetite, but that can be valuable in its own right. A happy medium is relative measures that we can make that weighs 'risk on' and 'risk off'. Personally, I make an index of the G10 10-year government bond yield to an equally weighted FX volatility index (reward to risk). Perhaps easier to replicate is the US 10-year Treasury yield to the VIX. Regardless of your complexity, have a measure.
Sentiment Defying the Rules
Markets are irrational. It is an inevitability when the many individual contributors to the collective are generally irrational - swayed by the illogical and bombastic. This creates problems for most analytic pursuits. Rarely will a market abide technicals to the pip. Fundamentals are thrown to the wayside when it is inconvenient to an established speculative view. And, even underlying conditional factors such as a preponderance of trends fueled by liquidity can wane. We have to adapt to this imperfection of signal as traders. The same is true inevitably for sentiment measures. These are not perfect signals by any stretch of the imagination. However, they are great measures of the underlying. We will see markets defy what seems a clear backdrop of confidence of skepticism by a hefty price margin and for an extended period. However, rebalance is inevitable - either through sentiment or market price. 'Fighting the tide' works only in a certain context with full appreciation of the difficulties that come along with it. Simply appreciating the gap and monitoring for an eventual rebalance can better tune our appreciation for the markets and prepare us for remarkable opportunity.
Using an Abstract Measure in Your Trading
If risk trends can be so abstract, it may seem difficult to incorporate such an elemental factor into your day-to-day trading. That said, as much influence as this particular theme represents, it is something worth adapting a clear strategy. Personally, I keep regular tabs on the general standing of risk-reward according to my standard measures and then I evaluate the broader markets and individual assets against that perspective. Disparity does not signal an immediate trade, but it will lead me to shorten my trade time frames, reduce risk and remain more vigilant. In contrast, when sentiment and capital market performance are moving in concert, I am more comfortable to play trades with longer duration and much more distant targets. Don't fight the market's eccentricities, exploit them. We discuss risk-reward an how to exploit it from a trader's perspective in today's Quick Take Strategy Video.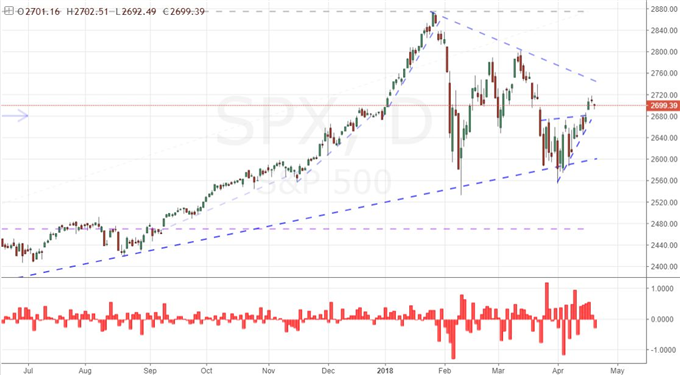 To receive John's analysis directly via email, please SIGN UP HERE
DailyFX provides forex news and technical analysis on the trends that influence the global currency markets.