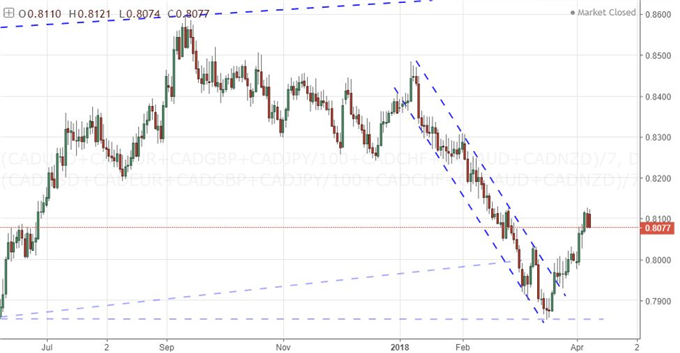 Practicalities and Probabilities of Reversals: CAD, Dollar and S&P 500
Talking Points:
The most probable and 'tradable' market types in descending order run from: range; breakout; trend and major reversal

While range trading lends to more reasonable expectations and more actionable signals, most traders pine after reversals

We look at the practicalities and features of reversals from the Canadian Dollar to Greenback to S&P 500
What do the DailyFX Analysts expect from the Dollar, Euro, Equities, Oil and more through the 2Q 2018? Download forecasts for these assets and more with technical and fundamental insight from the DailyFX Trading Guides page.
Hero Worship Often Trumps Probabilities for Many Traders
Though few would ever admit it - even to themselves - they would rather win a single large trade rather than many small ones. There is bragging rights and recognition seen in particularly large trades. How often have you seen headlines related to those funds or individuals that had a remarkable single trade whether? Yet, in reality, consistency is the better predictor of our performance as a trader and is the more reasonable path to wealth. If you feel you'd rather be profitable than look good, consider the market conditions with the higher probabilities and that set you naturally on a path of reasonable trade expectations. The most appealing landscape in that regards are based on range. Reasonable objectives, better guidelines for stops and more predictable technical levels - what's not to like. From there, breakouts are the next most common market type as they are the evolution of ranges. That said, remember this as a mantra: "it's not about the break, but rather the follow through." Meaningful trends do occur and are quite frequent, but usually on a scale that the vast majority of traders are not willing to pursue. Then there are reversals, not minor and temporarily turns but honest and deep corrections. They are rare and often messy.
Canadian Dollar: When You Can Have V-Bottoms
In evaluating practical reversal scenarios, we first must banish the expectation that so-called 'v' bottoms and tops are reasonable. They happen very rarely as changing tack on a well-established market move is impractical with all but a systemic shock to provide the abrupt turn. There are some means for finding exceptions such as through a time frame. While I would only call a true reversal on a substantial move in both duration (looking only on daily charts and through weeks) and intensity, the lower end of the qualification will translate into a less resilient market to changing views. The Canadian Dollar was a good example of this over the past weeks. An equally-weighted Canadian Dollar index put in a clear, abrupt turn from its low despite the lack of a definitive event that would signal a sudden bullishness. Instead, the crushing weakness it had suffered in the preceding months had seen through diving BoC rate forecasts, NAFTA negotiation concerns and the US metals tariffs threat all eased. That laid the ground work for a rather weakly held short view to reverse.
Canadian Dollar Index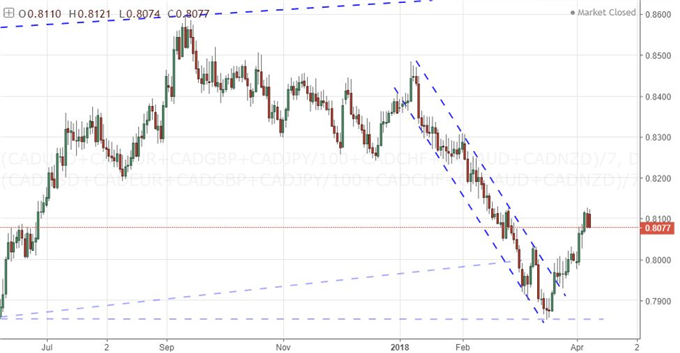 Dollar's Year-Long and Vague Trend Harder to Turn
When you add maturity to a trend and maintain a vague fundamental backdrop, the reversal becomes far more difficult to achieve. The Dollar is a good example of the next escalation. I should state that this currency has not confirmed it has committed to a reversal, but the conditions are certainly laid for it to make one if the proper motivation and market reaction comes alone. Here, the trend was more than a year-long. That builds up a considerable amount of exposure and commensurate complacency. The fundamental backdrop for why the Greenback has dropped is also a point of issue. The economy has done well, monetary policy is without match in the developed world and investment opportunities are pretty deep in the US. Yet, despite all of that, the Dollar has steadily declined. That is likely due to political uncertainty, but that is hardly agreed upon. This makes it difficult to assess when the market should turn with a certain fundamental cue. And so, we have seen the DXY Dollar Index carve out a three-month period of consolidation at the bottom of its bear trend. The market awaits a more definitive trigger to make a move.
US Dollar Index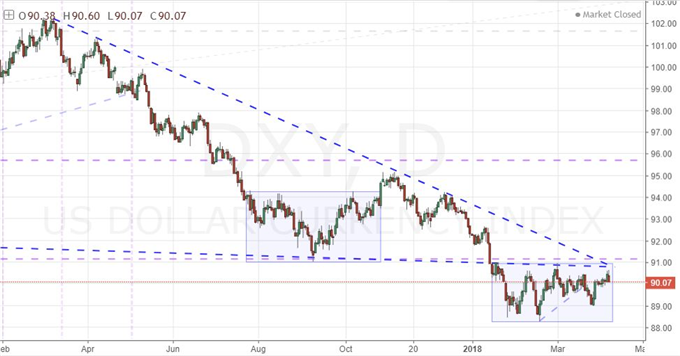 A 9-Year Climb for the S&P 500 Makes for Difficult Tide Change
Even when a market gets to the point of being overbought by most market participants' measures by running for an exceptionally long time, it is still difficult to turn the tide. The S&P 500 is a good example of this phenomena. A 9-year bull trend is among one of the longest and most robust in modern financial history. We regularly see headlines discussing how stretched it is and how inexplicable its seemingly unfailing buoyancy, yet it has yet to turn. That is because of the amount of exposure that has built up to drive the index to where it is. A reversal here will necessitate a systemic deleveraging which rarely occurs in an orderly fashion. Here too the reasons for the climb have been numerous and complicated; so the reversal is just as difficult to concentrate. That said, the addition of volatility these past months starts to signal an underlying change. The range and interspersed sharp declines suggest there is capacity for change. But, patience is a critical factor to evaluating all reversals as is raising our need for confirmation to a sufficiently high level. We discuss the practicalities and impracticalities of looking for reversals in this weekend Strategy Video.
S&P 500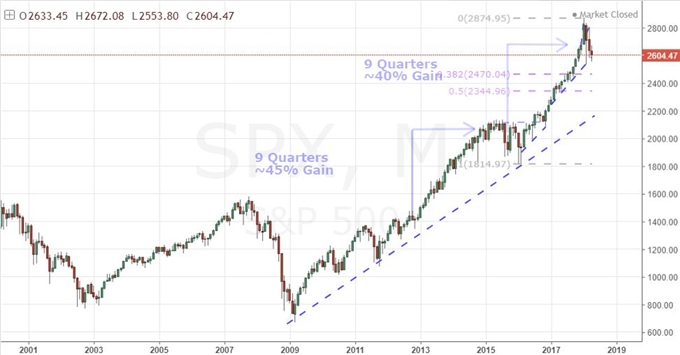 To receive John's analysis directly via email, please SIGN UP HERE.
DailyFX provides forex news and technical analysis on the trends that influence the global currency markets.