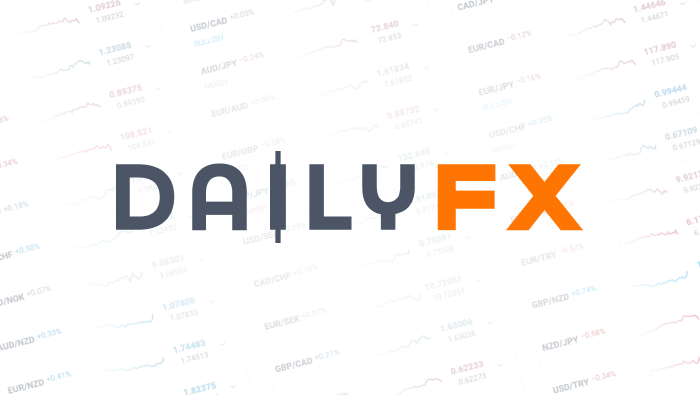 Volatility in Equities and FX Poses Risks Lack of Trend Obscures
Talking Points:
The VIX volatility index offered little forewarning to February's record-breaking surge, starting from record lows

Implied measures of future volatility is derived from demand for hedges, but what if the market continues to go without?
See how retail traders are positioning in the Dollar-based majors versus the S&P 500, Dow Jones Industrial Average and equity benchmarks on an intraday basis using the DailyFX speculative positioning data on the sentiment page.
Ranges Give False Sense of Security Amid Volatility
Volatility is not a traders' friend. The addition of volatility to markets makes the outlook less certain and more frenetic. That is the very definition of 'risk' as you will find it in textbooks. Yet, market participants seem to have a preternatural ability to see this particular source of uncertainty as a boon to their trading. It is treated as a means for expediting profitable turns and making more distant objectives more readily within reach. Of course, in reality, the addition of volatility can abruptly turn a market against a well thought out plan despite a foundation in technical, fundamental and any other analysis technique. Following the exceptional volatility registered in February and March, the speculative rank is more mindful of the risks that lurk in rising activity levels; but technical boundaries can give a false sense of security. The range that has developed for the Dow Jones Industrial Average for example - with support around 23,500 - has emboldened a familiar appetite for buying dips. Yet, how robust is this support should we experience further bouts of sudden charge similar to the developments these past two months?
The VIX Versus Simple Priced-Based Activity Measures
The favorite measure of volatility is the US-based VIX index. Also dubbed the 'fear index', this indicator derives anticipated (referred to in options circles as 'implied') levels of activity on the S&P 500 through options with an approximate 30-day time frame. As important a measure as the S&P 500 is for gauging global risk trends, this source restricts the reference field. Furthermore, the anticipated activity level drawn from these options requires a market that follows a set of norms. There needs to be a healthy demand for options as a hedge instrument if this measure is to give the intended assessment. Yet, as we have seen the rate of return broadly in the market drop, the overhead cost of insurance is something for which traders have increasingly balked at. In contrast to measures of implied volatility, we have those measures of actual or 'realized'. Price action can often show shifting tides more succinctly and readily than speculative favorites. While there are different such priced-based measures, the Average True Range (ATR) is a particular favorite of mine. It can be applied to asset and its readings are straightforward.
Volatility S&P 500 Index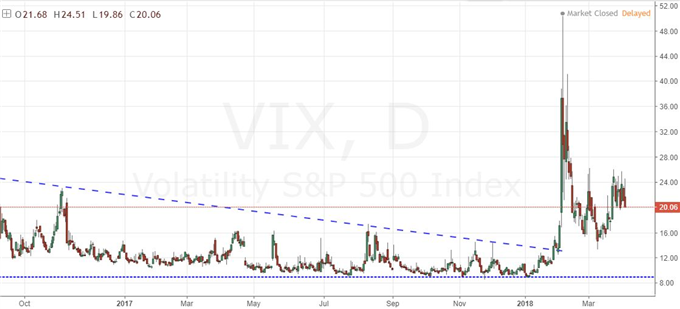 How Extreme Readings for US Equities and Dollar Can Produce the Same Results
While not ideal, the VIX has actually reflected a significant upgrade in anticipated volatility over the past months. The duration of extremely low readings near and even below 10 stands in sharp contrast to a reading of 20 where we closed this past session. While these are not the same extremes as seen at the peak in February, the readings are significant contrast to the latter half of 2017. Yet, when we look at the ATR of the S&P 500, we are presented with something a little more substantial and troubling. The 20-day reading (equivalent of 1 trading month) is holding at levels that finds no comparison until we look all the way back to the height of the Great Financial Crisis. Readings at these levels raise the risk of a break from the S&P 500 to significantly higher levels. Yet, so too does the extreme reading from the DXY Dollar Index. Rather than register a remarkably high reading, it offers up an incredibly restrained figure - the lowest gauge of activity outside year-end holidays since the summer of 2014. A break from its own range (not just the five-day pattern but the boundaries of the past three months) is just as high. We discuss the mistaken confidence and expectations in volatility readings in today's Quick Take Video.
S&P 500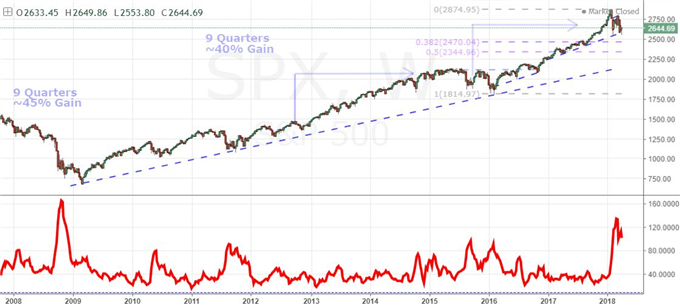 US Dollar Index
To receive John's analysis directly via email, please SIGN UP HERE.
DailyFX provides forex news and technical analysis on the trends that influence the global currency markets.