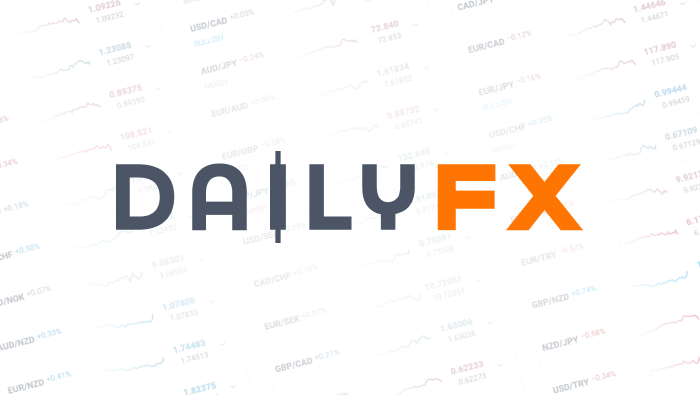 Dow Jones Correction Just Beginning, USDJPY Near Channel Support
What's on this page
The Elliott Wave analysis for Dow Jones Industrial Average shows the potential for continued losses. The Elliott Wave chart for USDJPY hints at a reaction bump higher.
The video above is a recording of a US Opening Bell webinar from March 26, 2018.
Elliott Wave Analysis for Dow Jones Industrial Average
Dow Jones Industrial Average experienced a rough week last week. The near term forecast is for additional losses. Zooming in on the Elliott Wave chart for DJIA, we see one particular wave count that suggests a wave iii of 3 may be unfolding to the downside. Under this Elliott Wave picture, DJIA will need to hold below 25,069. Really, the grey dotted line should be able to contain prices as third waves tend to have the steepest slopes any of the wave in an impulse.
Monday's rally appears to be a short-term relief rally and is perfectly normal within the context of a strong impulse to the downside. If DJIA does move above 24,500, then we will become anxious about the near term bearish forecast.
Bottom line, so long as Dow Jones Industrial Average holds below the grey dotted line that is crossing near 24,500, we believe the path of least resistance is to the down side and a retest of 20,000.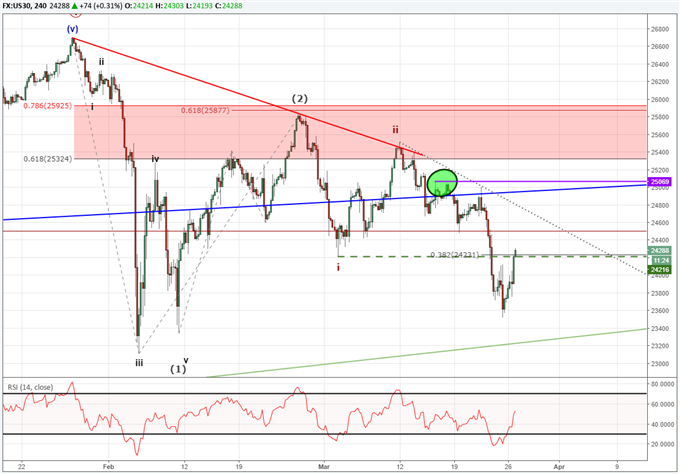 USDJPY Elliott Wave Chart
USDJPY has been pressing recent lows and we believe the Elliott Wave chart hints at gains back towards 106.50 to 108.
Using Elliott Wave Theory, the move lower Since December 2016 fits the profile of a large 'B' wave. Zooming in, the overlapping nature of the waves coupled with a slow grind lower screams the whole wave is corrective in nature. The gap lower on the Sunday open met the parallel channel line that was drawn from the highs beginning in 2015. The market thinks these lines are important and we can count a small degree wave to finish at 104.63.
As a result, we have multiple Elliott Wave patterns pointing to a rally back into the 106.50 to 108 price zone for USDJPY.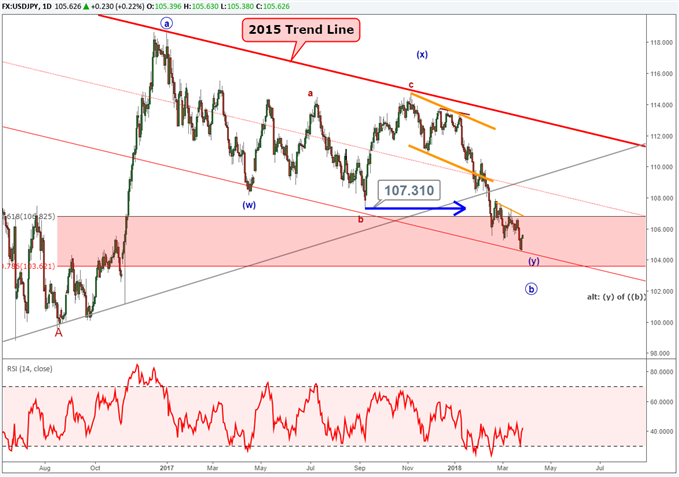 USDJPY sentiment has reached its highest level in several months currently at +2.6. As a result, though we think USDJPY may rally a short bit, sentiment analysis suggests the rally may be shorter term in nature. If we see sentiment shift back towards the bears, then that shift in sentiment could hint at further gains for USD. Keep an eye on the IG live client sentiment reading.
EURUSD Chart Shows A Partial Retracement Higher
We have been suggesting since early January 2018 that a three year expanded flat pattern is ending and that a multi-month high hangs around the corner. Last week, we established a pending order to short on a EURUSD break down at 1.2153. EURUSD did not reach the break out level and has proceeded to rally to its highest level in the month of March.
EURUSD remains below the 78.6% retracement level so the Elliott Wave count remains bearish in the near term. If EURUSD reverses nearby and breaks below 1.2388, then that seals the current rise as a three wave move and opens the door to 1.2153. We will await a break of 1.2153 prior to entering any short trades.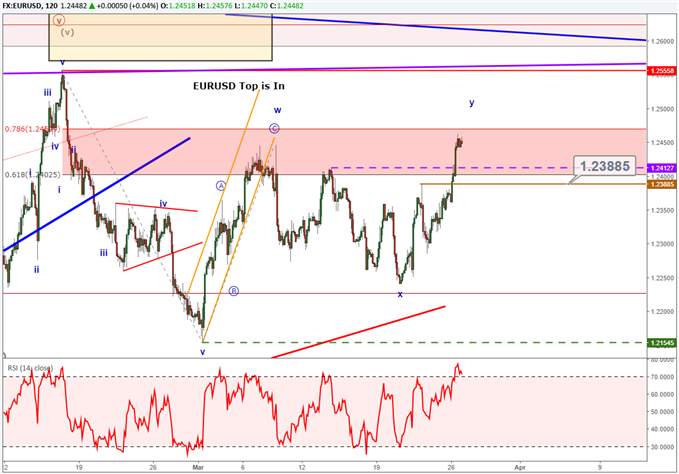 EURUSD Sentiment Analysis
EURUSD sentiment has driven lower to -2.2. Since sentiment is a contrarian signal, this decrease in the reading is a clue about a rising EURUSD. If EURUSD does work down towards 1.2153 we would like to see evidence of sentiment shifting up higher than -2.2 and that would be a bearish signal. The current live sentiment reading for EURUSD is -2.2.
Elliott Wave Theory FAQs
What are Elliott Wave impulse waves?
According to Elliott Wave Theory, the market moves five waves in the direction of the near term trend followed by a three wave counter trend wave. An impulse wave is one of two types of motive waves that denotes trend direction. Therefore, if we see a bearish impulse waveform, then after a three-wave counter trend wave, we can anticipate at least one more bearish motive wave.
For those Elliott Wave technicians looking for further study, read about our expert tips in our beginners and advanced trading guides.
After reviewing the guides above, be sure to follow future Elliott Wave articles to see Elliott Wave Theory in action.
I hear that many traders struggle with profitability, why?
Regardless of the style of analysis, many traders do lose money because they do not take the time to study the market and the effect of leverage. At DailyFX, we have studied millions of live trades and boiled our study down into a Traits of Successful Traders guide. You will find how leverage and human nature affects our trading so you can be better prepared for the next correction.
Elliott Wave Theory can be applied to a variety of highly liquid markets. FX is one of my favorite markets to apply the Elliott Wave principle. Learn more about trading FX with this guide specifically designed for you.
---Written by Jeremy Wagner, CEWA-M
Jeremy Wagner is a Certified Elliott Wave Analyst with a Master's designation. Jeremy provides Elliott Wave analysis on key markets as well as Elliott Wave educational resources. Read more of Jeremy's Elliott Wave reports via his bio page.
Communicate with Jeremy and have your shout below by posting in the comments area. Feel free to include your Elliott Wave count as well.
Discuss these markets with Jeremy in Monday's US Opening Bell webinar.
Follow me on Twitter at @JWagnerFXTrader .
To receive additional articles from Jeremy via email, join Jeremy's distribution list.
DailyFX provides forex news and technical analysis on the trends that influence the global currency markets.