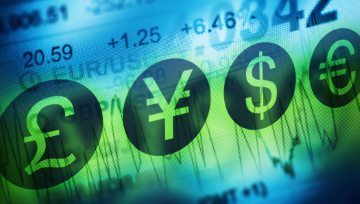 Will Dow Jones and EURUSD Feel the Weight of Fed Rate Hikes?
What's on this page
The video above is a recording of a US Opening Bell webinar from March 19, 2018.
The Fed is scheduled to release their latest offering of wisdom this Wednesday as we hear the latest on the interest rate path. Market participants are anticipating a 25 basis point hike on Wednesday. A focus of attention will be on the number of hikes expected for the next year.
Below, we will unpack a couple of markets that may feel the weight of aggressive rate hikes from the Fed. We will look at the Elliott Wave analysis for Dow Jones Industrial Average, Dollar Index, and EURUSD.
Elliott Wave Analysis for Dow Jones Industrial Average
Dow Jones Industrial Average has held below 26,016 since the early February sell off. According to Elliott Wave Theory, this leaves DJIA exposed to a deeper correction down to 20,000.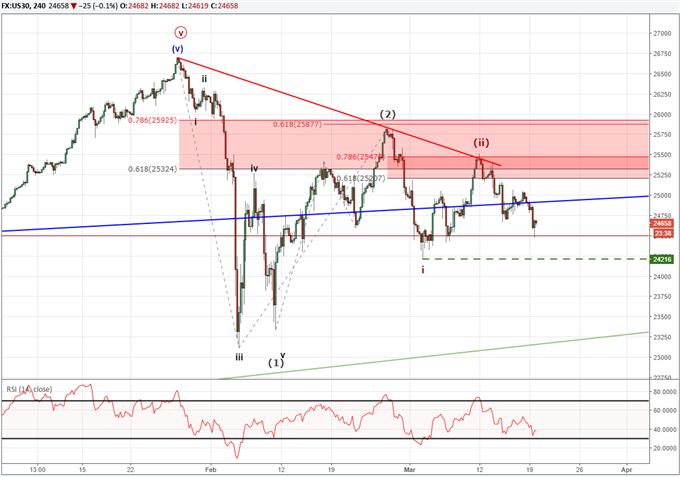 DJIA has been unable to materially bounce after the mid-February high. So far, DJIA is respecting the downward sloping red resistance line. As a result, we are favoring the wave picture that Dow Jones is about to unload another strong wave lower.
This forecast is a result of witnessing impulse waves lower while rebounding higher in three wave corrective waveforms. As a result, we think 20,000 is a lower level to be concerned with so long as prices remain below the February 26 high of 25,825.
A move above the red resistance trend line near 25,300 will generate some early warning signals that the Elliott Wave labelling on the chart below is off, though the bearish outlook continues so long as we are below 25,825.
Bottom online, the Elliott Wave analysis shows bearish impulse waves building and that keeps the focus towards lower levels.
Are we there yet? Dollar Index has been on a long road trip
If you can imagine a long road trip with kids in the back seat, you are 15 minutes down the road and receiving the question "are we there yet?"
Well, the trend towards US Dollar weakness has been a long and steady road for the past 15 months. According to Elliott Wave theory, we are getting close to a complete bearish impulsive wave forming. This hints to us that the largest US Dollar rally is looming just around the corner. This is a rally that may start from slightly lower levels, but that may work itself higher towards 95.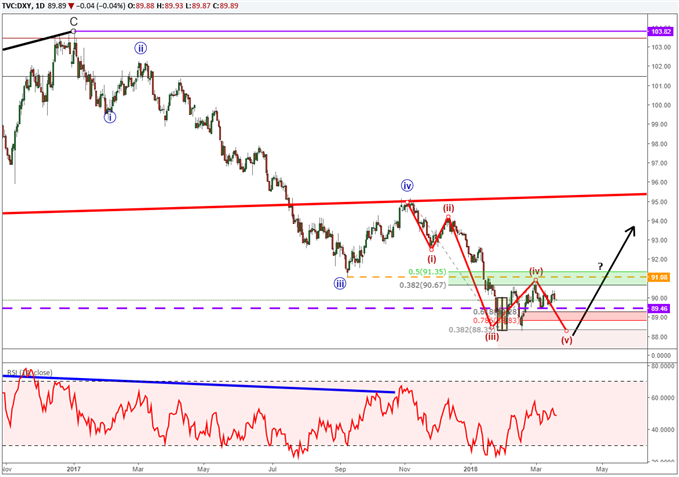 Could a Multi-Month Top be in Place for EURUSD?
We have been suggesting since early January 2018 that a three year expanded flat pattern is ending and that a multi-month high hangs around the corner. After a couple of false starts, we are seeing evidence mount that the high is in place.
First, the high on February 15 occurred just pips within a cluster of price zones where three ending waves meet a 10-year trend line.
Secondly, we can count a clean impulse wave from February 9 to February 15 so the structure has the necessary waves in place to account for a top. The subsequent reversal has morphed into a bearish impulsive wave.
With impulse wave forming to the downside followed by three wave corrections higher, this 5-3 pattern points towards a larger downward trend.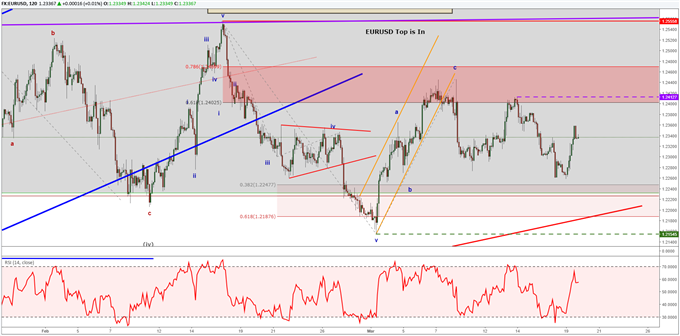 EURUSD Sentiment Analysis
EURUSD sentiment has been hovering around -1.7 to -1.8. Recently, it increased to -1.4. Since sentiment is a contrarian signal, this increase in the reading is a subtle clue about the shifting sentiment below the surface. This sentiment shift is also indicative of a top forming nearby (if it has not formed already). If the sentiment reading begins to increase closer to zero and even if it flips to positive, that would be a bearish signal. The current live sentiment reading for EURUSD is -1.4.
EURUSD Short Trade Set Up
Earlier today, we activated entry orders for a short on EURUSD. The higher probability Elliott Wave pattern hints the top is in and a long protracted sell off may be on the horizon. If this is the case, then we will look to sell short on a EURUSD breakdown below 1.2153.
Elliott Wave Theory FAQs
What are Elliott Wave impulse waves?
According to Elliott Wave Theory, the market moves five waves in the direction of the near term trend followed by a three wave counter trend wave. An impulse wave is one of two types of motive waves that denotes trend direction. Therefore, if we see a bearish impulse waveform, then after a three-wave counter trend wave, we can anticipate at least one more bearish motive wave.
For those Elliott Wave technicians looking for further study, read about our expert tips in our beginners and advanced trading guides.
After reviewing the guides above, be sure to follow future Elliott Wave articles to see Elliott Wave Theory in action.
I hear that many traders struggle with profitability, why?
Regardless of the style of analysis, many traders do lose money because they do not take the time to study the market and the effect of leverage. At DailyFX, we have studied millions of live trades and boiled our study down into a Traits of Successful Traders guide. You will find how leverage and human nature affects our trading so you can be better prepared for the next correction.
Elliott Wave Theory can be applied to a variety of highly liquid markets. FX is one of my favorite markets to apply the Elliott Wave principle. Learn more about trading FX with this guide specifically designed for you.
---Written by Jeremy Wagner, CEWA-M
Jeremy Wagner is a Certified Elliott Wave Analyst with a Master's designation. Jeremy provides Elliott Wave analysis on key markets as well as Elliott Wave educational resources. Read more of Jeremy's Elliott Wave reports via his bio page.
Communicate with Jeremy and have your shout below by posting in the comments area. Feel free to include your Elliott Wave count as well.
Discuss these markets with Jeremy in Monday's US Opening Bell webinar.
Follow me on Twitter at @JWagnerFXTrader .
To receive additional articles from Jeremy via email, join Jeremy's distribution list.
DailyFX provides forex news and technical analysis on the trends that influence the global currency markets.