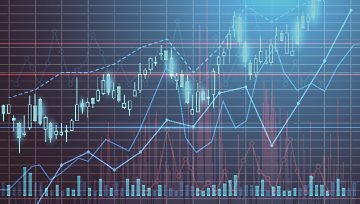 A Word of Caution Before You Jump on Euro or Pound Breaks
What's on this page
Talking Points:
EUR/USD

and

GBP/USD

have lead both

Euro

and

Pound

crosses to key technical boundaries and even some crucial breaks this past session

There is certainly fundamental support for bearish bearings for both Euro and Pound - Euro multifaceted, Pound Brexit concentrated

Yet, before we chase fundamental intrigue we should appreciate key event risk ahead for both currencies which could stall moves
See how retail traders are positioning in EUR/USD, GBP/USD along with other Euro and Pound crosses with critical technical levels coming into view on the DailyFX Sentiment page.
Technical Patterns Are Forming - Particular for Euro and Pound
Complex pattern recognition is one of those traits that separates humans from the rest of animal kingdom. Yet, we are also the species that sees shapes and objects in clouds. And so, we have some remarkable technical patterns forming - and some breaking - in the markets which are naturally drawing a lot of attention from speculators. After years of severe drought in meaningful price swings and the sudden riches found in the February volatility swell, traders thirst for opportunities and are hyper vigilant. In the FX market, there is remarkable appeal for the Dollar and Yen pairs, but some of the most pressing charts are founded in the Euro and Pound crosses. For example, EUR/USD has leveled up to critical support at 1.2175/35 (the midpoint of the pairs historical range), GBP/USD has broken lower from a terminal wedge, while EUR/JPY and GBP/JPY have both slipped heavy support with clear threat of a deeper reversal. To the opportunity famished, these look like great trade opportunities.
EUR/USD Daily Chart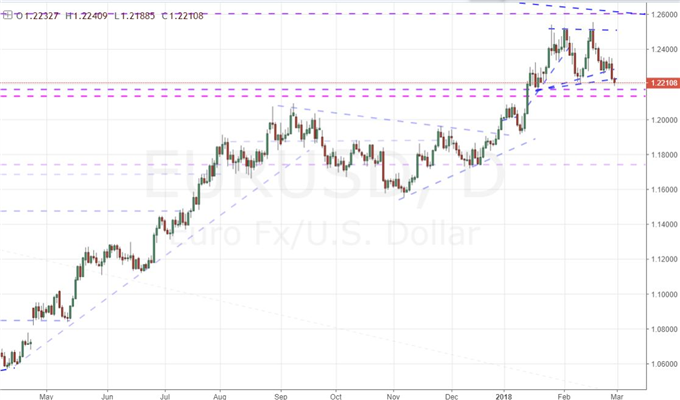 GBP/JPY Daily Chart
GBP/USD Daily Chart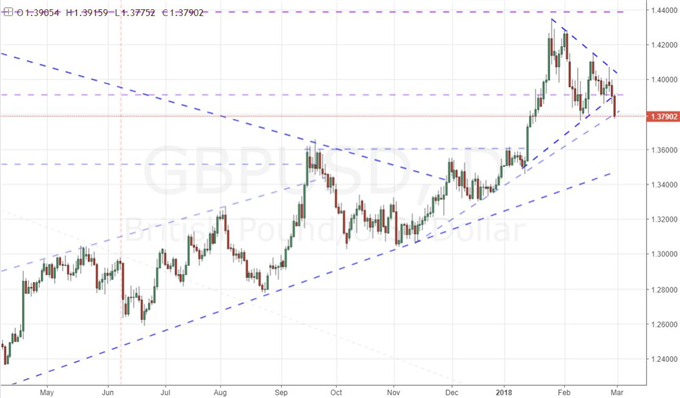 There is Fundamental Support for These Developments
For those with a trading strategy one step beyond processing the technical picture for all their cues, looking to fundamentals to confirm or reject a setup is exceptionally useful for boosting scenarios' probabilities. Yet this is not always enough. Looking into both the Euro's and Pound's fundamental backdrop we can find rather convincing evidence to suggest that once the bears get moving, they can build a head of steam. From the Euro's backdrop, we have had three key ingredients that have had to coalesce for the exceptional gains we have seen over the past 12 to 14 months: speculation of a superior pace of growth; a relatively stable political backdrop and the distant rumbling of monetary policy normalization. On all three points we have seen conviction flag. Recent PMIs have softened, questions over anti-Eurozone parties have snuck back into the picture and the ECB has escalated its effort to kill hawkish rate speculation.
As for the Pound, the focus has been singularly on Brexit - both when the currency tumbled and subsequently recovered. Over the past year, fears of a 'worst case scenario' after the vote to leave have started to abate. Opportunists were willing to take a chance that there was discount under the Sterling and slowly built it back up. Yet, after a consistent climb back towards 1.4400, we look back and can definitely assess that optimism had overshot - perhaps not as much as the pessimism through the second half of 2016, but it was certainly askew from value. This has been particularly apparent over the past few months as the rhetoric between the UK and Eurozone have turned more hostile and progress has all but seized.
What More Do You Need than Technical and a General Theme
If we have engaging technical patterns for the Euro and Pound crosses as well as a fundamental path for both that can readily supply the bears with conviction, what else is there? Why would we not pursue these breaks and jump on further support levels caving? There needs to be a clear potential for follow through. A technical break is not where profit is made, it happens in the follow through. And, a big picture theme can foster conviction, but there needs to be some encouragement along the way and an explicit lack of hurdles. The problem we face on both accounts is expected event risk ahead that will keep speculators from fully committing. This past session, the EU's draft for Brexit was shot down by UK Prime Minister May and the Pound dropped. She is due to give her proposal on Friday. Would the market commit to a large trade one way or the other ahead of this influential event? As for the Euro, there is also a critical and clearly timed event in the near future: the Italian elections on Sunday. If these events were a week out, there would perhaps be short-term trade potential. If we were talking about trading narrow ranges, this would be a difficult conversation. But as it stands, expectations seem to outstrip reasonable potential. We discuss the interest in the Euro and Pound with key price developments siren calling us near the rocks in today's Quick Take Video.
To receive John's analysis directly via email, please SIGN UP HERE.
DailyFX provides forex news and technical analysis on the trends that influence the global currency markets.