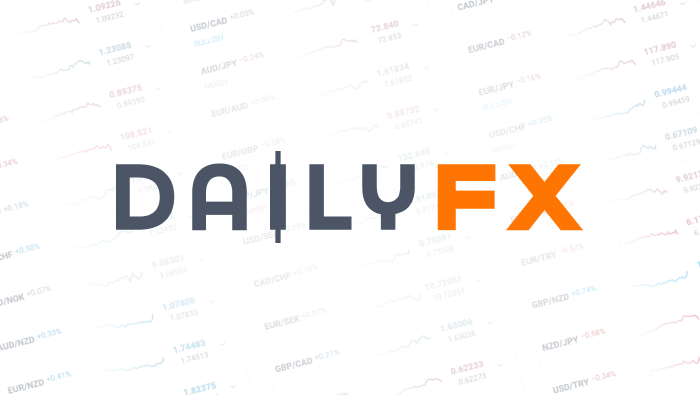 Currency Wars Carry Serious Risk for Dollar, Euro, Yen and Global Markets
Talking Points:
Currency wars are 'cold' and more difficult to track relative to trade wars which have clearly escalated as of late

Competitive devaluation of one's currency is not an unheard of policy effort, but it isn't always so black and white in engagement

The BoJ's active

Yen

selling is well-documented, but efforts by the Fed and ECB are perhaps over-looked or underappreciated
See how retail traders are positioning in EUR/USD, USD/JPY and other crosses formed through exposure to supposed currency war engaged FX players on the DailyFX Sentiment page.
What is a Currency War
Interest in 'currency wars' has started to rise again. For FX traders, the interest is a by-product of active trade wars but also accusations being hurled by certain key policy authorities. In fact, if we consult Google Trends, we find that the search ranking for the term is expected to hit its highest level in at least a year. So, what is a currency war? A more palatable name for the engagement is 'competitive monetary policy' but ultimately, it references an effort to devalue a currency to confer economic benefits via trade and capital flow at the detriment of trade partners. It would seem that this is a straightforward effort, but it certainly is more complicated than the name implies. I would liken it more to a 'cold war' rather than the 'hot war' in trade. There are clear efforts of trade wars which the financial and main stream media have picked up on heavily. From China's efforts to control capital flows to the United States' 'America First' commitment with tariffs being floated, there is considerable evidence on hand. Yet, on the currency front, the engagement is typically more stealthy.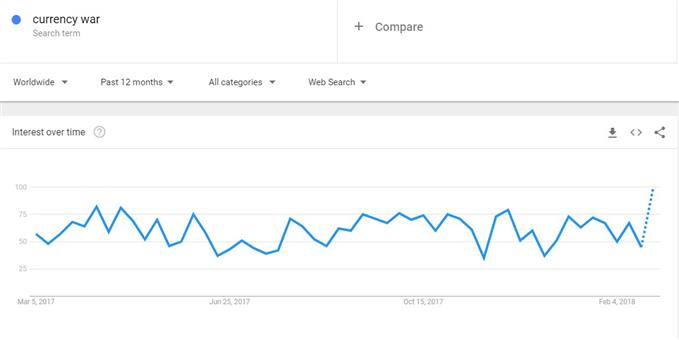 There are More Means to Engage Than Just Selling Your Currency
For those that have been around awhile or are just students of the global markets, the first example of currency war that comes to mind is when the Japanese Finance Ministry charged the Bank of Japan to sell Yen in the open market at various points over the past year in a bid to halt the currency's steady appreciation. That was a direct effort, but interestingly enough, it was not the move that drew condemnation by the G7 - that was when the BoJ said it was pursuing its easing policy to devalue its currency years later. Yet, further efforts are even more subtle. Is mere accommodative monetary policy without stated intention of FX devaluation the same degree of a manipulative effect? Do we need to look to the effectiveness or conventional wisdom of their efforts? What is important when evaluating the influence of a 'trade war' is that we are talking about a reciprocal and escalating engagement. This is not one country making moves to devalue its currency and it stops at that. Such an effort has a acute influence on markets, but it rarely produces trend - just look at the BoJ's loss of influence on its currency. When there is a perception of a manipulation and peers 'strike back' thereby making the entire system more volatile and uncertain, then we have the destructive element of a 'war'.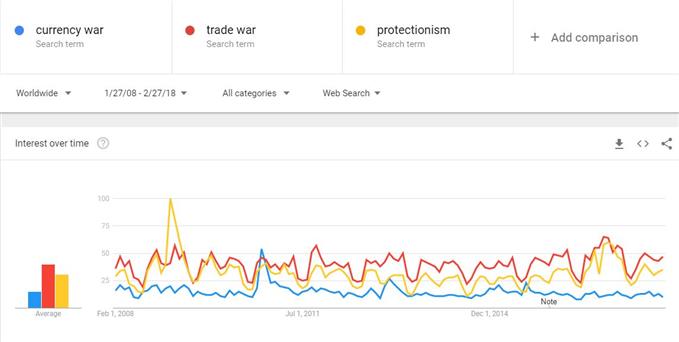 Comparing the Effects of BoJ, ECB and Fed Efforts
Given that there are degrees of explicit in this scale of intervention, it is worth assessing the various confirmed and insinuated efforts of intervention over the past months and years. The BoJ's efforts were as explicit as they come, but they were notoriously ineffective. Resorting to extremely easy monetary policy was the only solution the Japanese policy authority had left when it was called out by its peers, but even after that dubious effort we found the concern subside as the impact on the Yen dissipated. For the Fed and US policymakers, the accusations have been loud; but the tangible efforts have been few and modest. The Fed did pursue aggressive QE, but its early adoption was a fast moving effort to head off a global financial crisis rather than a retaliatory effort that other opportunists prioritized. As for the Treasury Secretary's waffling on the 'strong Dollar' policy, the impact this would have is small. Surprisingly overlooked yet remarkably direct was the ECB's effort to intervene. In April and May of 2014, the central bank made an explicit threat to chance monetary policy to drive the EUR/USD lower. What is remarkable is how effective they were. That fact was not missed by this group. Now facing 1.26 and with options running out to conduct 'normal' police, there is a significant probability that their accusations of US manipulation are indirect means to talk down the Euro given than they have run short of local options. We discuss currency wars in today's Quick Take Video.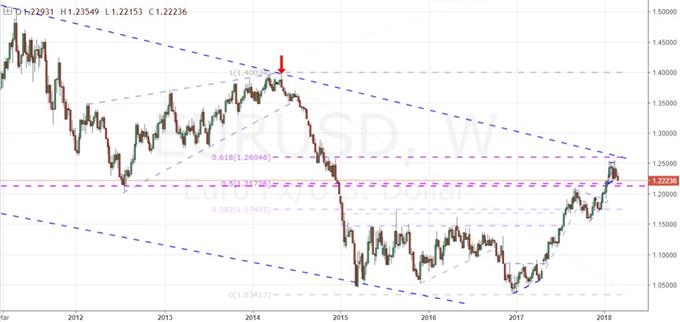 To receive John's analysis directly via email, please SIGN UP HERE
DailyFX provides forex news and technical analysis on the trends that influence the global currency markets.