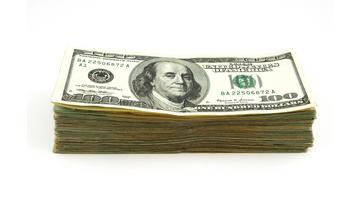 Elliott Wave Webinar: Evidence Mounts of US Dollar Reversal
What's on this page
The Elliott Wave analysis for US Dollar Index and EUR/USD illustrates mounting evidence the Buck may be on the beginning edges of forming its largest rally in over a year.
The video above is a recording of a US Opening Bell webinar from February 26, 2018.
Elliott Wave Analysis for US Dollar Index
As DXY rallied over the past two weeks, we are seeing evidence of a larger rally building. On a small intraday chart, the Elliott Wave analysis shows an impulse wave building from the February 15 low. The subsequent price action from the February 22 high does appear to be corrective. The correction has retraced to the shallow end of a typical correction so we are weighing the possibility of whether the correction is over or if it will eat up more time.
A break above 90.51 will increase the probability that the correction is over and another impulse wave higher is building.
So long as US Dollar Index remains below 90.51, we need to be open to a flat correction that may eventually dip to 89.50 while holding above 88.39.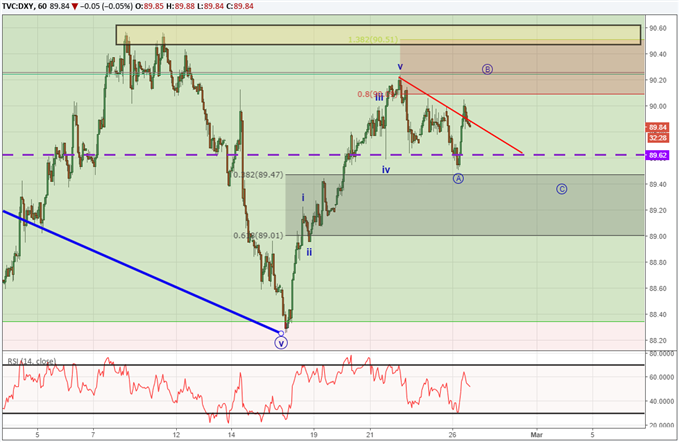 Arguments Build for a Top in EURUSD
We previously wrote how three ending waves are meeting a ten-year trend line on EURUSD. This is indicating a very mature up trend that is at risk of reversal.
There are four wave relationships we noted on February 8 appearing in a price zone of 1.2588 to 1.2648. EURUSD came very close to the bottom edge of this potential pivot zone topping out at 1.2556. The subsequent sell off to 1.2370 is deep enough to eliminate some Elliott Wave count possibilities.
Both Elliott Wave models presented below are higher probability in nature. The Elliott Wave count to the left identifies the top is in place and the EURUSD chart on the right is a competing ending diagonal pattern. Both are valid until 1.2556 or 1.2206 is broken.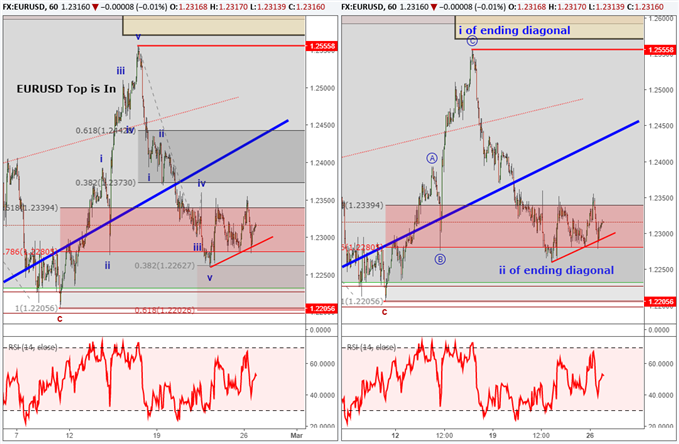 Case for EURUSD Medium Term Top and Reversal
In last week's webinar, we built the argument that we can count the minimum necessary waves are in place into the 1.2556 high. Since then, we can identify a small impulse wave moving lower. This impulse wave is a subtle clue that the larger trend has shifted from up to down. If EURUSD does break below the red trend line, then that would be an early warning signal that EURUSD may deepen its correction and possibly break 1.2206.
Though we may see an increase in EURUSD this week, a break below 1.2206 elevates the pattern that we may see a prolonged correction to below 1.15.
Case for Elliott Wave Ending Diagonal Pattern
Since the February 16 high fell short of the potential pivot zone discussed in three ending waves are meeting a ten-year trend line on EURUSD, we need to consider what other patterns may exist that would drive EURUSD higher and deeper into the pivot zone.
One pattern we are following is an ending diagonal pattern. Ending diagonals are five wave patterns consisted of zigzags. It is possible the first of the five waves were completed on February 16. The second of five waves is nearly complete. Since EURUSD price has pivoted higher at the 78.6% retracement level, this Elliott Wave picture remains viable. If EURUSD price breaks above 1.2556, then we will elevate this ending diagonal scenario as the preferred wave count.
EURUSD Sentiment Analysis
EURUSD sentiment has shifted drastically over the past week. Earlier today, the sentiment reading came very close to flipping positive. The last flip was on April 18 from positive to negative. Therefore, a flip from negative back to positive would be a bearish signal for EURUSD. The current live sentiment reading for EURUSD is -1.1.
Elliott Wave Frequently Asked Questions
What is Elliott Wave Theory?
Elliott Wave Theory was developed by Ralph Nelson Elliott back in the 1930's. It is a study of wave cycles and patterns. Five waves define the direction of the trend and three waves define a corrective move. Review our beginners and advanced Elliott Wave guides to learn more about the terms, rules, and common patterns of Elliott Wave principle.
After reviewing the guides, be sure to follow future Elliott Wave articles to see Elliott Wave Theory in action.
Can a newer trader learn and understand Elliott Wave Theory?
Just like learning to ride a bicycle, we all started as beginners at one time or another. I would first suggest familiarizing yourself with FX terminology and how to read a currency quote, and then read the Traits of Successful traders to understand the habits of successful traders. Therefore, regardless of the analytical method, you have a foundation for trading to build a strategy.
---Written by Jeremy Wagner, CEWA-M
Jeremy Wagner is a Certified Elliott Wave Analyst with a Master's designation. Jeremy provides Elliott Wave analysis on key markets as well as Elliott Wave educational resources. Read more of Jeremy's Elliott Wave reports via his bio page.
Communicate with Jeremy and have your shout below by posting in the comments area. Feel free to include your Elliott Wave count as well.
Discuss these markets with Jeremy in Monday's US Opening Bell webinar.
Follow me on Twitter at @JWagnerFXTrader .
To receive additional articles from Jeremy via email, join Jeremy's distribution list.
DailyFX provides forex news and technical analysis on the trends that influence the global currency markets.