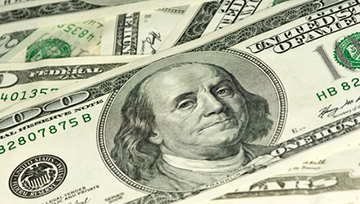 It is Growing Increasingly Difficult to Mount a Dollar Reversal
Talking Points:
The Dollar may be significantly off its highs set late 2016 / early 2017, but a rebound is not the most ready technical path

Of the major potential drivers for the Greenback; rate forecasting, risk trends and relative gains all seem sapped

My preference is to keep focus on short-term, opportunistic Dollar scenarios rather than the next momentous trend
What makes for a 'great' trader? Strategy is important but there are many ways we can analyze to good trades. The most important limitations and advances are found in our own psychology. Download the DailyFX Building Confidence in Trading and Traits of Successful Traders guides to learn how to set your course from the beginning.
It's all relative. Looking at the charts, we could say the Dollar is significantly discounted if we were looking at a year's or two of historical price action. There was certainly a clear bear trend through 2017 which has pulled the Greenback sharply off its high set around the turn of 2016 to 2017. Yet, the picture is clouded when we look at a chart with five or more years of data. On that scale, the currency (DXY Dollar Index) stands at the cusp of breaking a consolidation phase that could reverse a substantial advance that developed over the preceding years. The past three to four months was telling of conviction. A 'perfect' inverse head-and-shoulders pattern had set up and officially cleared the 'neckline' in the latter half of October. Yet, the natural speculative momentum such a development usually mounts quickly fell apart.
I think there is good evidence that pure speculative appetite has greater sway over the broader markets nowadays. With the markets swearing off fundamental valuations and complacency blending with skepticism, it is the opportunist that is willing to make influential moves in the markets. Yet, this kind of market participant collectively goes in to buy dips and short swells or to fuel existing momentum. Mounting genuine reversals or forging critical technical breaks is usually beyond the capacity of this crowd. Therefore, this passive influence offers little opportunity to project such a momentous development - whether that be a strong bullish reversal or the extension of a deeper reversal with a critical break of a three-year low - without the motivation of a more concentrated fundamental theme. And yet, all those catalysts that have been effective with motivating the market over the past years seem to have lost their sway or drive.
Most effective over recent years is the influence of monetary policy. Fed monetary policy still carries the most hawkish lean of the major central banks - by a wide margin. And in fact, that projected rate advantage is only looking to increase moving forward. Further, where the Fed's outlook seemed to be discounted by the market itself, there too we see hawkish movement. The Fed's implied yield forecast through 2018 has steadily firmed over the past weeks and the 12-month forward rate outlook is the highest we have seen in a decade. And yet, the Dollar hasn't moved at all. For the Dollar's role as an ultimate safe haven, we require a dramatic change in direction and intensity for sentiment. That is a lot to accomplish in order to foster a particular view for the currency. The same tall task is presented in assuming a uniform or concentrated decline in the major counterparts for the Dollar - Euro, Yen, Pound - can supply a meaningful recovery. A strong recovery is difficult to muster under these conditions, but so too is it difficult to foster a bearish break of the past three years congestion and fulfill a true trend in that direction. We focus on the Dollar with its struggles and opportunities in this weekend Quick Take Video.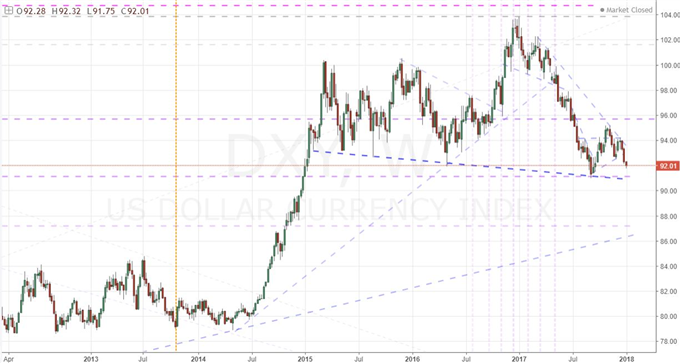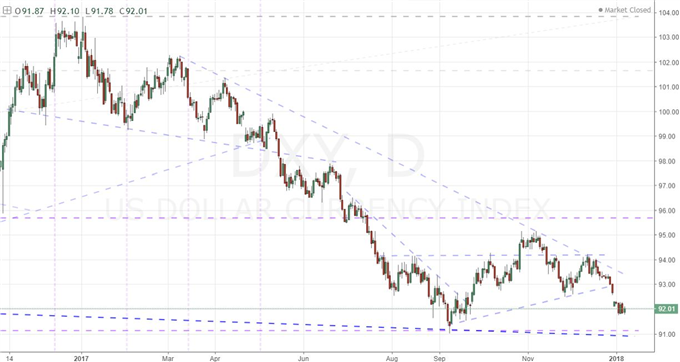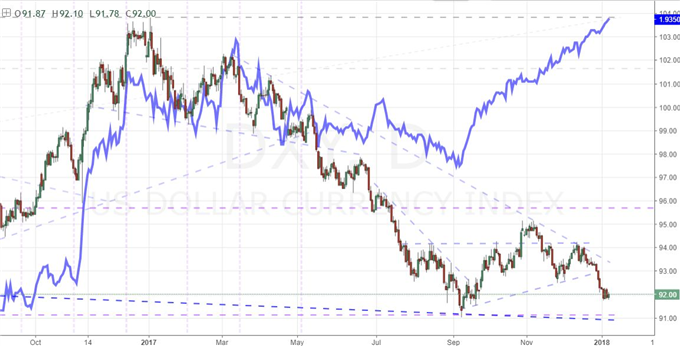 To receive John's analysis directly via email, please SIGN UP HERE
DailyFX provides forex news and technical analysis on the trends that influence the global currency markets.