Is the Tech-Heavy Nasdaq 100's Dive an Anomaly or Signal?
There have been many signs of discord in general risk trends over the past days, weeks and months. Is the Nasdaq 100's sharp correction this past session any more ominous to the complacent risk run than any of the other sparks along the way?
Talking Points:
Risk trends remains one of the most comprehensive motivators for the financial system, but it isn't the most consistent

We have seen some recent and other long-term deviations from risk lines laid by the likes of the S&P 500

Wednesday, the Nasdaq 100 suffered its sharpest drop in 3 months to contrast a steady S&P 500 but should we really be worried?
How are market participants positioned in key assets and markets? There are means of evaluating this like the CFTC's COT net speculative futures positioning numbers. A different crowd to monitor is the retail trader which the DailyFX Sentiment page updates regularly.
Over the long-term - 5 to 10 years - there is a clear bearing on global investor sentiment. Almost regardless of asset class or region, the general bearing is bullish. For some assets its exceptional and arguably maniacally optimistic while others are lagging substantially; but all told the bias is there. That said, normal markets fluctuate. They transition from bullish to bearish conditions as economic and financial circumstances change. Turns in such deeply established and broadly based trends takes time and considerable change, and as investors we should not expect to perfectly time or assume accelerate time tables for such seismic shifts to unfold. Yet, that doesn't mean we shouldn't keep tabs and be prepared for the inevitable.
This past session, there was a distinct divergence among one of the most closely watched and consistently correlated asset classes in the global financially system: US equity indices. The Dow Jones Industrial Average managed a gap higher on the open and closed further higher after a modest extension. After some back and forth on the day, the broad S&P 500 ended the session little changed. It was the Nasdaq 100 that produced the most remarkable day on a 1.7 percent tumble. That was the biggest drop from the Index in three months and one of only 7 instances in the past 12 months that it has closed down more than 1.5 percent. Looking at the relationship between the Nasdaq and S&P 500 in particular, we can see visually that they rarely diverge for long - and correlation measures bear that out statistically. So, should we take this as a signal that a bigger change in imminent from the broader equity world and - by virtue of its appeal in global investment - the global financial system?
There are important considerations for evaluating 'signals' of deeper changes to the markets. On the side of restraint and skepticism for what the Nasdaq can signal, we have seen distinct deviations from this particular index and its counterparts in the past. It is particularly volatile, so there is a greater probability for such events to populate. Further, depending on what we look at; we can see evidence of speculative deviation that goes further back and arguably poses grander threat. Just this past week, we have seen Chinese equities drop sharply in their otherwise stellar performance over the past six months. Over the past month, the HYG junk bond ETF drew sharp speculative focus when it broke a major head-and-shoulders reversal pattern. Over the past few years carry trade has very prominently disconnected from the week-to-week and month-to-month performance of shares. And, all the way back to 2011; there has been an extreme discrepancy between US and global equities to emerging markets (something that we perhaps would lose sight of if we only compared over the past year).
On the other hand, there are will often be early warning signals of big changes. And, if we are being astute, it is noteworthy that all the aforementioned divergences add up to an erosion of the underlying sentiment that reflects underlying sentiment. When sentiment does falter, it is often the most sterling performer among the masses that can signal that end to complacency and skepticism. As it happens, technology as a sector has been one of the most storied areas of speculative appetite, and it is the foundation of the Nasdaq 100. We discuss what to make of the Nasdaq 100 as a signal for the broader market in today's Quick Take Video.
To receive John's analysis directly via email, please SIGN UP HERE.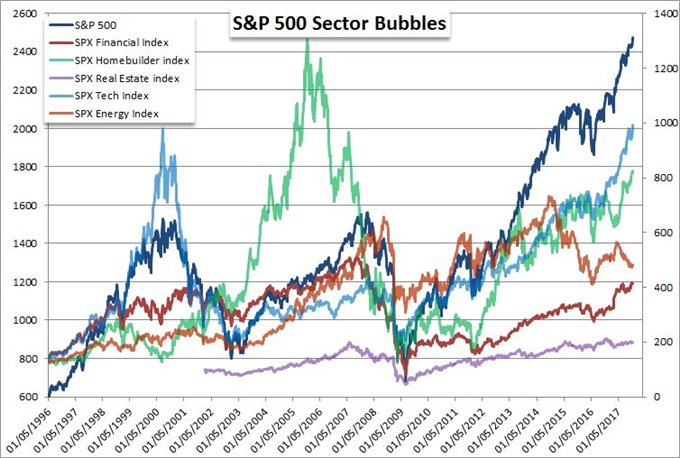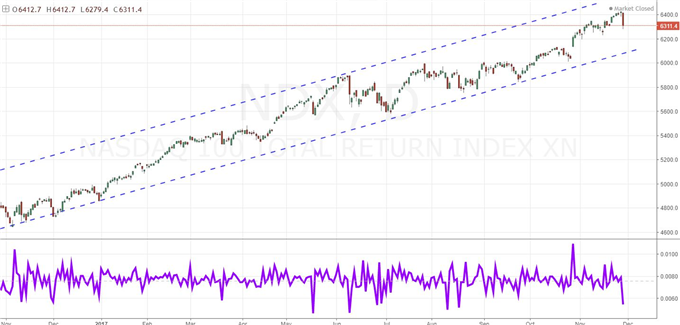 DailyFX provides forex news and technical analysis on the trends that influence the global currency markets.