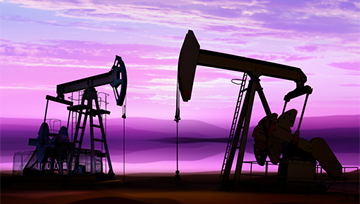 US Oil Secures Breakout but Where Will it Generate Follow Through?
Talking Points:
Technically, US crude oil printed a remarkable bullish breakout Friday and Monday and there are few obvious boundaries overhead

As open as the sky is for chart traders, the fundamentals behind the commodities struggle remain unconvincing

We look at speculative activity, supply-and-demand fundamentals from OPEC to the US, and technicals for a comprehensive view
Fundamentals seem to wax and wane when it comes to what is driving oil prices. However, there are certain themes that are immutable for influence over the commodity. Download our oil fundamentals trading guide to learn what to watch.
Friday saw an incredible breakout from US-based WTI crude oil and Monday's session acted to confirm it was a strong, nearly 2-dollar per barrel follow through. This is a convincing move it taken purely from a technical perspective. But, nowadays, technical evaluations alone creating more false positives than valuable signals. Nevertheless, we shouldn't write off the remarkable performance of the commodity that we have seen in the last 48 hours of active trade. The $55 level that we cleared at the end of last week was a range high that was tested and rejected multiple times stretching back two-and-a-half years. Follow through of the magnitude registered this past session is often a sign of enthusiasm and therefore an ingredient for conviction. In terms of subsequent major technical levels that we could use as milestones for purely a technically-oriented view of the market, there isn't much but open sky. Some of the more noteworthy levels includes the 2015 highs around $60-62, the 2011-present mid-point around $70 and then open air. I conducted a poll of oil bulls to see where they think this swell of momentum would carry us.
Yet, we have seen so many unfulfilled technical breaks across various asset classes that hopefully we rely on more than just a chart pattern to assess our basis of conviction. If we were to do so, the picture grows very murky - much as it has with other assets when we do a more complete evaluation. To do a comprehensive evaluation, I look at the supply-and-demand factors of the market for a fundamental assessment (risk-oriented motivation has waned more completely here than most other asset classes) as well as a market participation evaluation. For supply-demand, the story has long been an overproduction of the commodity that has swamped a market that has not seen growth that can facilitate the demand to mop it up. Looking to OPEC production, we can certainly see the effort to take the top off of some output, but it is not a substantial production. From the US sources which have created much of the problem, we still register records. Meanwhile, demand in the US and globally is still offer little in the way of a hope to quickly reverse trends.
Without a clear milestone on what the market considers a key level in the supply-demand level in the market, we find better statistical correlation between oil's price and inventories in the United States. Far better a relationship exists however, when it comes to the commodity's price and the CBOE's oil volatility index (ticker = OVX). While not as distinct as the relationship between the S&P 500 and VIX, the relationship between crude and its volatility measure is distinctly negative. With the latter at extraordinary lows, the risk of more active markets is clear. Looking more closely at 'market conditions', we have further activity measures to consider. Volume behind oil futures swelled over the previous few years despite the struggle of the market's value, but the subsequent rebound these past months was met with a reduction in turnover. In contrast, open interest (the total amount of trading exposure) behind crude hit a record as of the past session. From that exposure, speculative interest shows a heavy bias towards a long view. That said, traders in the futures market have maintained that view throughout the downdraft. Is there an underlying appetite that can carry this market $10, $20 or even further to the upside? We focus on oil in today's Quick Take Video.
To receive John's analysis directly via email, please SIGN UP HERE.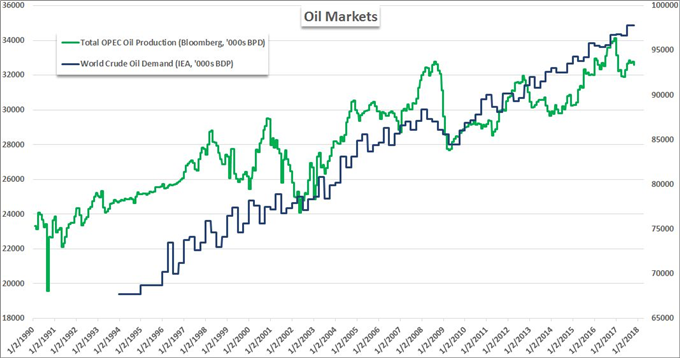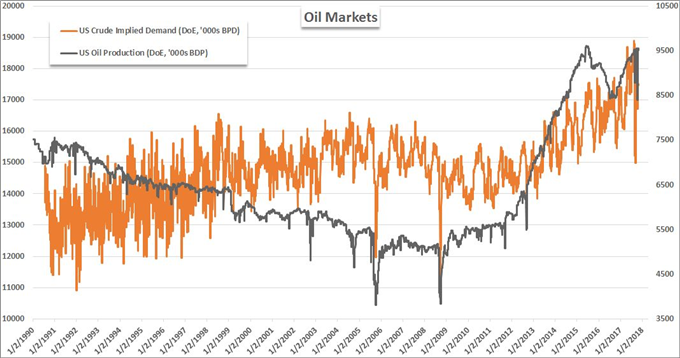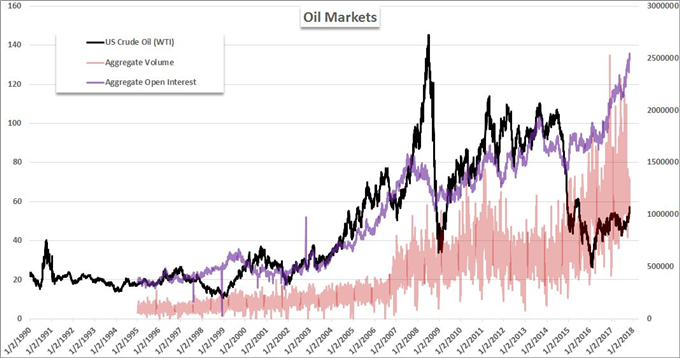 DailyFX provides forex news and technical analysis on the trends that influence the global currency markets.