Trading Extremes with VIX at Record Low and S&P 500 Record High
Talking Points:
The S&P 500 has more than hit another record high - it has posted its longest series of gains in 13 years and longest run of new record highs in two decades

VIX may be the more extreme reading for the bearings on sentiment having dropped to a record low just above 9.1

Speculative exposure has been stretched for some time, but conditions are reaching extreme levels with unprecedented risk-reward considerations
What are the DailyFX analysts' fundamental and technical forecasts for the Dollar, Euro, equity indexes and more through the fourth and final quarter of the year? Download the recently-released 4Q forecasts on DailyFX.
I've been a skeptic of the value to be found in the broader markets amid years of low-yield and central bank-supported risk reach for some time. However, throughout I have been somewhat sanguine about the peril. Markets can shift what it prioritizes for value and speculative appetite can generally remain 'irrational' relative to traditional methods of valuation for extended periods of time. That said, we are getting to nose bleed levels in some key benchmarks for the financial system. In particular, the US equity indexes and the unprecedentedly popular VIX volatility index. It should be said that there are plenty of other assets and markets that are oriented to follow the ebb and flow of sentiment that aren't nearly as overleveraged. However, many of these same markets have been encouraged and even pulled higher by the US-centric outperformers. It would be illogical to presume that they would only maintain correlation for the convenience of risk appetite and fully deviate should those Western gauges collapse. As with astrophysics, the extreme mass presented by the outperformance from the S&P 500 and company has pulled the other markets into orbit; and its implosion would likely present a financial black hole that pulls nearly everything down with it.
Taking stock of the new heights we have reached this week, we first have the S&P 500. This broad and increasingly popular index via ETFs like the SPY and emini futures contract has hit a new record high through Thursday's close. That comes as little surprise as they have come rather frequently of late. That advance has in fact registered 8 straight daily bullish days for the longest series of consecutive gains since November 4th, 2004. What is even more incredible about this drive is the fact that six of these days have individual set record highs for the index. That is something unprecedented going back two decades. The reach is further over 60 percent higher than the previous record high back in 2006. It has also seen its price (market cost) deviate from underlying value of various measure to extreme levels. Yet, as incredible as the US equity market's bearing is; it is not as extreme in my view as the VIX. Previous videos have dedicated considerable time to explaining the importance, interpretation and evolution of this index; but broadly speaking, it is the cost of insurance or hedging. Theoretically, we would see its value rise when there was the most to lose. Arguably, there is no other time in modern financial history that meets that criteria more than now. And yet, the volatility measure hit a record low 9.1 through Thursday.
The evaluation I make of the market landscape amid these extreme conditions is based on probability and scenarios. What is the probability that we can continue to extend such unfettered climb through the foreseeable future? What pace and how far can we expect the market move amid such a stretch? What is the risk should the -seemingly unthinkable if VIX were to be taken at face value - markets reverse course? Having stretched exposure so far, we are more likely to see a wide and disorderly collapse in speculative interests. The lack of stabilizing hedges and the unorthodox correlations across the financial system would further exacerbate problems for those seeking to stem the bleeding. Given this, I feel it necessary to change my approach to the markets. Previously, I was not adverse to taking a long-risk oriented position so long as it was at a discount to US equities and other high flyers and there was additional fundamental charge to support the move. Now, however, I will not take such exposure for anything behind a duration that I can personally monitor the condition of the market. I still don't like trying to pick a top in 'risk' with size or even diversified exposure into the theme. However, I will consider short-term and additionally supported risk aversion trades such as my short EUR/USD (already on), a GBP/JPY short or long VIX view. We discuss the off-the-scale risk-reward imbalance in sentiment and how it is changing my approach to the markets in Today's Strategy Video.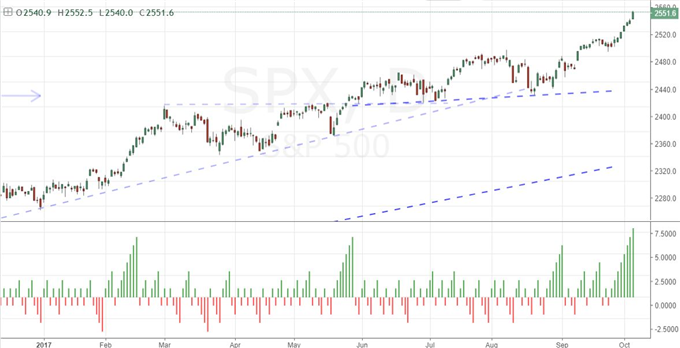 To receive John's analysis directly via email, please SIGN UP HERE
DailyFX provides forex news and technical analysis on the trends that influence the global currency markets.