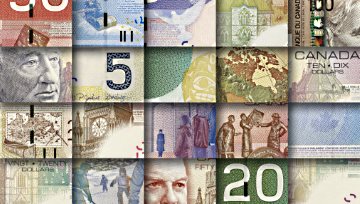 Video: BoC Hike Pushes CAD/JPY To Key Resistance, Now What?
Talking Points:
The Bank of Canada hiked rates against a market forecast that only afforded the outcome a 44 percent probability

All Canadian Dollar crosses registered substantial gains for the Loonie, with some like USD/CAD marking new ground or breaks
Yet, for CAD/JPY the charged pushed it to significant resistance but not beyond; and now we're left with 'break or reversal'?
What are the key fundamental themes driving the FX markets? What technical patterns are solidifying for the majors and global equities markets? How can we adapt our trading psychology to improve our returns? All of these topics are covered in weekly DailyFX Webinars. Find one that interests you and register.
The Bank of Canada delivered yet another shock to the Canadian Dollar by announcing its second 25 basis point rate hike in this very nascent hawkish policy phase. Where the hike in July was largely anticipated by economists and markets via swaps (I was dubious), this hike came amid greater debate over its potential and merits. In fact, the swaps market had placed the chances of a second hike at only 44 percent. Well, this increasingly hawkish central bank would once again defy the global standard of reticent but consistent dovishness. This puts the Loonie in a very rare strata among the major currencies. All but the Fed have held their benchmark rates at their extreme - often historical - lows while some continue to press forward with extreme stimulus programs. Then there are the so-called 'carry' currencies. While the Australian and New Zealand Dollar have a longer history as high yield currencies and still have higher benchmarks; in this environment the premium goes to the currency whose yield is rising, regardless of its current standing.
Given this context, the Canadian Dollar is arguably one of the most appealing majors so long as risk appetite remains positive or at least static in the environment of complacency. However, that status does not guarantee momentum for the currency. Follow through on carry trade is not a particularly robust strategy in the broader financial system. One one hand, we have the US Dollar which has been arguably the biggest benefactor from a hawkish monetary policy bearing with remarkable gains through 2014 and 2015. Yet, that was in anticipation of the policy that was later implemented. Through that actual tightening effort in December 2015 and three quarter percent hikes between December 2016 and June 2017, we have seen limited gains and then losses. This shows the limitations of this status and the loss of lift as other central banks entertain the notion of rate hikes themselves. On the other end of the spectrum, the ECB has yet to officially announce a retreat from its extreme policy, yet the Euro has proven the strongest currency through 2017. Where does the Canadian Dollar fit in this scale with the BoC two hikes in and still cautious in its language? Further is the appetite for risk such that traders are scrambling to take advantage of capital inflows that will follow 25 basis point hikes?
I believe the momentum behind the Canadian Dollar while well-earned so far is not easy to sustain at the pace exhibited these past few months. A strong inflow of capital makes it a richly valued currency that is increasingly exposed to data or remarks that suggest the tempo will be curbed not to mention a downshift in risk appetite that will render these low-return carry exposures as unbalanced. That sets out potential for either strength should all conditions hold out or quick retreat should the speculative structure start to weaken. There are significant opportunities across the Canadian Dollar pairings, but my interest rests particularly with CAD/JPY. Given the Yen backdrop, this pair significantly ups the carry trade / risk influence. Further, its technicals are particularly substantial. After the BoC hike, the pair surged to - but stopped at - trendline resistance that also registers as a 'neckline' in an inverse head-and-shoulders pattern. Breaking that resistance can lead to a large reversal. Yet, should the BoC view or speculative appetite falter, a well establish range can spur a strong reversal. We discuss the drivers and scenarios behind the CAD/JPY in today's Quick Takes video.
To receive John's analysis directly via email, please SIGN UP HERE.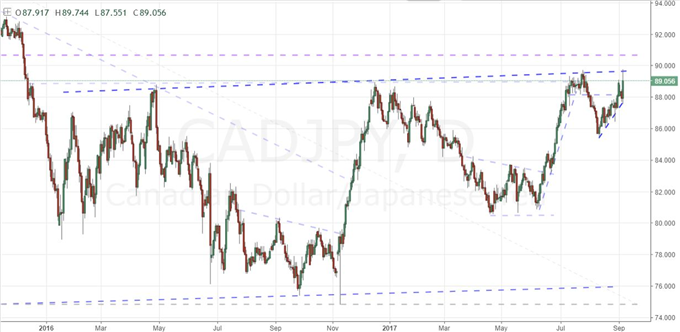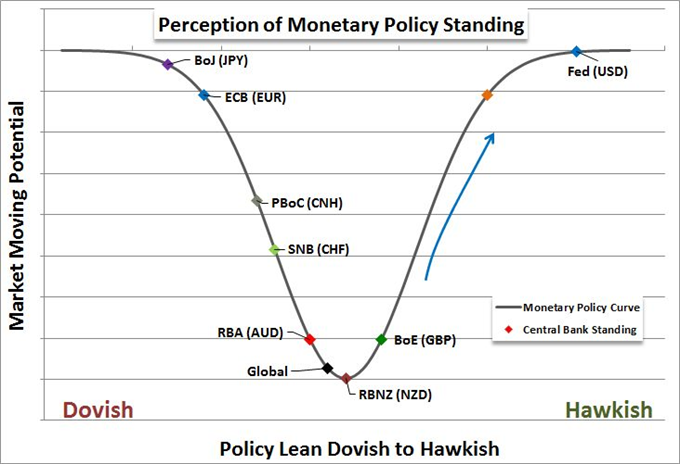 DailyFX provides forex news and technical analysis on the trends that influence the global currency markets.