Quick Takes Video: A Top or Pause for EUR/USD?
Talking Points:
EUR/USD posted a quick intraday reversal that resulted in a daily candle with a larger upper wick

The call between a persistent 2017 bull trend and a single day's sharp reversal has many more factors behind it

It is more difficult to reverse strong trends; but regardless of direction, conviction will be difficult to produce
See how retail traders are positioning behind EUR/USD with a dramatic intraday reversal and deepening questions of fundamental drive on the DailyFX Sentiment page.
Volatility and bold technical patterns draw traders' attention, and an appetite for opportunity motivates 'traders' to take positions on that find. It is therefore understandable that EUR/USD has triggered speculative debate and no doubt a considerable number of trades. On a purely technical basis, an intraday reversal from this benchmark pair offers a complete and substantial change of direction for what has been one of the most impressive trends of 2017. Viewed on a daily scale, we are left with a candle that whose most prominent feature is a large upper 'wick' or 'tail.' While it is by no means a certain corollary, such dramatic developments are often associated to at least temporary changes in conviction.
If this candle all we had to go on, there would be no question that the call for reversal is far too premature. A single day's correction does not offset an established and productive 8-month bull trend. However, there is more technical relevance to the resistance in the area. Looking back over the past decade, we have two significant lows established in the same vicinity in 2010 and 2012. Even more remarkable is the fact that the midpoint of the historical range for the pair (Euro trading only officially goes back to 1999) stands at 1.2135. That makes for a stronger technical argument, but it still doesn't tip the scales for those looking for a high profile trend change. Critical to this evaluation is the necessary motivation beyond just a level or candle, and that is the realm of fundamentals.
There has been considerable speculation recently that the Dollar has taken on the role of a 'risk' currency while the Euro is a safe haven (I think that is nonsense), ECB rate speculation has seen the same degree of reach that the Dollar drew from the Fed, and there is plenty of reasonable debate over which currency is in charge. The Dollar was playing the role of a 'carry' currency in this pair, but we haven't seen a strong risk aversion arise. Further, given its discount this year, it is more likely that the Greenback reverts back to haven should fear once again take hold. Monetary policy is the more productive theme, but that is not easy to provoke at this stage. The Euro can drop if all hopes of a turn towards normalization in 2018 collapse - but what would we reasonable expect to accomplish that? The same is true for the motivator to rally Fed rate speculation back to hawkish levels?
Nonfarm payrolls hasn't proven the accomplished speculative drive it once was and it is at the end of the week. Further, the coming weekend has the seasonal drain related to the US holiday. That is a practical complication that can curb either reversal or strong trend continuation prospects. I think qualifying a turn should demand greater evidence, but smaller moves still better reflect the condition of the market. We focus in on EUR/USD in this Quick Take video.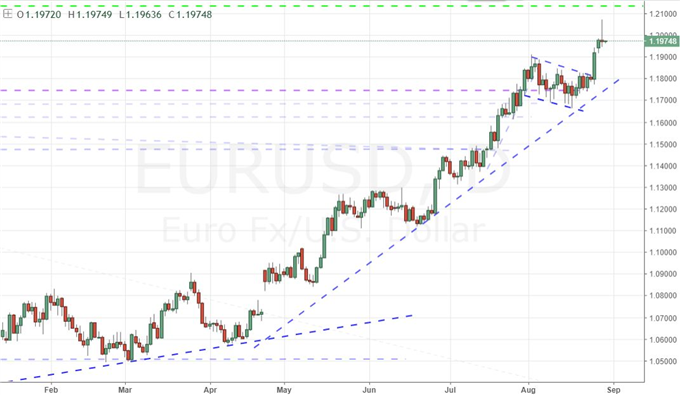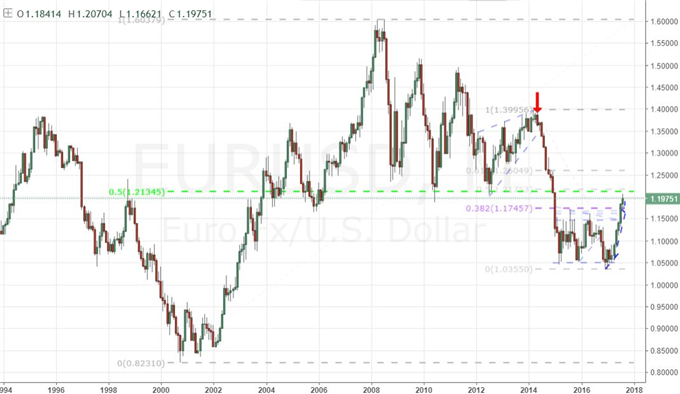 To receive John's analysis directly via email, please SIGN UP HERE
DailyFX provides forex news and technical analysis on the trends that influence the global currency markets.