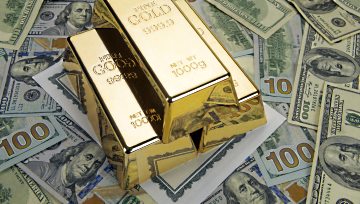 How Gold May Be in the Best Position for Future Market Difficulties
Talking Points:
Global monetary policy has recently slid from the most extreme doves (like the ECB) to the most hawkish (Fed)

A collective slide in the most liquid fiat currencies and financial assets leaves few alternatives for lost investors

Gold proved itself a primary benefactor of global easing after the onset of QE, and a shift in risk may only intensify that
Do you want to learn how to trade event risk? Download the strategy guide on for trading news events on the DailyFX Trading Guides page.
Global monetary policy has shifted lower and there are few areas of the market that are due to draw any genuine value from the shift. One very prominent benefactor though is gold. Over the past weeks, we have seen the slow build up of hawkish rhetoric and speculation from the market heavily undercut. From the most hawkish end of the spectrum, the Federal Reserve's third rate hike for 2017 was thrown in jeopardy as the central bank let it be known in the minutes of their last meeting that week inflation pressures were proving more persistent than policy officials had anticipated. Fed Fund futures now places another 25 basis point hike before the end of the year at approximately 30 percent. At the other end of the spectrum, the largely speculatively-driven anticipation that the ECB was preparing for its eventual turn from an unpresented drive to negative rates and ballooning balance sheet was cast in serious doubt when the group reverted to lamenting the appreciation of its currency - something it had famously done in 2014 before the EUR/USD tumbled and they dove into the QE game.
As global monetary policy looks to deteriorate, we are left with few outlets for capital to move towards. Over the past few years we have seen the late and large escalations of dovish views from the likes of the ECB and BoJ drive down their respective currencies (Euro and Yen) as capital fled. But, in this dislocation of assets there were liquid alternatives to absorb the mass of funds seeking refuge and yield - particularly the US Dollar and US assets. Yet, as the steady rise in US rate forecast abates; the appeal of pushing funds back into US debt, equities and other assets leads investors to seek out other parking for their capital. Liquidity is exceptionally important in this equation however. If three of the most liquid financial centers (US, Eurozone and Japan) are offline and the fourth (UK) is facing a drawn out concern for Brexit through 2019; the need for an alternative grows. In addition to liquidity, investors are seeking out stability, history and little chance that an attached rate of return can drive investors away should it succumb to a global receding tide. There are few assets that can take up that particular call, but gold is certainly one of them.
Back in 2008, the world witnessed the worst of the financial crisis and then the rise of extraordinary monetary policy. That uniformly undermined currencies and financial assets in the world's large economies which in turn sent investors seeking the harbor offered by one of the most iconic havens for centuries. In gold, there was no yield to earn but there was in turn considerable liquidity, longevity and a proven hedge against inflation. But most important of all, this was not a market that could readily be targeted by an individual central bank or other regional policy body for dramatic devaluation. That was what traders needed then, and it may prove what they seek out again in the near future. While we are not on the cusp of a massive swell in uncharted easing programs - central banks collectively have reached the bounds of invention - we are far looser with policy than we ever were in 2008 to 2011 when the metal soared to above 1,900. What's more, if we add a sense of risk aversion to this equation, it would likely leverage gold's appeal. And, that is likely if monetary policy turns more aggressively towards the doves. Further easing from current levels takes on less potential for promoting speculative appetite and increasingly looks like an effort of desperation. That would both devalue fiat and promote the need of safety. We discuss the high risk and high profile scenarios that could drive gold to another incredible rally in today's Strategy Video.
To receive John's analysis directly via email, please SIGN UP HERE.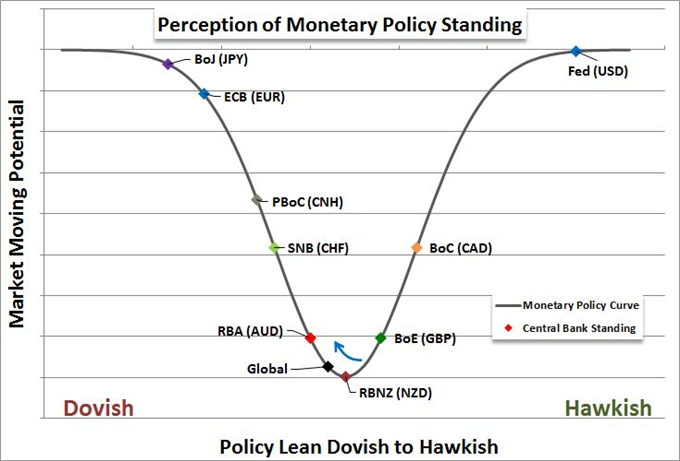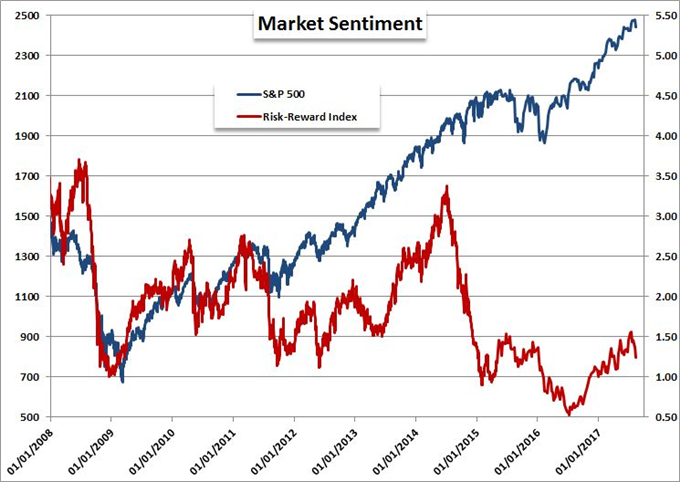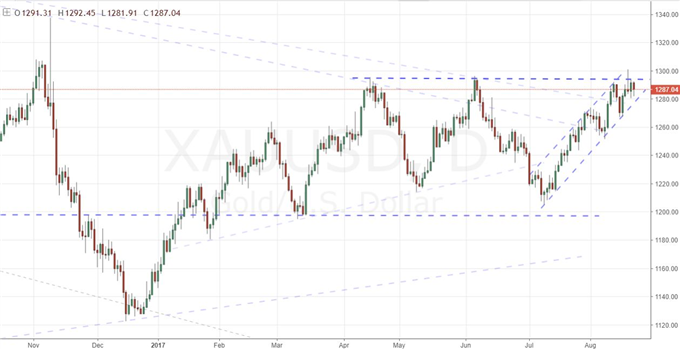 DailyFX provides forex news and technical analysis on the trends that influence the global currency markets.