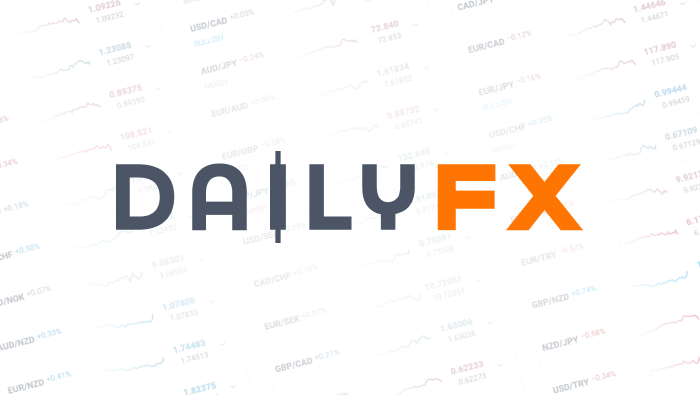 High Return High Risk Assets, ETFs, Bitcoin - Know Your Market
Talking Points:
Complacency in steadily rising sentiment and low volatility is encouraging traders to diversify into new markets

Jumping into new assets and markets without a true understanding of its critical features invites undue risk

While expertise isn't necessary to trade an instrument; an appreciation of liquidity, participants and correlation matters
Want to learn how to become a better trader? Join Paul Robinson for his Thursday webinar discussing different topics on how to improve as a trader. Sign up for the next one on the DailyFX Webinar page.
Traders are awash with options. With time, the financial market continues to open up to the investing masses with the range of assets growing to meet their insatiable demand. With lower boundaries and an abundance of opportunity, we grow embolden to explore new horizons in the enduring pursuit for greater returns. In a market of low volatility and steady collective climb for speculative assets, this chase doesn't seem high risk. And, the longer the slow climb persists, the deeper the lull grows. Yet, a period of calm does not recuse us from doing our due diligence on what we are getting into or absolve us of the need to set clear plans for our trades ahead of time. It should come as little surprise amid years of anemic yield and seemingly unflappable markets that market participants are turning into opportunists with a short-term mentality to reduce their perception of risk. Yet, that only bolsters the our need to know what we are getting into.
Success in the market does not come through magic or on the power of our will. It comes instead via the combination of a diligent application of a well-formulated plan and a thorough knowledge of the market. The greater our familiarity with the market or asset we are trading, the more likely it is that we place a good trade. However, full expertise is not necessary to performance. An operating knowledge of the market however entails a few critical elements. First, an appreciation of the market's liquidity is essentially. If something goes awry and sentiment flips, it is important to know ahead of time whether you'll be able to get out. Second, knowledge of the major participants in the market can tell us about how it will generally behave as well as where it derives its primary motivations (fundamentals). Finally, recognition of placement in the financial web highlights correlations which is important to establishing good diversification.
Taking a look at some of the more popular shifts in investor appetite for assets as of late can highlight some of the potentially dangerous gaps in appreciation that can add to stability threats to the entire financial system in the future. Bitcoin is a current high-flyer that personifies the pursuit of momentum above all else. The rapid ascent particularly over the past few weeks builds its own momentum. Yet, when we put this run against the evaluation of the three critical aspects of market knowledge, we quickly come to see the risk the situation represents. Liquidity for Bitcoin and other cryptocurrencies is disjointed and collectively inadequate. Its correlation may be low now, but the heavy concentration of speculative interests puts its at jeopardy of quickly changing views and could readily align it to risk trends. A general shift in single share stock-picking has transitioned into an appetite for 'market exposure' via ETFs. While the funds like the SPDR S&P 500 ETF can certainly weather considerable trouble in the future, most of these products have significantly less market. Further the growing influence of individual investors and fund managers on performance will invite more risk. We discuss the importance of knowing your market in a world of seemingly infinite options and greater returns in today's Strategy Video.
To receive John's analysis directly via email, please SIGN UP HERE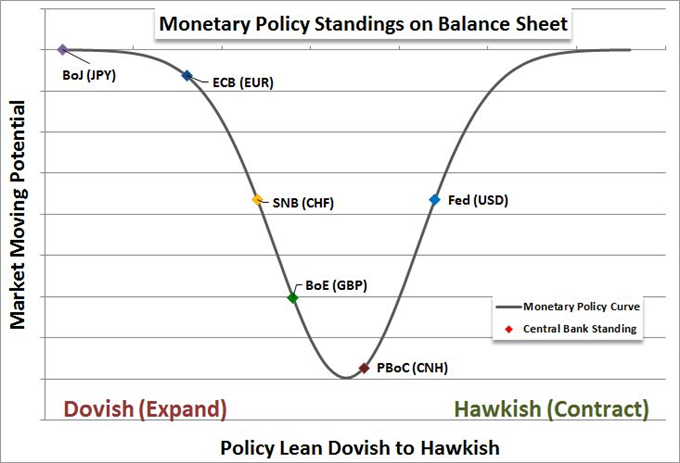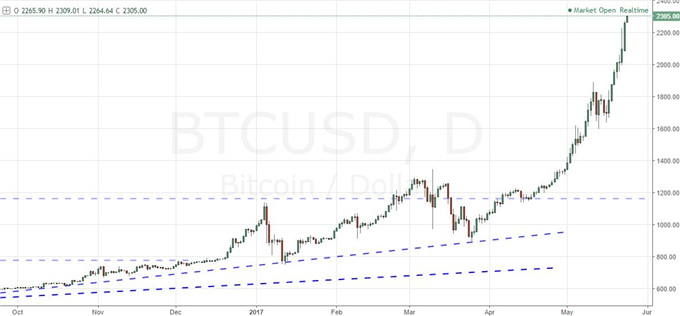 DailyFX provides forex news and technical analysis on the trends that influence the global currency markets.