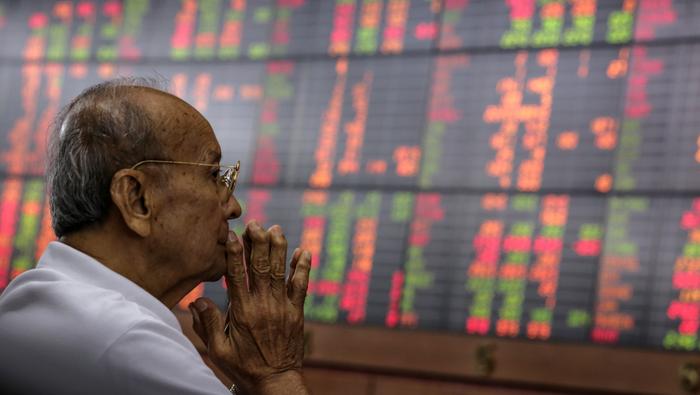 Dow, Gold, Tesla: What Different Markets Say About the Outlook for Risk Trends
What's on this page
Dow, Dollar, Gold, Bitcoin Talking Points:
We are heading into a well-known liquidity slump as the US Thanksgiving holiday is expected to curb markets in the United States and globally

General risk trends will struggle for momentum through the rest of this week, but bulls still have a clear wind at their back

I look at the course of risk appetite through the short, medium and long-term through assets like Tesla, Bitcoin, the Dow,

AUDJPY

, Gold and Dollar
Significant Technical Cues Have No Fuel to Fulfill
We have tentatively secured more than few high-profile technical breaks through the first half of this week. And yet, the potential these provocative moves would otherwise insinuate seem to be inevitable doomed by one of the most routine liquidity drains of the year: the US Thanksgiving holiday. While anticipation for self-fulfilling market conditions will be very difficult to override, there are also some very impressive milestones for market observers to mull. Tuesday, the Dow stole the headlines with a move to record highs above the 'sacred level' (the President's term) of 30,000. This past session, the Dollar notched its own milestone with a DXY Dollar close below 92 – the lowest close for the currency baseline since April 2018. If these technical hurdles are still in play come next week, I will watching eagerly. Yet, for the time being, the spark is likely snuffed out.
Learn more about breakouts and technical analysis in our DailyFX Education section.
Chart of the DXY Dollar Index with 50-Day and 200-Day Moving Average (Daily)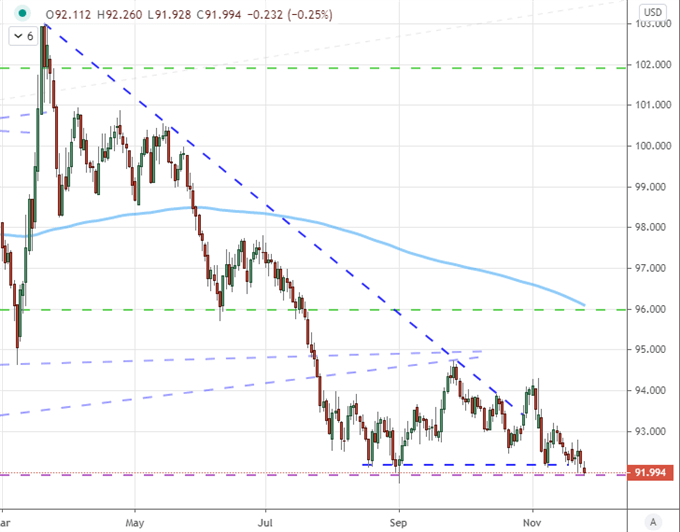 Chart Created on Tradingview Platform
Seasonality to Seriously Distort Rest of This Week…and Year
The immediate headwind for the markets to convert trader-friendly technical breaks into productive follow through is not particulars from the chart nor the fundamental motivation behind the jump. Rather, the hurdle is market conditions. Liquidity will naturally drain through the final 48 hours of the week. The Thanksgiving holiday is a US holiday, but history has borne out that the anticipated absence of trade from the world's largest economy during this period has a profound impact globally. It isn't impossible to rouse an unexpected follow through on break or reversal, but it is statistically improbable. More important in my view is what the landscape looks like in December. We start the final month of the year on Tuesday and seasonal norms bear out a sharper curb in volume and volatility – but a similar run for risk asset to November. Can we repeat history with Covid?
Chart of Seasonal S&P 500 Performance, Volume and VIX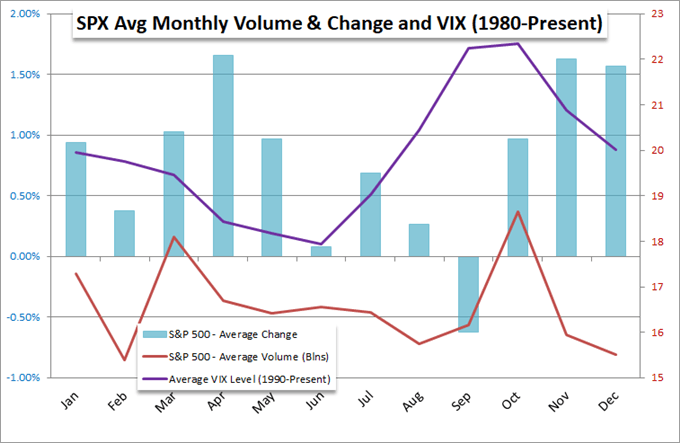 Chart Created by John Kicklighter with Data from Bloomberg
If we were to follow seasonal norms blindly, the expectation would be for a steady-state climb to extended the pre-established 'risk on' bid. That said, the backdrop for speculative appetite is a lot less robust than what a record print on the S&P 500 may insinuate. A troubled economic outlook even with a vaccine factored in, dangerous dependency in external support like stimulus and a very real backdrop of zero returns on capital market assets presents a poor mix to urge already expensive assets higher. The problems may be enormous, but that doesn't necessarily mean they must sink investor enthusiasm immediately.
Chart of Risk Intensity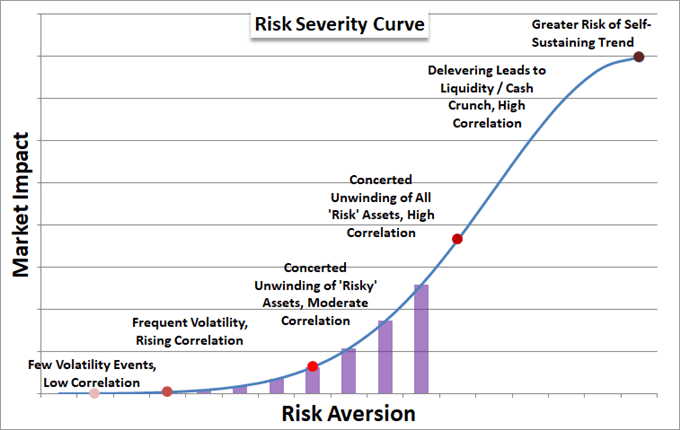 Chart Created by John Kicklighter
Short-Term Risk Finds Signals in Tesla, Bitcoin and Nasdaq
I like to look at markets in different time frames. It helps me to better scope out a strategy. For my purposes, 'short-term' is covering the rest of this week, 'medium-term' refers to the next two weeks and 'long-term' is the rest of December and into early 2021. Through the short-term, there is no mistaking the risk appetite that has regained traction. Very recently, we have seen the US indices post record highs, but the Nasdaq 100 which has set the pace even within this group managed to regain some of its relative appeal this past session. Concentrating even further within the vogue speculative favorites: Tesla has extended its 2020 climb to over 550 percent gains, making owner Elon Musk the second wealthiest man in the world. Meanwhile, Bitcoin is dancing just below the record high it set back in late 2017. While often compared to a safe haven like gold, cryptocurrency doesn't yet have the uptake in the financial system to truly live up to that role.
Chart of Tesla and 200-DMA Overlaid with Bitcoin (Daily)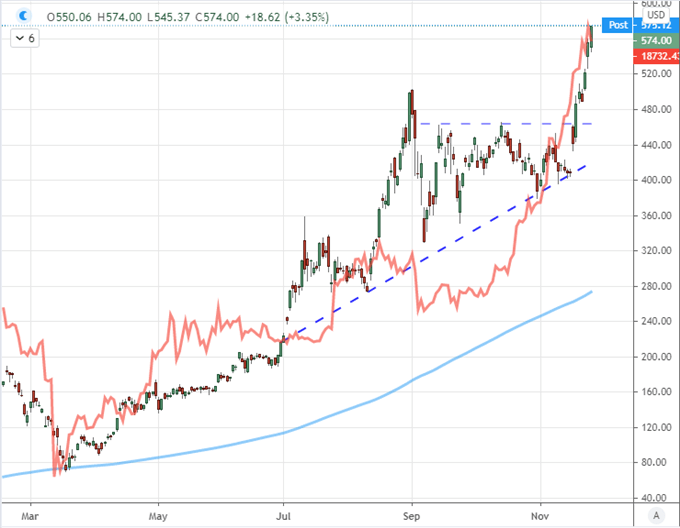 Chart Created on Tradingview Platform
Medium-Term Risk Outlook Finds Lift in the Dow and Carry Trade
Liquidity is going to define the rest of this week, but seasonality factors are just as prominent in the coming few weeks. The month of December is as storied for supporting 'risk on' as November or April (the only two months that have averaged slightly greater gains for the S&P 500 since 1980). We will head into the final month and expectations of the a Santa Claus rally latter on already pushing record highs for the Dow Jones Industrial Average. This is an 'expensive' perch for traders to add more funds into the charge, but perhaps the hope of a follow up US stimulus can offer another leg of opportunity. Meanwhile, I would point out that even carry trade, below in AUDJPY, has climbed alongside indices even though yields are all but nonexistent. This points to a risk appetite that makes ready substitutions in traders minds to simply jump aboard.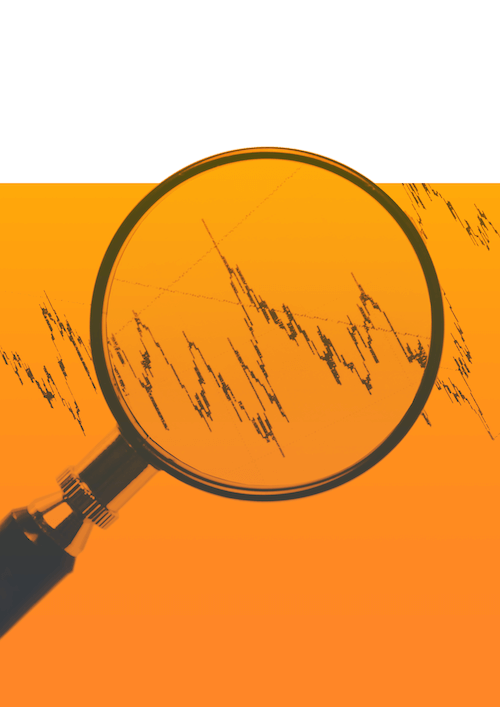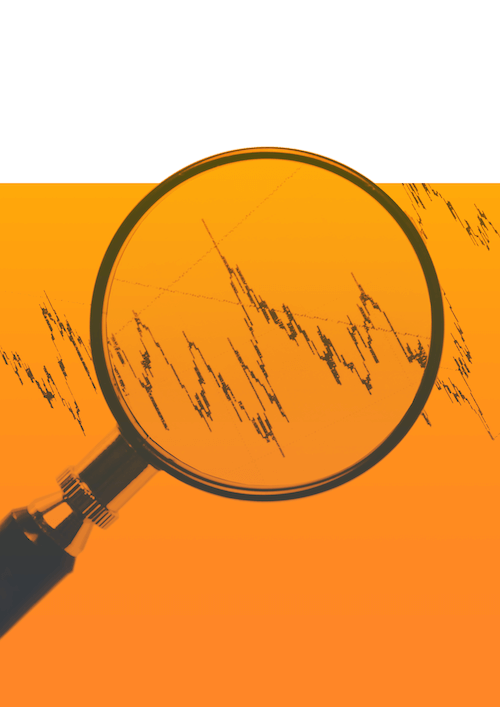 Recommended by John Kicklighter
Get Your Free Equities Forecast
Chart of Dow Jones Industrial Average with 200-Day Mvg Avg Overlaid with AUDJPY (Daily)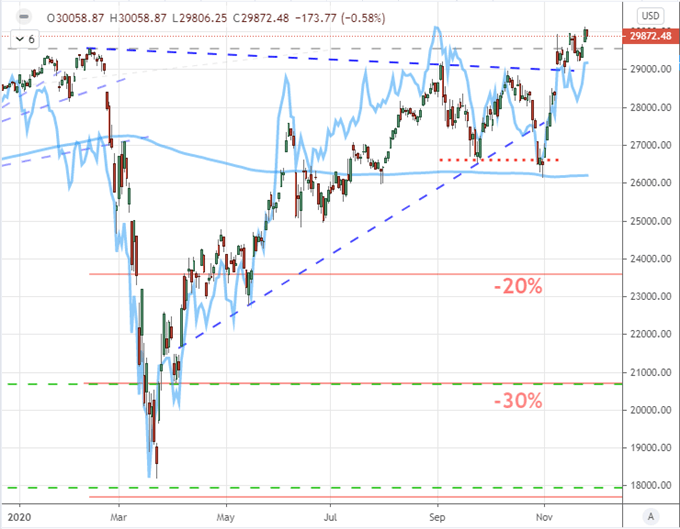 Chart Created on Tradingview Platform
Trouble Shows Through Long-Term Risk Trends Via Nasdaq Rotation, Gold and Dollar
When we start to clear some of the rooted assumptions in seasonal periods, the earnest questions about the market's ability to run consistently above traditional valuation start to come under more serious scrutiny. When looking for the foundation for risk appetite against a backdrop that is still marred by the fastest recession in modern record – with echoes of the pandemic-led shutdown still reverberating – I find external and temporary factors. Leverage is a key component. Many highlight the central bank leverage and rightfully so. Yet, there is also record leverage (notional and thematic) at the government, corporate, consumer and investor levels. Eventually, we will run off the road going these speeds – either in a controlled crash or in spectacular flames.
For this balance, I am looking to some very high level measures. The concentration of appetite among the newly initiated generation of traders puts an interesting perspective in the ratio of the tech-heavy Nasdaq relative to the broad small cap Russell 2000. It doesn't have to repeat the Dot-com bust owing to tech alone, but it carries very similar circumstances otherwise. Meanwhile, gold has advanced alongside risk – either as a sign that safe havens are finding a stealth bid or perhaps safety comes at the erosion of 'fiat' assets which underwrite the system. And then there is the Dollar. The world's most heavily used currency and reserve represents global consumption and stability. Such a lean as we see now doesn't bode well.
Chart of Nadex 100 to Russell 2000 Ratio Overlaid with Gold (Monthly)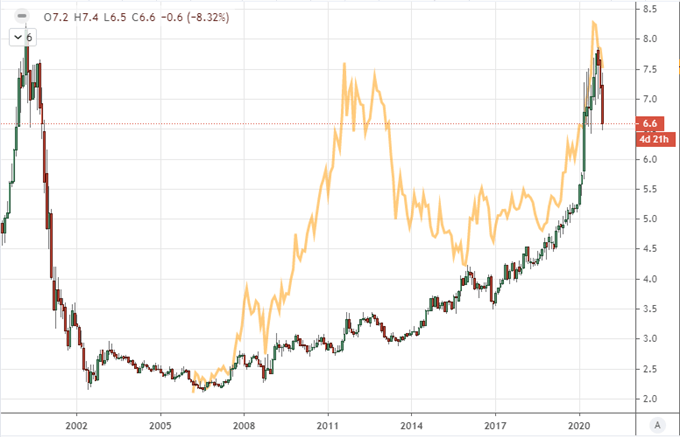 Chart Created on Tradingview Platform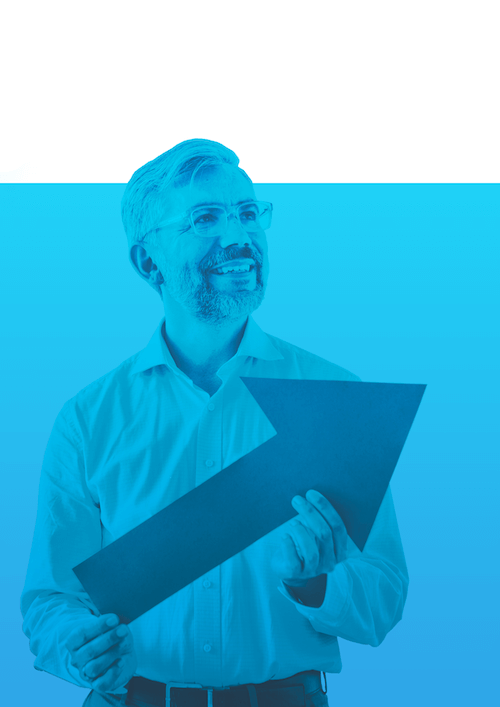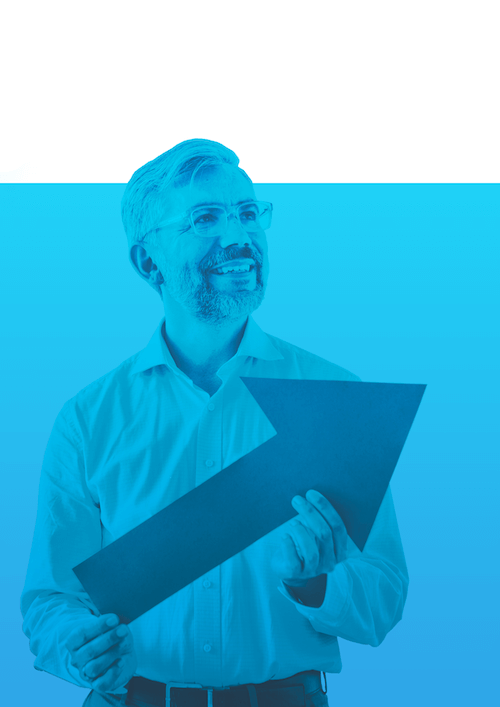 Recommended by John Kicklighter
Building Confidence in Trading
.
DailyFX provides forex news and technical analysis on the trends that influence the global currency markets.