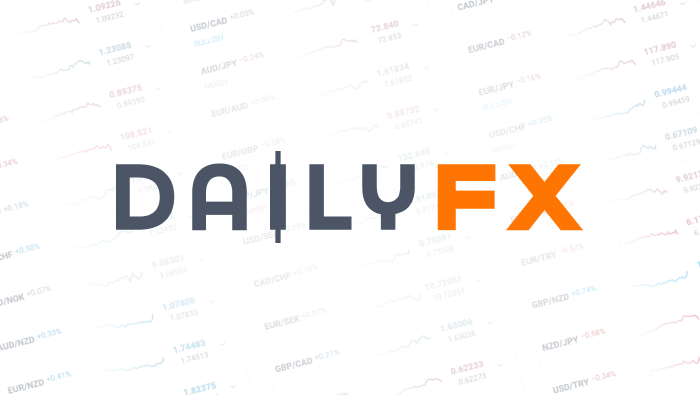 S&P 500 Gap, Recession Warning, Fed Cut Cue Follow Trade War Escalation
What's on this page
Trade Wars Talking Points:
China announced its retaliation to Trump's 10 to 25% tariff hike on $200Bln in goods last week with a jump in $60Bln in US imports
The market's reaction to Monday's news was night and day different to Friday's with the multi-year scale gaps from SPX, EEM and more
Trade wars remain a top concern - remember Saturday's auto import decision - and other themes will be interpreted through its lens
What do the DailyFX Analysts expect from the Dollar, Euro, Equities, Oil and more through the 2Q 2019? Find our forecasts for the quarter in the DailyFX Trading Guides page.
That's the Reaction to a Trade War Escalation You'd Expect...
At the end of last week, the US-China trade war took an unmistakable turn for the worse when the Trump administration announced that it would indeed increase the tariff rate on the $200 billion in Chinese imports that it is currently taxing. While that doesn't have the same shock value as the opening salvo of our more-than year-long trade war, it is notionally the largest move made thus far. Despite this crucial fact, the market's response last week to the news defied traditional expectation by seeing most 'risk assets' hold firm while the US indices actually gained and volatility measures extended their retreat. That market response naturally led to speculation over whether the massive upgrade to tension was priced in or perhaps the market simply was so robust that this impediment didn't matter. The market's unmistakable tumble in most things with a sentiment connection - and more intense pain for those markets more directly associated to the economic standoff - Monday banished any misunderstanding that this is a theme that does not command serious weight for the global financial markets.
Monday's market drop was not just a delayed response to last week's news. We have seen a further shortening of the time between rounds of retaliation with the announcement just before the US open (well timed) that China was increasing import taxes (tariffs) on $60 billion in goods that it imports from the United States. Note the disproportionate response: the US has boosted the levy on more than four times the amount of goods that China did. That is a natural pressure point between these two trade partners in that the United States is the principal consumer so it has more goods to tax. Yet, China clearly shows little interest in acquiescing to the Trump administration's demands which leaves the expansion of the trade war to increasingly unorthodox territory. Through the typical state-sponsored - and even unofficial - media outlets, the Chinese government made threats that it too could further its reach. The not-so-subtle threat that Treasury selling could be exploited was floated. That is very unlikely to happen as it would hurt China as much as it would the US. Yet, we should not write off the unexpected and even illogical as desperation can clearly lead to extreme decisions.
Chart of USDCNH (Daily)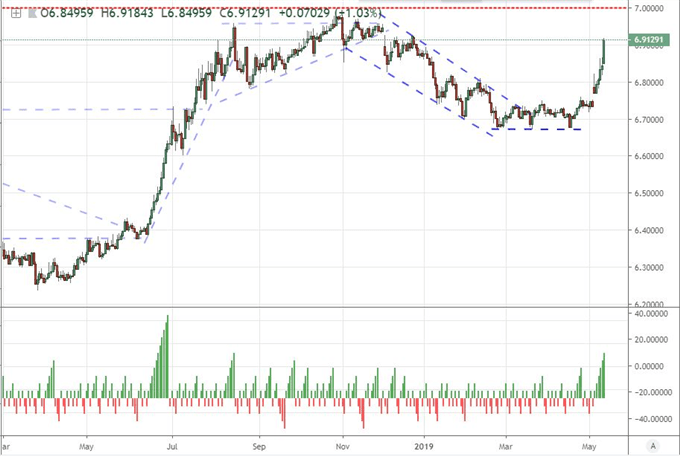 In terms of market reaction, the volatility was unmistakable. The biggest statement in sentiment was made through the opening gap for many assets. The benchmark S&P 500 equity index suffered its biggest bearish gap between a previous active session's close and new session open since May 11, 2009. In the context of the turn we've born out these past few weeks, we are forming an unflattering picture. Similarly intense though not as historically significant bearish gaps were registered through rest-of-world equities (VEU), emerging markets (EEM), junk bonds (HYG) and even carry trade (Yen crosses). Most of these assets are already trading at a deep discount to US stocks, so if they continue to lose ground despite the valuation contrast; it would serve as a strong signal that fear is taking hold.
Chart of S&P 500 and 1-Day Rate of Change in Purple and Gap Change in Green (Daily)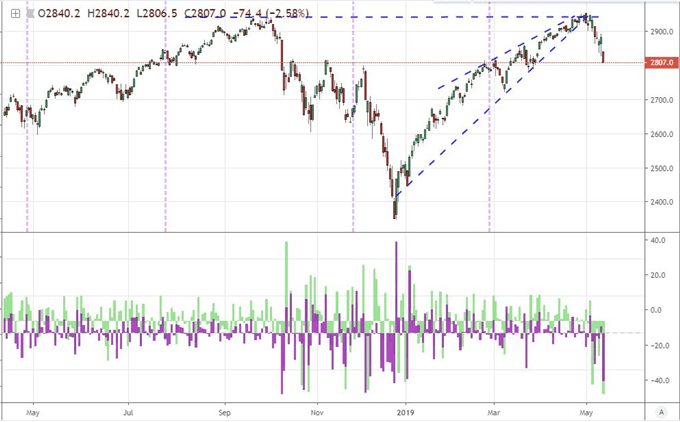 We are Starting to See How These Themes are Connected
As the markets reflect upon a painful heave in sentiment, the lack of preparation and inordinate dependency on the status quo (FOMO, complacency, hope, whatever you want to call it) should be taken into account. Poor preparation to seismic events usually translates into far more severe consequences through fallout. Net speculative positioning (COT for future, IGCS for retail) show this mis-allocation, but the basic lack of hedge is of greater concern to me. Beyond the speculative bent implied through the record net short exposure on the VIX volatility index futures through recent weeks, there is simply a woeful lack of hedge against tumultuous markets. Sure, implied activity measures like the VIX and volatility readings for other asset classes have risen recently; but they have grown increasingly resistant to proper adjustment relative to previous jolts in 4Q 2018 or the February 2018 charge. Sluggish response to systemic troubles can exacerbate other problematic features of the economic and financial landscape. And, we are likely to see that play through.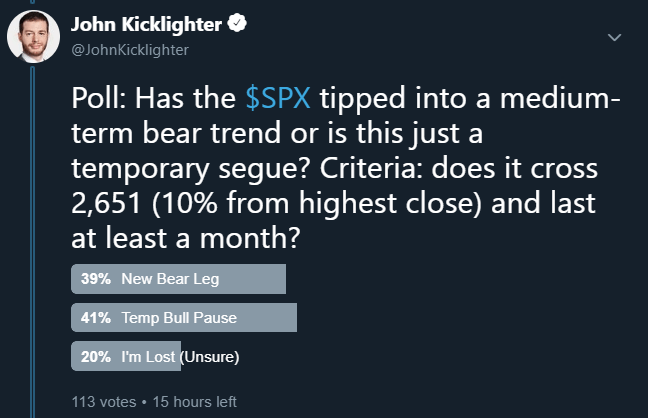 For example, a deepening US-China trade war will further throttle the global economy and could even tip the countries and/or globe into a stalled growth or outright recession. We still see undue enthusiasm for the outlook on economic activity based in confidence that the standoff will be resolved or that domestic sources of growth will offset the lost trade support. Meanwhile, the US 10-year / 3-month Treasury yield curve has once again inverted which is a favorite signal for recession risk in the US among economic wonks. As trade wars intensify, there is also a natural escalation of political tension amongst world leaders. Economic pain has a way of prompting desperate actions, which is a tangible risk through situations like Brexit, the US-Iran sanctions push and upcoming EU elections are all points of contention. Another popular fundamental theme feeling the influence of trade wars is monetary policy. Fed Fund futures responded poorly to the most recent escalation with the expectation for rate cuts through year end hitting a new December contract dovish extreme. As we move forward, evaluate scheduled event risk and breaking news from a perspective of how it leverages or is leveraged by trade wars.
Chart of the S&P 500 and Implied Yield from December Fed Fund Futures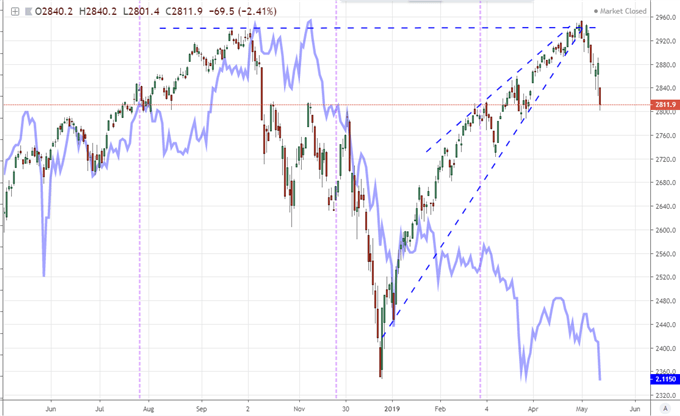 The Dollar's Complication, Yen's Artificial Appeal, Golds Signal and Bitcoin's Immaturity
From a regional perspective, the Dollar is faced once again by its existential crisis: what exactly is the currency's principle fundamental driver? In the midst of all the Monday volatility, the Dollar was noticeably noncommittal with its direction. That is neither a rally that promotes the Greenback's absolute safe haven status nor an unmistakable retreat rooted in the currency's present yield advantage amongst the majors. Both fundamental roles are crucial to the benchmark's presence in the market and the more pressure added, the stronger the drive to prioritize its prime motivation. For traditional event risk, Fed rhetoric was processed for trade war reference, and that will likely remain the case moving forward. Scheduled event risk ahead in the NHIB small business sentiment survey and the import/export inflation statistics hold an overt connection to the status of trade. If we are looking for 'safe havens', an alternative to the Dollar would find the Euro as the second most liquid counterpart. That said, the existential risk to this shared currency is increasingly palpable with the EU Parliamentary elections looming with the nationalistic rise. The Yen is a seemingly coveted alternative with USDJPY sliding this past session amid the risk aversion. That said, the Japanese currency is not an ideal haven. The retreat of this - and most other - cross is the result of carry trade unwind.
Chart of Equally-Weighted Yen Index and S&P 500 (Daily)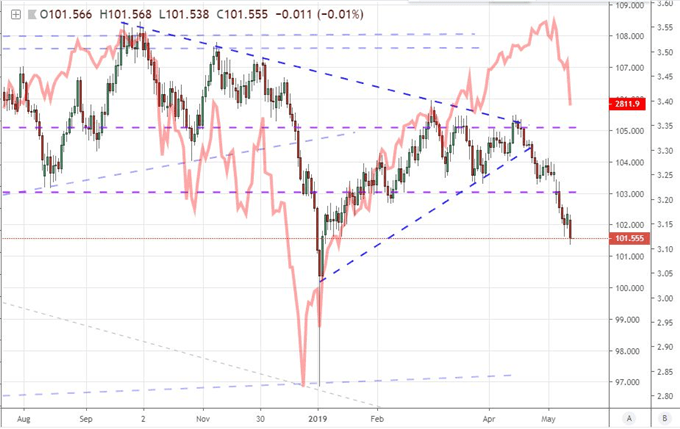 Among some other non-traditional measures of financial safety, gold is perhaps the most interesting of the market standards. The precious metal has serious issues with liquidity relative to currencies and is equipped with no yield. Those are significant hurdles to demand which means its haven appeal would need to come through very specific needs. When there is a collective withdrawal from the most liquid currencies in the FX market (Dollar, Euro, Pound and Yen), there are very few alternate venues that can host such a universal need. Gold is that historical player. There was a notable, bullish wedge break this past session that fits that scenario Monday. Another emergent market that I haven't weighed in on recently is the cryptocurrency space. It is difficult to miss Bitcoin's rally to its highest level since July this past session on its way towards $8,000. That said, a missing criteria for an acceptable haven status is the market's use of the asset in traditional channels and as cash equivalent. This asset class is still not that universal, though recent headlines suggest it is slowly earning its legitimacy. We discuss all of this and more in today's Trading Video.
Chart of Gold (Daily)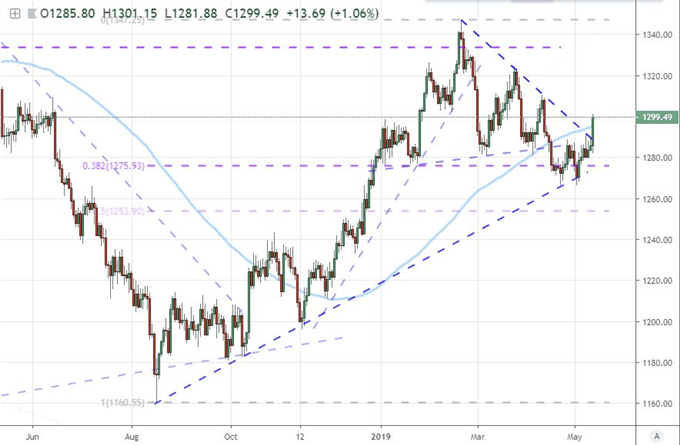 If you want to download my Manic-Crisis calendar, you can find the updated file here.
DailyFX provides forex news and technical analysis on the trends that influence the global currency markets.