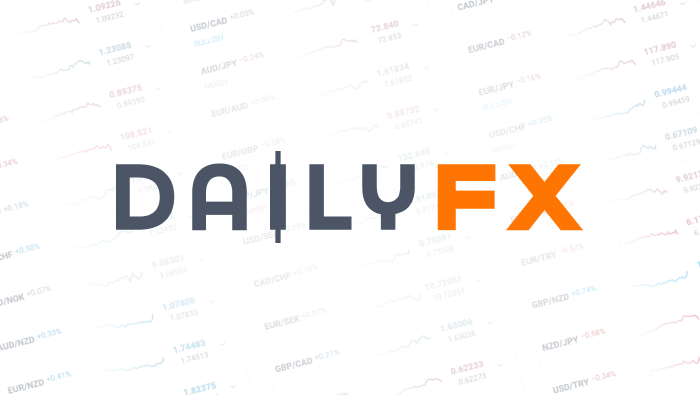 S&P 500 Is Due a Break, Can Apple Earnings, Stimulus Talks or the Fed Do It?
What's on this page
Earnings, Stimulus and Fed Talking Points:
A run of growth figures was uneven (China PMI, GDP from EZ, Mexico, Canada) but reports of infrastructure spending stirred hope
The S&P 500 is due a technical break - one of necessity - will Apple earnings counter Google's or will another theme decide its fate?
Top even risk Wednesday is the Federal Reserve's rate decision where no change to policy is likely to still draw a market response
Do you trade on fundamental themes or event risk? See what live events we will cover on DailyFX in the week ahead (including the Fed and BOE rate decisions) as well as our regular webinar series meant to help you hone your trading.
Dueling Fundamental Themes: Earnings and Trade Wars
There was no lack of strong fundamental charge this past session, but the overlapping fields of scheduled and unscheduled event risk seemed to keep many of the benchmarks pinned down. No doubt, anticipation for what lies ahead would also keep the markets from mounting a more speculatively-based run. Closing out the 1Q US earnings season - at least for the major corporations that I regularly monitor for a global macro picture - we were left with the same mixed picture with which we entered the period. The blue-chip General Electric advanced after its report but did little to support the Dow. General Motors best expectations yet didn't earn GM any gains, much less quiet concerns over the auto industry amid trade wars. One of the worst performing sectors in healthcare found no systemic reprieve from the run of Pfizer, Merck or Eli Lilly.
The real interest was for the performance of the FAANG members. Google's afterhours miss Monday evening earned it a painful gap lower Tuesday - the largest I've seen on recent record. Yet, hope that tech may yet lead the next phase of the indices to record highs remains following Apple's healthy earnings beat, its maintenance of forecasts near the high-end projections and its a nnouncement of a $75 billion share buyback plan. There is a lot to like in the news from this (if share price jumps on the open) more than $1 trillion market value company. The real question is just how influential this theme is to global sentiment.
Chart of Google and Opening Gaps (Daily)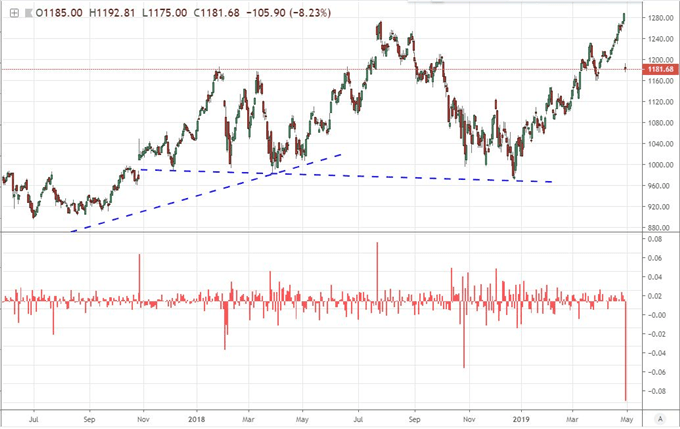 Another mixed bag theme vying for the market's attention with an uneven status check was the balance on trade wars. On the one hand, the US said that it was rethinking information sharing with global partners that used equipment and systems from Chinese firm Huawei. That carries with the same ultimate inference of more directed sanctions that have been reinstituted against Iran. And yet, the US and China are reportedly making good progress towards finding a compromise on their trade dispute. According to sources quoted by FT, the US is willing to drop its demands to snuff out cyber theft perpetrated by Chinese nationals/businesses, a serious sticking point for the two sides. That would echo a very optimistic timeline suggested by White House Chief of Staff Mick Mulvaney who said the matter would be settled 'one way or the other' within two weeks.
A breakthrough on the trade war between these two superpowers would be a significant relief, but it is the removal of something that poses a greater potential threat rather than representing a genuine improvement in conditions for the global economy. What's more, there is still a remarkable amount of tension on other fronts in this global war. Congress is threatening to reject the USMCA and there remain three open-ended threats by the White House to pursue tariffs that would disproportionately hurt Europe - and provoke their retaliation. It is little wonder these updates have not settled the course for risk assets like the S&P 500 nor conviction from the likes of the Dollar.
Chart of S&P 500 with Opening Gaps and 20-day Average True Range (Daily)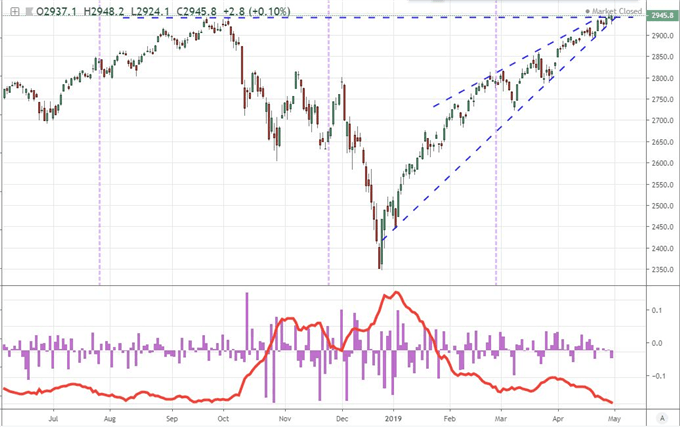 Remember Growth with Monetary Policy as Top Billing Owing to the Fed Decision
We are more likely to find a sense of certainty over our course through the forthcoming fundamental highlights. Top listing on the economic calendar for this week was the FOMC (Federal Open Market Committee) rate decision. The markets see very little chance that the US central bank will change policy (rates or its stimulus program) at this meeting nor does this event host the updated forecasts as we had in March. That said, speculation is such that a hypersensitive interest from the markets will find significance in what is said or not said by Chairman Jerome Powell. Fed Funds futures show a rounding error possibility for a rate cut at this meeting. The real interest though is what the intent will be through year's end and beyond - whether the next eventual move will be a hike or cut in the group's estimation.
That evaluation will be made through the monetary policy statement and Powell's press conference scheduled for 30 minutes after the decision itself is issued. The markets clearly expect a rate cut sometime in the future. The probability of a 25-basis point rate cut by year's end hovers around 66 percent according to the same derivatives through the December contract. As for what would signal such intent, a particular concern over softening inflation (the PCE deflator softened notably Monday) or an explicit fear of external financial stability risks (which would trigger far more than rate forecasts) could fuel dovish views. That said, the 1Q GDP beat last week stands large as a possible counterbalance to growing certainty of an impending cut.
Scenario Table for FOMC Rate Decision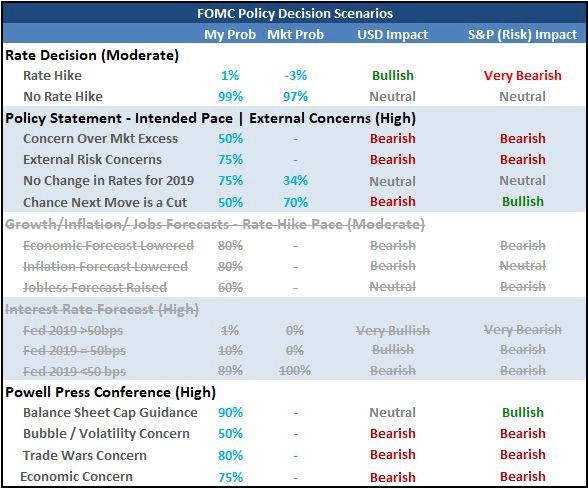 It is against this backdrop of economic activity that we should evaluate the fundamental and speculative potential in the monetary policy environment. Should economic potential stall to the point of capsizing, it will draw out serious concerns about the buoyant pricing found in capital market benchmarks and draw explicit attention to what could reasonable temper the backslide into economic and financial malaise. To this point, central banks have been the primary source of salvation this past decade, but their tools have dwindled to practically nothing as a result. The Fed is one of the very few major central banks that has made any effort to return its policy balance back to neutral in order to fight future waves, but this unique position will also act as a bellwether for the rest of the financial system as to when the tsunami threatens to swamp an ill-prepared speculative base. This past session, the updates on economic health proved an troubling mix.
On the data front, China reported a disappointing turn for economic heath this past session with both the government's and private (Caixin) PMIs printing a steeper slowdown than anticipated - undoing the very modest confidence bolstered by the 1Q figures. Europe's official 1Q data started to cross the wires with the Eurozone figures beating expectations (0.4 versus 0.3 percent forecasted) and the region's most troubled major Italy would also avert contraction (0.1 percent growth versus a -0.1 percent contraction expected). The real buoyancy would come from an update for external support in the form of reports that President Trump had met with Democrat Congressional leadership to move forward on a possible $2 trillion infrastructure spending program (fiscal stimulus). Where so many other developments are walking back artificial threats to growth, this could promise a new source of it.
Don't Get Swept Up; Monitor the Euro, Pound, Peso and Loonie
As we wade into the waters of the Fed rate decision, it is easy to get caught up in the implications for the Dollar and risk-leaning assets. They will certainly feel the influence one way or the other - whether it prove a charge or anchor. However, this is only one general influence for which we need to keep track. There are many other aspects to this fundamental and speculative puzzle that we need to keep close tabs on in order to track the heaviest fundamental waves. In fact, when it comes to the Dollar, one of the most effective market moving credentials is its role as a stoic alternative to more active counterparts. From the Euro this past session, the official GDP figures were a much-needed boon for the wavering currency.
Beyond that, sentiment surveys and labor data showed some thawing, but it was the German CPI figures which returned to the ECB's target level which offered an unexpected rebalance. EURUSD is the benchmark currency pair with an exaggerated weighting in trade-weighted measures like the ICE's DXY Index. The Sterling carries similar clout in the ranks of Dollar liquidity. GBPUSD posted a break to the upside this past session and an equally-weighted Sterling index presented a general appetite for the Pound. That said, the prompt on the headline side seemed unreliable which would make the charge more likely a break of necessity. Brexit talks are heating up once again, but there is little reason to believe a definitive course is being set this week.
Chart of GBPUSD (Daily)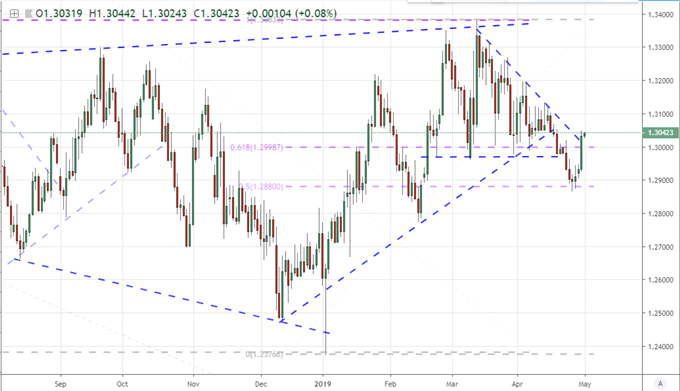 Outside of the majors, I am keeping close tabs on the Dollar's closest (geographically) neighbors. Despite the -0.1 percent contraction in February GDP from Canada, the Loonie was not only higher in USDCAD, it rose in an equally-weighted capacity. A similar story emerges for the Mexican Peso where first quarter GDP unexpectedly contracted -0.2 percent against anticipation of an acceleration in growth to the tune of 0.3 percent.
Perhaps this anti-Dollar strength is derived from the trade war improvement, but the rhetoric from Congress is one in which the President's refusal thus far to remove tariffs on steel and aluminum (for the purpose of reversing retaliatory efforts) doesn't come off as encouraging. Perhaps this speaks to confidence despite the negotiation stance or it is simply unshakeable enthusiasm for these trade-oriented currencies. One way or the other, it deserves a closer look from FX traders. We discuss all of this and more in today's Trading Video.
Chart of USDMXN (Daily)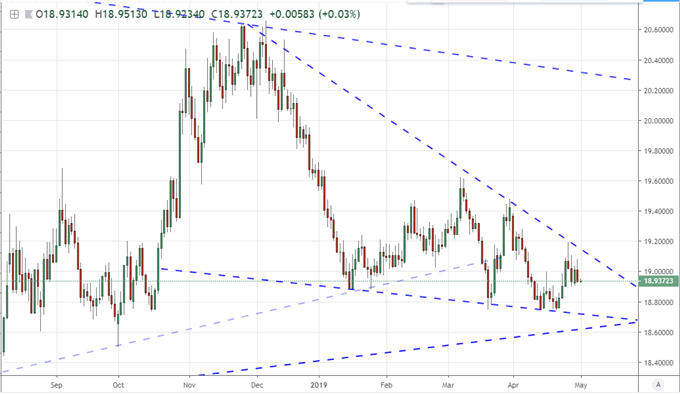 If you want to download my Manic-Crisis calendar, you can find the updated file here.
DailyFX provides forex news and technical analysis on the trends that influence the global currency markets.