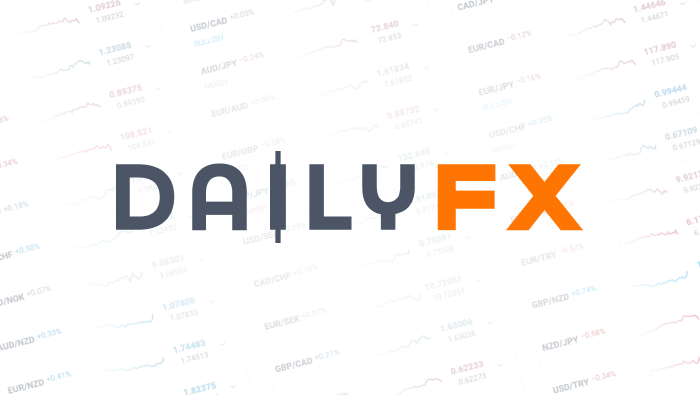 Are a Dow Return to Record, Dollar Breakout Possible This Week?
What's on this page
Growth Talking Points:
A government budget resolution and reports of progress in US-China trade negotiations closed this past week to strong risk appetie

Dollar's climb has cooled before breakout velocity could be found with concerns of growth and rate forecasts dragging the currency
What do the DailyFX Analysts top trades for 2019? Download our favorite opportunities, top lessons learned from 2018 and 1Q forecasts for the major currencies, indices and commodities fromthe DailyFX Trading Guides page.
Fundamental Tail Winds to Close the Week
There was a strong run of speculative enthusiasm to close this past week, and it was no wonder where the motivation originated. Though it was essentially resolved a few days before the official due date, the US government's ability to avoid a return to a partial shutdown offered a clear sense of relief to traders. Even a partial closure in the government of the world's largest economy has an extraordinary impact on growth. More significant though is the erosion in confidence that regular conflicts have on expectations for more substantial hopes for programs like an infrastructure program. This is good fodder for a relief rally, but its capacity to charge bulls depends on its how much discount was priced into the markets at peak fear. Much larger in scope and complexity - and further from a definitive resolution - the US-China trade war is another front for which there was considerable, perceived progress this past week.
According to headlines, the US and Chinese negotiators were closing in on an agreement with a Xinhua report indicating the former was close to receiving everything it wants in the negotiations. President Trump suggested he was confident they could find a deal, reiterating his willingness to extend the pause on tariff hikes and suggesting he expects heavier trade between the two countries into the future. Negotiators are expected to meet again next week in the US with reports Presidents Xi and Trump will meet soon after. Given these headlines, it should come as little surprise that the S&P 500 and Dow extended their rallies back towards the records left behind in September/October. That said, it is somewhat surprising that the risk appetite wasn't more aggressive for US equities or spread more evenly across the risk-sensitive world. If this swell of optimism continues, we should expect speculative appetite make greater strides...otherwise caution is warranted.
Chart of Dow Jones Index and Consecutive Weekly Advance/Decline (Weekly)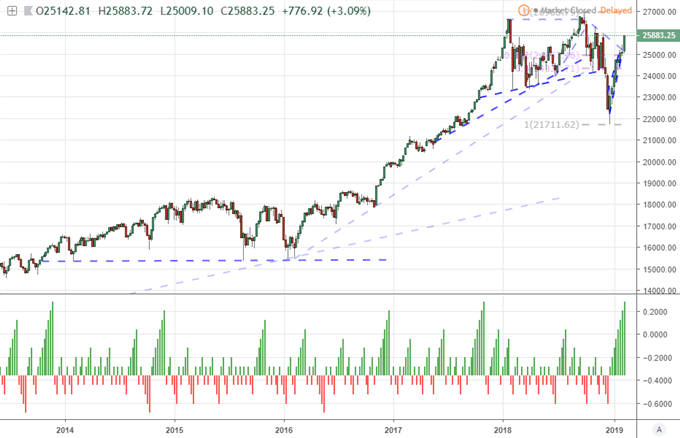 Dollar Overdue for a Break and Euro Threatening to Do Just That
In the FX market, there is a range of high-profile fundamental themes competing for the traders' attention which in turn is preventing some majors from finding serious progress. The Yen crosses been are disconnected from day-to-day risk trends, which seems as much a disconnect from the carry trade as an issue inherent to JPY. The Pound will find most attempts to forge meaningful runs - bullish or bearish - will likely evaporate without a critical bead on the Brexit. For the US Dollar, the mix is even more complicated, which is befitting the most liquid currency in the market. Interest rate expectations have dropped sharply without dragging the currency lower. Risk trends experienced their uneven climb which didn't seem to stretch to the currency's modest carry appeal nor is it a detriment as its absolute safe haven status has not triggered even during the fourth quarter tumble in capital markets. So what could force the Dollar from its 9-month channel or EURUSD to clear 1.1200 support or 1.1500 resistance? Fed speak, some delayed data and general risk trends will test conviction this week.
As for the second most liquid currency in the market, there is a far more intense technical pressure building. A look to the equally-weighted Euro index shows it leaning heavily on support stretching back to August 2017. This past week's troubled German GDP reading, the further deterioration of political conditions and questions over the ECB's intentions after supposedly capping its easing cycle are all possible cracks in conviction. For data ahead, the ZEW investor sentiment and timelier February PMIs are going to hit a familiar chord, while the ECB's Governor Council meeting minutes may give fresh forward guidance. Another open-ended risk to be aware of is the possibility that the trade war bug spreads to the US-Eurozone relationship. With the US Commerce Department due to issue its recommendations after its review of auto imports, there may be consider risk that comes out of this update.
Equally-Weighted Euro Index (Weekly)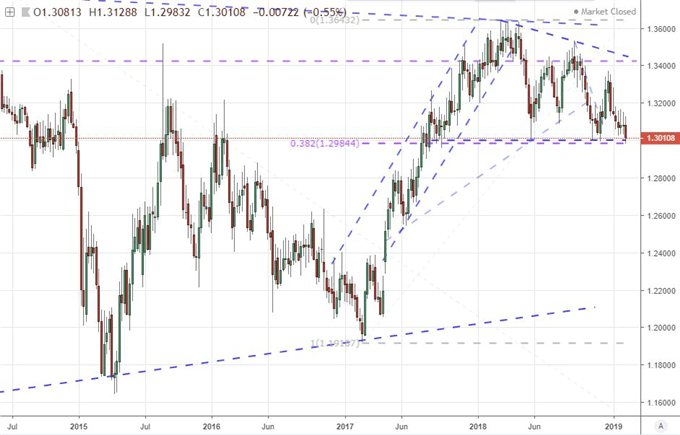 Gold and Oil Post Bullish Closes with Very Different Intensity
Perhaps one of the most impressive runs from the broader markets this past week comes from Gold. The precious metal earned a late-in-the-week rally Friday which would resolve a short-term wedge - though it wouldn't overtake the past month's high to extend a multi-month bull trend. What is remarkable about this move is that is developing without inflation expectations gaining, with risk assets advancing (against its safe haven appeal) and with the Dollar itself (the benchmark pricing instrument) climbing as well. When we diversify away from USD to look at an index based in Dollar, Euro, Pound and Yen, gold has hit its highest levels in over two-years through Friday's close.
Though far less productive in its own move, oil will be a focal point for many speculators to start the new trading week. Through Friday's close, the commodity closed above $55.50 which is the 38.2% Fibonacci retracement of the October to December slide and a 'neckline' in a very prominent head-and-shoulders pattern. There is more to this setup than how excited technical oil traders may be. Underlying growth and a significant connection to risk trends will prove a critical determinant to establishing follow through or collapse - not OPEC or inventory headlines. We discuss all this and more impacting the markets over the week ahead in this weekend Trading Video.
Equally-Weighted Gold Index (Daily)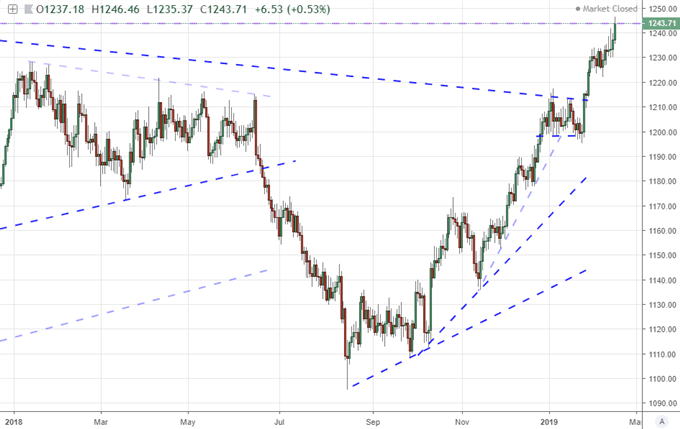 If you want to download my Manic-Crisis calendar, you can find the updated file here.
DailyFX provides forex news and technical analysis on the trends that influence the global currency markets.