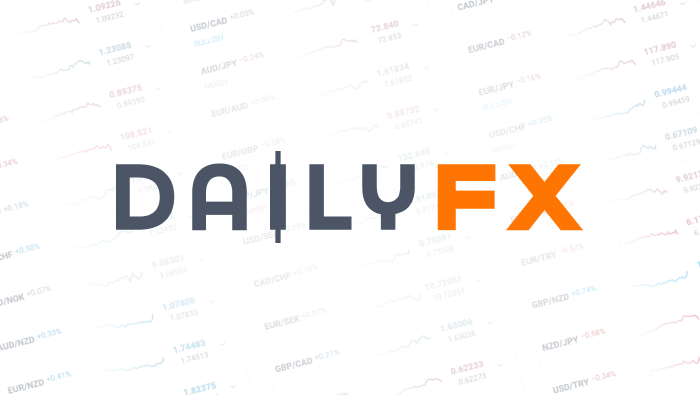 Dollar Jumps Despite CPI, Dow Climb Stalls as Risk Trends Struggle
What's on this page
Risk-On Talking Points:
Hope that the US would avoid a government shutdown and the US and China were moving towards compromise solidified this past session

Despite the improvement in overbearing thematic issues, the US indices didn't capitalize on gaps and other risk assets dithered
What do the DailyFX Analysts top trades for 2019? Download our favorite opportunities, top lessons learned from 2018 and 1Q forecasts for the major currencies, indices and commodities fromthe DailyFX Trading Guides page.
A Source of Enthusiasm Deepens, Yet Market Conviction Doesn't Follow
Some of the top themes for dictating course and tempo for the broader financial markets are starting to establish deeper lines of conviction that a recovery is taking root. This past session, the markets digested earlier remarks from President Trump signaling that though he may not like the bipartisan deal moving through Congress to avert a quick return to a partial federal government shutdown, he could still envision signing it. He has suggested that the funding for his signature policy border wall could be found through alternative means, such as emergency financing. For the market, all that matters is another gouge in US GDP will be averted. As for the US-China trade war, it was suggested that Chinese President Xi could meet with US Trade Representative Lighthizer and Treasury Secretary Mnuchin. That could signal higher level agreements could be moved forward. To ensure a hedge is in place, however, it is reported that the US is considering an automatic tariff should China fail to follow through on agreements, tariffs automatically kick in. Yet, the long-awaited fundamental clearing isn't a uniform environmental shift. Trump would also quote a Gallup poll that he says reported 69 percent expected their finances to improve over the coming 12 months. If true, that is the exception to the rule with the New York Fed's consumer sentiment report earlier this week saying only 38.6 percent expect to be better off - the lowest reading since November 2016. For risk response, the S&P 500 and Dow gapped higher to open but settled into the close. Other risk-leaning assets (the EEM emerging market ETF, HYG junk bond ETF, Treasury yields, etc) were notably weaker. If markets don't rise readily as conditions improve, trouble may be brewing.
Chart of S&P 500, EEM ETF and HYG ETF (Daily)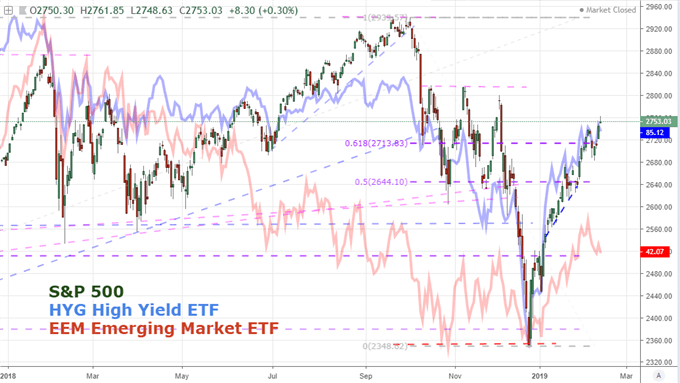 Dollar Didn't Jump on a Weak CPI Update, So What Leveraged its Charge?
Both avoiding a return to a US government shutdown and slowly navigating away from the self-harm of trade wars is a US dollar and US market improvement. Yet, how much lift will the Greenback enjoy from this development relative to global sentiment? The Dollar certainly enjoyed a bullish charge this past session - making for the ninth advance in 10 trading days - but I don't believe these themes contributed much to this charge. That is important to qualify as it can tell us whether we can establish reliable momentum. Nor do I think the scheduled event risk on the day trigger reliable bullish interest. The US consumer price index (CPI) grew only 1.6 percent over the past year - the slowest pace since July 2017. Core inflation meanwhile held steady at 2.2 percent. This suggests a weighting towards volatile oil prices, but there is nonetheless little urgency for the Fed to hike should they be uncertain of the economy and financial future. Meanwhile, the Fed reported a record 7 million Americans are late on their car payments - adding to the concern over the rapid buildup on debt - and Fed officials were signaling fading enthusiasm. So was the Dollar completely divorced from traditional fundamentals? No. A broad and overt decline in the Euro, Pound and Yen meant there was a clear need for a deep liquidity alternative to three of the most heavily used currencies. That leaves the Dollar as the only viable option. If the benchmark currency does escalate its run dramatically, consider USDCHF.
Chart of USDCHF (Monthly)
Euro and Pound Continue to Deal with Themes and Key Events Ahead
Of the major currencies that lost the most ground this past session, the Euro topped the list. That has set back the progress on my EURUSD position - but the USDMXN's rally has more than compensated thus far. An equally-weighted Euro Index shows the currency suffered one of its sharpest single-day declines over the past months. It is holding at the border of the measure's long-term support stretching back to August 2017. A fresh addition to the laundry list of political troubles to the region in the form of a likely Spanish election rounds out trouble for the top four EZ members (along with Germany, France and Italy). On the data side, Euro-area industrial production dropped 0.9 percent with an annual slide of 4.2 percent which was the biggest drop since 2009. That is a troubling reminder of the pressure on the region ahead of today's German and Eurozone 4Q GDP releases. As for the Pound, similar losses were registered but the severity of the move was far more restrained. The drop in CPI (0.8 percent on the month and a restrained 1.8 percent annual pace) likely contributed little to the market's nerves as rate expectations are flatlined. The concern is Brexit, and auto-manufacturer Ford's warning and an LSE research report suggesting $13 billion in business investment losses thus far due to the murky divorce tap into a persistent concern. Ahead, Parliament is due to debate Brexit again, but do they have any interest to course correct given the EU's rebuff and PM May's request for more time?
Chart of Equally-Weighted Euro Index and 1-Day Rate of Change (Daily)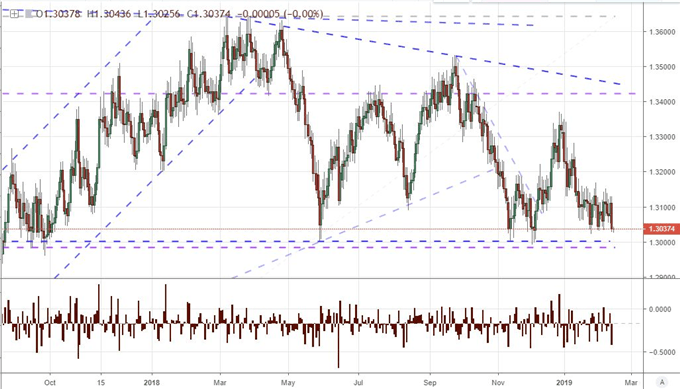 New Zealand Dollar Enjoyed the RBNZ Hold, Crude and Gold Slowly Climb
Was the Reserve Bank of New Zealand (RBNZ) rate decision really that positive for the local currency? There is no disputing that the Kiwi Dollar charged higher after the central bank held its policy unchanged. An equally-weighted NZD index posted its biggest single-day rally since July 2016. Yet, why does a hold on rates offer lift to a carry currency sporting its lowest yield on record? Because the market was expecting guidance to reinforce future rate hikes. A hold and rhetoric to suggest there is little immediate intend to further ease in turn is a relative 'hawkish' outcome. That said, the lift that avoidance of more trouble is not necessarily the strongest source of lasting momentum. In commodities, crude oil climbed to pressure $54 despite reports from the US-based EIA showing a 3.6 million barrel increase inventories and the IEA signaling a steady increase in non-OPEC production while demand forecasts held unchanged. We are moving back towards the resistance in the inverse head-and-shoulders 'neckline' ($55.55) but expecting a break is a high speculative hurdle. Meanwhile, Gold seemed to hold steady in a tight wedge through this past session, but this steadfast performance should raise eye brows when we consider the Dollar was doing so well through the session. A gold measure priced evenly in the most liquid currencies continues to climb - heading into the mid-point of the 2011-2016 range. We discuss all of this and more in today's Trading Video.
Chart of Equally-Weighted New Zealand Dollar Index (Daily)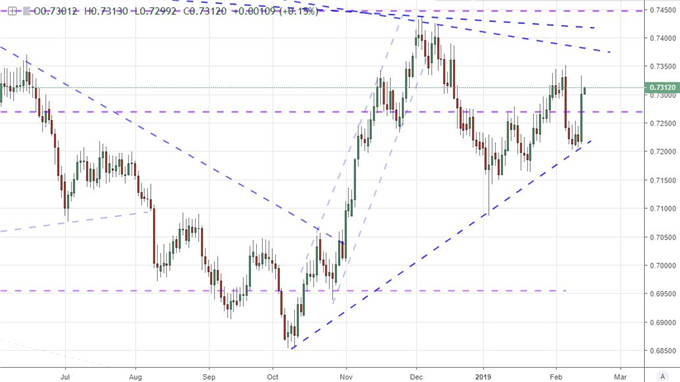 If you want to download my Manic-Crisis calendar, you can find the updated file here.
DailyFX provides forex news and technical analysis on the trends that influence the global currency markets.