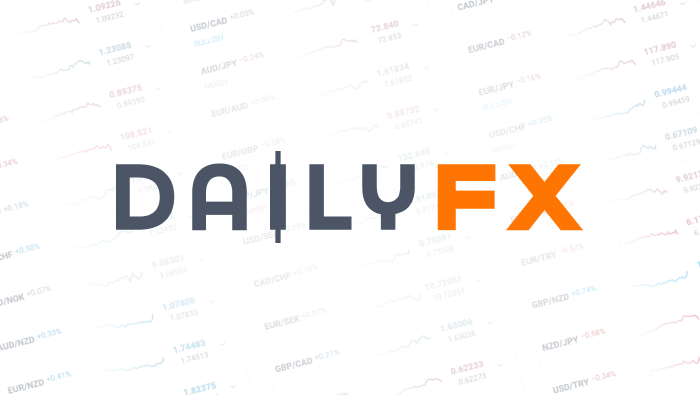 Dollar Drops and S&P 500 Rallies on Dovish Fed, Euro's Turn on GDP
What's on this page
Fed DecisionTalking Points:
Trade wars are lurking with US and Chinese delegates starting discussions, but earnings are top billing on AAPL, FB and MSFT

The Fed changed its rate guidance to 'patient' (from gradual) and was open on

QE

adjustment, Dollar dropped and the

S&P 500

climbed
What do the DailyFX Analysts expect from the Dollar, Euro, Equities, Oil and more through the 1Q 2019? Download forecasts for these assets and more with technical and fundamental insight from the DailyFX Trading Guides page.
Earnings Season Takes Over from Trade Wars and Government Shutdown for Now
We are seeing a shift in fundamental focus for the market where the US government shutdown is fading to the background, the US-China trade war is in limbo and earnings season is currently at the helm. To be sure, all of these factors are still important to the backdrop of speculative appetite and financial stability; but when the markets are trying to scramble deeper into bullish recovery, attention can shift rapidly to justify the animal spirits. It was reported that Congressmen and women are working to avoid another partial government shutdown mid-February as support for the border wall is gaining no traction. The state of the US-China trade war continues is pacing as a possible volatility spark with Chinese and US delegates meeting in Washington. Talking points between Liu He and Representative Lighthizer, Secretary Mnuchin, Secretary Ross and adviser Navarro have not been released; but the Department of Justice's 13-count indictment against Huawei and reports that Foxconn will not build its factory in Wisconsin look to set us at a deficit. In the meantime, US earnings season is offering a more tangible foothold for speculators. Following Apple's modest beat Tuesday afternoon, Chinese retail giant Alibaba reported a beat Wednesday morning followed by Facebook significantly beating on earnings per share (EPS) and Microsoft slightly missing on EPS with revenues meeting the forecast. AAPL's influence alone was dubious, but perhaps the collective push will earn an earning's season swell ahead with Amazon no tap.
Retail FX Traders Positioning on the Dow (Daily, Data from IG)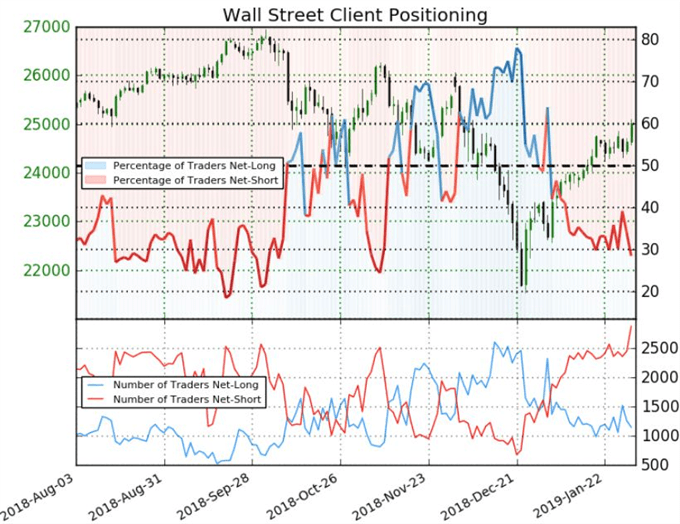 US Equities Bolstered and Dollar Battered by a Dovish Fed Shift
Another theme we would return to this past session was monetary policy. We have seen various central banks weigh in through official policy meetings and individual members' remarks, but the market's biggest player would offer a decisively bullish (dovish) push Wednesday. The Federal Reserve (Fed) rate decision ended exactly as expected in terms of tangible policy changes - no rate hikes and no alteration to the balance sheet reduction strategy. However, there was plenty of alteration on guidance via the policy statement and rhetoric. All traders picked up on the change in language for tempo on rate hikes from 'gradual' to a pace with 'patience'. Fed Fund futures responded by cutting down on the jump in implied yield through year end. The market is now essentially pricing out any hikes this year. The more controversial tool remains the balance sheet that shows the effects of the massive stimulus plan employed between 2008 through 2015. While Chairman Jerome Powell said there is no intention to use this as an active tool he did state that they could alter the program according to their needs. The Dollar's retreat on this news was not hard to process. The DXY Index dropped to trendline support and 200-day moving average support, but notably held the line. The S&P 500 and US indices would earn a bullish charge to extend the recently sidelined trend established this past month. Is this enough of a jump start to carry through both or either trend? We have the central bank's preferred inflation indicator (PCE deflator) and the market-favorite NFPs due Thursday and Friday respectively. These happen to be the dual mandates for the central bank and the jobs report is a well-established market mover, but it is still difficult to overcome fundamental inertia.
DXY Dollar Index and Implied Fed Funds Yield for December 2019 (Daily)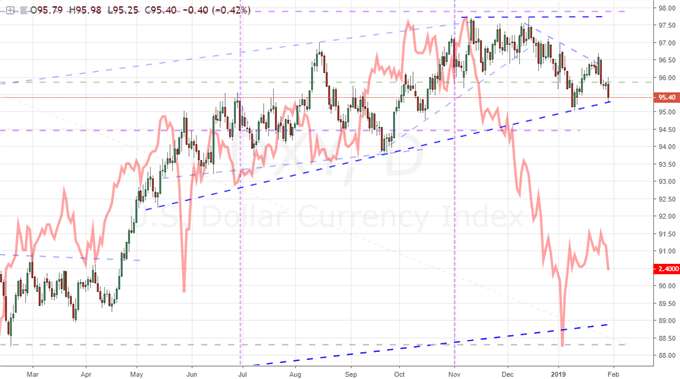 Euro Is Top Event Risk Candidate Ahead, Especially After Italy Warns on a Recession
Looking out over the next trading session, the mantle of top fundamental risk will shift from the Dollar and Pound over to the Euro. This past session, EURUSD rose thanks to the Dollar's sharp slide; but the Euro itself was actually under pressure. The data on tap covered a drop in Eurozone sentiment surveys which bodes poorly for the general trends we have followed in the state of the regional economy, but it was the French 4Q GDP that was a little more direct in its implications. The 0.9 percent annualized reading met expectations but was a slowdown from the previous quarter's 1.3 percent pace. The upcoming growth reports from the Eurozone and Italy will carry significantly more weight. The former is the overview for Euro traders to assess, but the latter is one of core member laggards that has shown a penchant for anti-EZ sentiment. That said, Italian Deputy Premier Conte's suggestion this past session that the economy could have contracted in the fourth quarter to establish a technical recession does not bode well for economic and political stability for the Union. Another point of interest in the next 24 hours is employment (an ECB target). We are due jobs figures from the Eurozone, Germany and Italy. For those monitoring EURUSD and EURGBP, be aware that there is conflict for command of market movement. EURCHF on the other hand has a counterpart that is usually less influential - though it is currently under serious pressure, which has earned a critical EURCHF technical break.
Chart of EURCHF (Daily)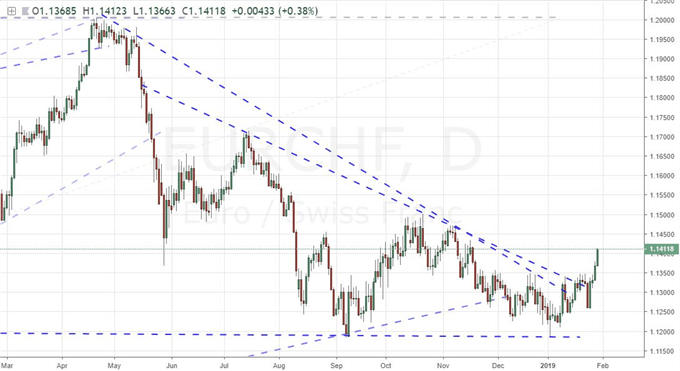 Brexit, Mexican GDP, Australian CPI and Gold's Unique Haven Properties Earn Volatility
Outside the deep fundamental grooves in the global financial markets, there are a number of scheduled events that have crossed the wires this past session and can generate interest over the next session. Brexit is not far from mind following Parliaments vote on a series of Brexit proposal amendments to solidify the UK's position in the negotiation table. Yet, the approach of no delay and compromise with demands of backstop alternative don't seem to be setting up for a very favorable negotiation. The EU's chief negotiator Barnier said the Brexit deal cannot be renegotiated, Juncker said the current deal is the "only one possible" and it is reported that the EU governments are reportedly considering a Brexit extension the most likely path forward. On this path, it seems 'no deal' is also a rising probability. More discrete a market mover was the Australian CPI update for 4Q and Mexico's GDP reading for the same period. The former simply didn't slow as much as expected and 1.8 percent is far from supporting an RBA hike, so don't expect the Australian Dollar to generate too much enthusiasm. Mexico's economic pace slowed to 1.8 percent versus 2.0 percent expected which was a less debatable outcome. USDMXN jumped towards recent resistance and shows congestion in a larger range as a leveraged picture - though one that could still be tripped up by a dedicated Dollar drop or risk aversion. A good counterpart would be USDZAR. Finally, commodities were responding to the risk and Fed themes, but crude oil's advance was unconvincing. Gold on the other hand is marking an impressive tempo a multi-month highs and without risk aversion... We discuss all of this in today's Trading Video.
Chart of USDMXN (Daily)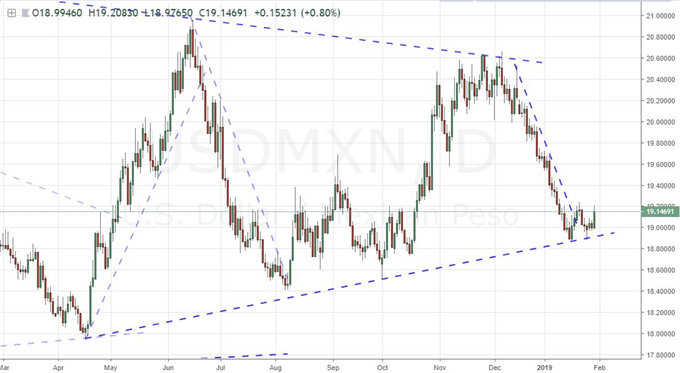 If you want to download my Manic-Crisis calendar, you can find the updated file here.
DailyFX provides forex news and technical analysis on the trends that influence the global currency markets.