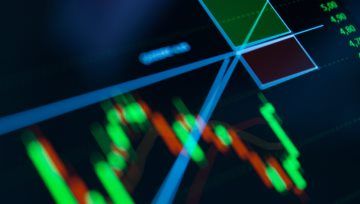 Trade Wars and Shutdown Permanent Damage, GBPUSD Wound Up for Brexit Vote and Fed
What's on this page
Trade WarTalking Points:
The first full trading day after the US government shutdown ended decidedly bearish with a host of reports highlight lasting damage

Trade wars offers mixed signals between the DOJ raising 13 charges against Huawei two days before China's VP arrives to talk trade

A drop in Chinese industrial profits and Draghi's dovish rhetoric pale in comparison to the Brexit vote and US sentiment survey ahead
What do the DailyFX Analysts expect from the Dollar, Euro, Equities, Oil and more through the 1Q 2019? Download forecasts for these assets and more with technical and fundamental insight from the DailyFX Trading Guides page.
Removing an Immediate Threat Doesn't Trigger a Wave of Enthusiasm
Though it was only one of a myriad of fundamental issues plaguing the global financial markets, the US government shutdown was a particularly acute burden with a clear price tag. According to the White House's Economic Council, each week the partial closure continued, the world's largest economy shaved off 0.13 percent points of GDP. Therefore, it would be understandable if the announcement that an agreement on stopgap funding to reopen the federal government fully this past Friday would have triggered a sharp relief rally from capital market benchmarks like the S&P 500. That enthusiasm never materialized into the closing hours of last week's trade after the news was reported, and it remained out of reach Monday after speculators in other countries had time to digest the headlines. The US indices gapped lower to start the week and created an 'island' with a possible 'shooting star' formation. Other risk sensitive assets (emerging markets, junk bonds, Treasury yields, carry trade, etc) offered the same performance. This is only a three-week closure, but it isn't like the market (at least not recently) to seriously worry about risks that much ahead. Yet, perhaps this situation tapped into something more concerning. The Congressional Budget Office (CBO) assessed that the closure had translated into an $11 billion loss of growth and lowered its 2019 GDP forecast to 2.3 percent. Furthermore, broker Charles Schwab released results of a survey itconducted before the shutdown. Besides the nuance that the percentage of people that felt 'bearish' rose to 52 percent, the most notable takeaway was the number one concern among those polled was political risks on markets. The market is showing a far less charitable nature towards negative news. Just another sign that traders should be cautious moving forward.
Chart of US 10-Year Treasury Yield Overlaid with US Federal Deficit in Green (Yearly)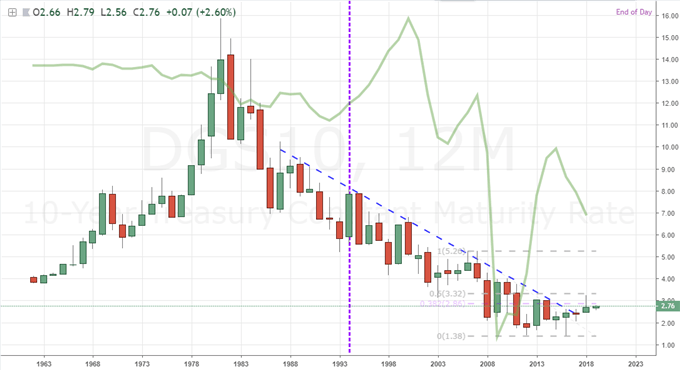 Other Systemic Risks Like Trade Wars and a Earnings Warnings Fill in the Worry Void
Just in case you were worried that with the shutdown passed that we are completely cast adrift with only the 'animal spirits' to guide us, it is important to remember the other systemic things that continue to warp our path forward - not to mention the laundry list of high profile event risk that we are facing this week. Trade wars has gnawed at confidence for the past weeks, but similar signs of lasting fallout are starting to show through in various areas of the market. Aside from the record trade deficit the US experienced with China and the latter country's painful 4Q GDP update, we have seen some progress on the open unclear progress of negotiations. According to officials, Chinese Vice Premier Liu He (one of the country's top trade officials) is due to meet the US trade delegation of Trade Representative Lighthizer, Treasury Secretary Mnuchin, Commerce Secretary Ross and lead adviser Navarro on Wednesday and Thursday. That alone would be an encouraging sign; but paired with the news that the US Department of Justice filed 13 counts against Huawei and its CFO Monday afternoon, it seems a fraught negotiation tactic by the US. Furthermore, Corporate America is increasingly lamenting the pain it is feeling from the trade tensions. Blue chip Caterpillar and large tech firm Nividia both reported earnings struggles Monday with clear indication that slowing global growth and China in particular were problems. If we hear the same from Apple, Amazon and Microsoft - who are due to report over the coming days - it will be difficult for even the perma-bulls to ignore. Of course, even if this particularly onerous theme doesn't cause problems, we are still dealing with slowing growth, unstable monetary policy and concerns over what constitutes genuine safe havens.
Chart of USDCNH Overlaid with Ratio of S&P 500 to Shanghai Composite in Purple (Daily)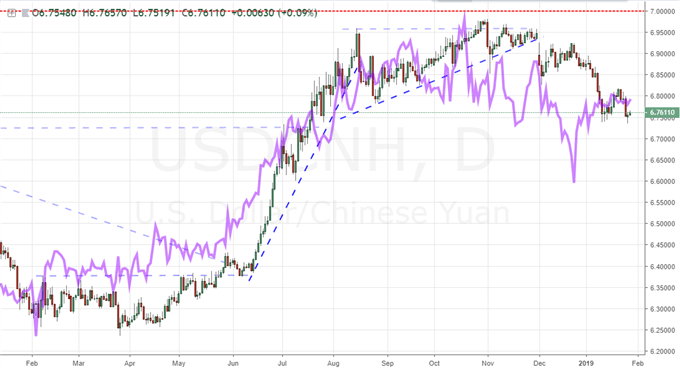 Dollar and Pound Top the Threat Assessment List Ahead
As we move forward, looking for hot beds of discrete event risk, two currencies stand out over the others. At the center of the trade wars and knock-on effects of the government shutdown, the Dollar is a likely FX candidate for close fundamental observation. I am personally worried that the long-term need to diversify away from a heavy concentration of US havens as the primary reserve of global funds and banks has been accelerated owing to the populist shift from this country (that has leveraged trade to earn its spot) and the steadily rising debt behind the country. According to the CBO report, the deficit is seen surpassing $900 billion this year. Add to that the National Association of Business Economics' (NABE) quarterly business sector report which suggests there is no material, lasting impact from the tax cuts as 84 percent of those responding to the poll said they did not change their investing habits. Another interesting development from the CBO though was their indication that they still expect a Fed hike this year. Perhaps there is still room for lift. Yet, check that enthusiasm until we pass Tuesday's consumer confidence survey from the Conference Board, Wednesday's Fed rate decision and Friday's NFPs. Meanwhile, we will have a more concentrated update on fundamentals from the British Pound. We are heading into the scheduled Plan B Brexit proposal vote following a period of debate in Parliament. There was a rush of proposed amendments from MPs to vote on likely in order to establish a contingency should this plan fail to pass the Commons. And, sentiment heading into the vote seems to suggest that is a likely occurrence. Normally, I would have said that shooting down PM May's plan would not stir up too much response as the market has already heavily discounted the uncertainty ahead, but the Pound has advanced 10 of the past 12 trading days. There is some short-term premium that can be shed.
Chart of Equally-Weighted Pound Index and Consecutive Candle Count (Daily)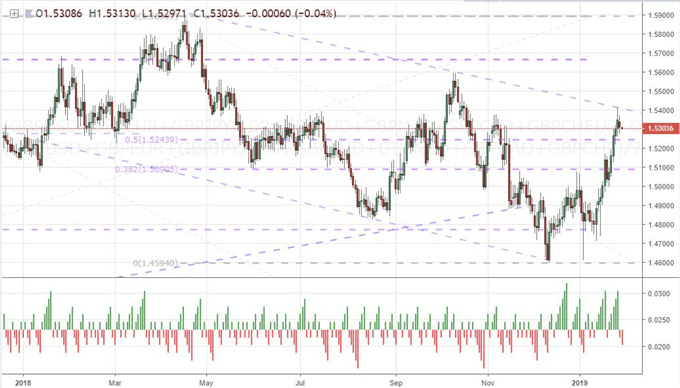 How Far Do Euro, Loonie, Oil and Gold Stray From Simple 'Risk Trends'?
The US and the UK aren't the only countries facing crucial event risk in the near future. The Euro is looking at one of the most populous fundamental calendars of any of the majors. To open the week, ECB President Draghi was speaking to Parliament. His remarks were unsurprisingly cautionary, and he suggested they could return to the recently capped QE programs should it prove necessary in the future. None of that was surprising, but what is ahead may stir the pot. Ahead, the Euro is facing sentiment surveys, Euro-area 4Q GDP readings, and the combo of Eurozone CPI and employment (the ECB's dual mandate). As tumultuous as the backdrop for the Euro is, it will struggle to establish a clear trend with so many conflicting signals. That is not something that the Canadian Dollar though may struggle with. Though it has its economic releases on the docket, they are not as overbearing as what some of the other majors are facing. That can in turn unshackle the currency to more significant moves - though ones that are more readily dictated by active counterparts. Elsewhere, crude oil took a jog lower Monday. There were certain headlines - like the Saudi oil minister suggesting he expects Russia to fulfill its promise to reduce output - but it is more likely that the concern over global growth (demand) had the more profound influence. And, if we trace back, CAD is starting to realign to oil which is following risk trends while the Euro's own bearings are at the whims of underlying sentiment. Once again, it is good form to consider safe havens that can offer traditional safety while further offering unique features such as monetary policy instability and fiscal fears. Gold, stationed at 8-month highs, is a good candidate. We discuss all of this and more in today's Trading Video.
Chart of Equally-Weighted Gold Index Pricing in Dollar, Euro, Pound and Yen (Daily)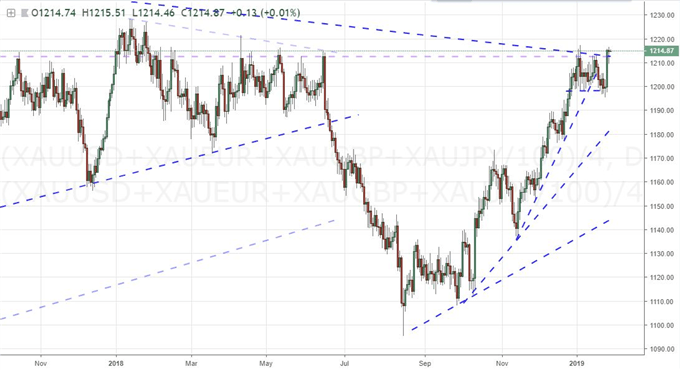 If you want to download my Manic-Crisis calendar, you can find the updated file here.
DailyFX provides forex news and technical analysis on the trends that influence the global currency markets.